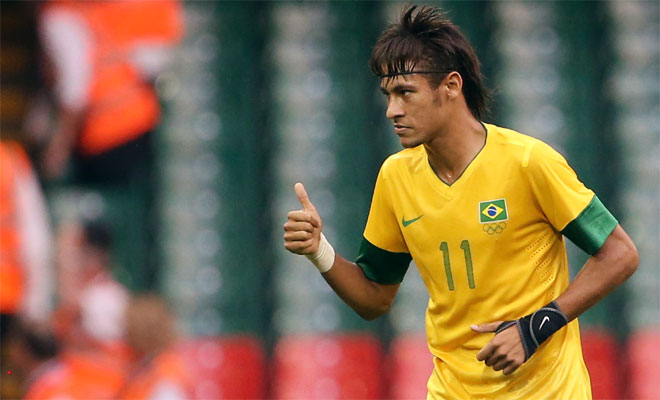 Although Grandmaster Ronaldinho is currently playing very well for Atlético Mineiro in the Brasileirão where he has them in first place, Neymar is now very much the face of Brazilian soccer. While Neymar garners the majority of the headlines, players likes Ronaldinho, Diego, Robinho, or Kaká should not be considered irrelevant or ineffective players for the Brazilian national team.
Neymar has excellent passing skills, but he is not a meia-armador or central attacking midfielder or playmaker like Ronaldinho, Ganso, Oscar, or Diego are. Although some of Brazil's more established players are in their thirties (such as Maicon, Ronaldinho, and Lúcio), Brazil has several excellent players in their mid to late twenties such as Thiago Silva, Robinho, and Diego.
Neymar has already arrived on the world stage as an elite international and club soccer player, and he is very much worthy of comparisons to Lionel Messi and Cristiano Ronaldo. Both Messi and Cristiano Ronaldo (called this out of respect for Ronaldo Luís Nazário de Lima) are widely considered by all of their peers and coaches around the world as the two most skilled players in world soccer. Neymar is different than both of these players in that Neymar has no observable flaws in his game, even at 20 years old.
Unlike Messi, Neymar is a more versatile passer who does not limit his passing to short passes inside the penalty box when he can no longer dribble through traffic. Messi does play quality long passes through and over the opposing teams' defenses, but Neymar seems to do this more often. Neymar will track back almost to his own defense at times to get the ball, and he looks to play through balls, quick first-time passes, cross-field passes, and soft chips over opposing players and over the top of the opponent's defense. Messi has never demonstrated this same degree of passing range or skill because Messi mostly plays by dribbling through defenses after his teammates at Barcelona have played keep away from their opponents.
Neymar also has superior dribbling skills to Messi as he will take defenders off the dribble going to the right and left, whereas Messi will only dribble left with the ability to pass almost any defender with several notable exceptions such as Alessandro Nesta, Thiago Silva, and Lúcio. His dribbling is very distinct from Messi's because Messi's dribbling is built around almost inexplicably keeping the ball almost velcroed or (to borrow Ray Hudson's expression) magnetized to his left foot. Neymar on the other hand uses combinations of tricks performed quickly in a flurry when he is at a standstill and surrounded by one or more defenders. He will also beat defenders off multiple dribbling tricks when he is attacking them at pace, but he will normally use just one trick by itself to pass a lone defender, which is usually more than enough to leave them for dead.
The real difference between how Neymar dribbles and how Messi dribbles is that Messi dribbles in a similar style to Maradona where his lower center of gravity allows the ball to essentially stick to his foot while dribbling, but Neymar with longer legs utilizes more tricks and changes of pace and direction, which requires more advanced dribbling skill. Therefore, Neymar is actually moving his legs faster as he dribbles through and around defenders as opposed to Messi who essentially just drops his shoulder and dribbles left.
Cristiano Ronaldo on the other hand has more tricks in his arsenal than Messi, but he tends to frequently do stepovers or other tricks too far away from the defenders he is attacking, which allows the defender to just stop and watch as he goes nowhere. Nevertheless, Cristiano Ronaldo does use tricks and changes of pace and direction to blow past defenders and accelerate 10 to 15 yards ahead of them. When Neymar does tricks or other dribbling techniques, they are used with the intention of passing his defender or defenders; Neymar puts on a show, but his tricks almost always serve a purpose.
Barcelona managed to take Neymar out of the game in the Club World Cup by totally controlling ball possession when they started Andrés Iniesta, Xavi Hernández, and Cesc Fàbregas at the same time. Despite this targeted strategy of fielding three playmakers simultaneously, Neymar does not look to have the same problem performing at the international level that Messi and Cristiano Ronaldo have, and this could be for a variety of reasons that are beyond Cristiano Ronaldo's and Messi's control.
To be fair, Cristiano Ronaldo had a good Euro 2012 where he performed well in his final couple of games of the tournament after being criticized for missing several shots that he rushed to take or shots that he should have scored. After facing heavy criticism, he did put in impressive performances in subsequent games where he buried several goals into the back of the net with no problem.
As many observers have pointed out, Messi performs much differently when he plays for Argentina than when he plays for Barcelona. Thomas Müller in his first World Cup in 2010 scored five World Cup goals along with several assists, and Messi who is 24 years old only has one World Cup goal in two World Cups. He has had several impressive performances for Argentina, but perhaps, the problem for Messi with Argentina is the absence of an enganche or mediapunta, which are the Spanish terms for a true playmaker that plays where and as a trequartista plays. With the emergence of Javier Pastore, who is an excellent two-footed playmaker that made his name with Palermo before moving to Paris Saint-Germain, Messi should finally have a replacement in the position mentioned above for Juan Roman Riquelme, who has retired from the national team. Frankly, Argentina desperately needed Riquelme in the 2010 World Cup in South Africa.
For all the skill of Messi and Cristiano Ronaldo, Neymar does appear to really perform at the same level whether he is playing for Santos or for Brazil. While Brazil has been using Oscar (and Ganso to a lesser extent) in the Olympics, Neymar has been playing as almost a combination between a second striker and a creative attacking midfielder – almost as a dual-playmaker with Oscar.
Neymar already has a prolific goal-scoring record, and his game will only improve over time the more he plays. It will be harder to knock him off the ball as he continues to grow taller and stronger. One day Neymar's career will be compared to those of Pelé, Maradona, Ronaldo, Zidane, Ronaldinho, and Messi.
Find me on Twitter here: @FutebolSource or @COLINREESE
Find me on Facebook here: https://www.facebook.com/WorldSoccerSource