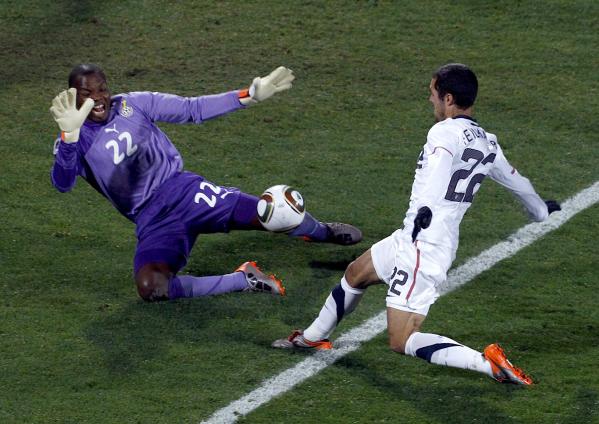 While many people will use the United States' victories over Mexico and Italy as evidence that Jürgen Klinsmann is coaching well, the reality is that the United States has not passed well or played technically advanced soccer in any of their games under Klinsmann.
Many of the players used by Klinsmann are excellent soccer players, but as long as Klinsmann continues to use the same starting line-ups, the United States will not even be a first or second tier team in terms of international soccer. So far, the United States has played better soccer under Bruce Arena and Bob Bradley, and there is one year's worth of video evidence of the low level of collective, team play of the United States under Klinsmann.
However, Klinsmann does have the ability to dramatically improve the quality of soccer that the United States play with just five starting line-up changes. If he makes these five starting line-up changes, then he will be able to field a starting line-up with 11 technically skilled and athletic players. He needs a right back, a center back to partner with Geoff Cameron, two attacking midfielders, and another striker, as opposed to just starting one.
Klinsmann needs to eliminate Kyle Beckerman, Maurice Edu, Danny Williams, Jermaine Jones, and José Torres from the starting line-up, but Jones should be starting if Michael Bradley is injured. Additionally, Edu and Jones should certainly be among the 23 players on the roster for the World Cup qualifiers against Jamaica, and starting Edu or Jones as a center back with Cameron would be preferable to starting Carlos Bocanegra or Clarence Goodson.
Klinsmann should continue to use Tim Howard as a goalkeeper, Geoff Cameron as a center back, Fabian Johnson as a left back, Michael Bradley as the lone defensive midfielder (unless he's injured), Herculez Gomez or Terrence Boyd as a striker, and Clint Dempsey as a free-roaming attacking midfielder.
At forward, Klinsmann needs to start two of the following three strikers at the same time: Juan Agudelo, Terrence Boyd, and Herculez Gomez. Gomez played very well against both Brazil and Mexico, and a strong argument can be made that Gomez has earned one of the two starting line-up spots as evidenced by his play against Brazil where he forced Santos' and Brazil's goalkeeper, Rafael, to make several very difficult point blank saves. That being said, Klinsmann has yet to test out Agudelo and Boyd together, and they might complement each other well as Boyd is more of an out-and-out striker that goes straight to goal. Regardless of which two strikers are started, Klinsmann should start two of the three strikers mentioned above at the same time.
Klinsmann needs to introduce Benny Feilhaber and Freddy Adu as dual-playmakers and free-roaming attacking midfielders to play with Dempsey. At right back, Klinsmann needs to start Eric Lichaj, and if he is unavailable, Zach Loyd or Sheanon Williams. Finally, Klinsmann needs to start Jay DeMerit, Omar Gonzalez, or George John as the second center back to play with Geoff Cameron. Among those three, DeMerit is the one that has proven himself on the international level the most with his effective and imposing defensive performances in the 2009 Confederations Cup and the 2010 World Cup. Between Gonzalez and John, Gonzalez might be quicker and more agile that John, but Klinsmann has not tested out either Gonzalez or John with Cameron to see which center back performs the best at the international level.
The five changes to the starting line-up advocated for above should be used against Jamaica, and if those changes are made against Jamaica, the United States will have, for the first time ever, 11 technically skilled and athletic starters in their line-up. Never before has the United States had the ability to field 11 technical skilled and athletic starters, and the United States now actually have more than 11 players that fit those criteria.
The reason that this line-up, or perhaps some minor variation of it, must be used is because it gives the United States a world-class goalkeeper, athletic and technically skilled defenders, four midfielders that can play quick, one-to-two touch soccer (including playmakers), and two strikers that have the speed, quickness, and skill to attack the goal directly and score without holding up play, as so many commentators and writers strangely seem to want the American forwards to do. Elite strikers do not hold up play; elite strikers attack the goal without any hesitation.
There are 23 roster spots available, but Howard, Lichaj, Gonzalez, Cameron, John, Johnson, Bradley, Jones, Dempsey, Feilhaber, Adu, Agudelo, Boyd, and Gomez must be among the 23 players selected. If Klinsmann were to start Howard, Lichaj, Gonzalez, Cameron, Johnson, Bradley, Adu, Feilhaber, Dempsey, Agudelo, and Boyd, then Klinsmann would be the first coach of the United States to field a starting line-up made up of athletic and technically skilled players at every position.
Of the players discussed in this article, most have proven international success with video evidence. Tim Howard has a long history of excellent play not only for the United States national team but also in the English Premier League, and anyone familiar with his play knows that he is a world-class goalkeeper and the best American goalkeeper.
Eric Lichaj has played for Aston Villa or loaned out to other English teams for several years now, and more importantly for the purposes of this article, Lichaj demonstrated in the 2011 Gold Cup and in various international friendlies that he had advanced defensive timing combined with the speed to keep up with attackers and the strength to resist body checks and physical play. Additionally, he has the ability to pass and dribble out of his own defense.
Omar Gonzalez has actually faced off against Neymar in an international friendly against Brazil in a baptism by fire, and Gonzalez performed well taking into account that he was marking the player that has probably the best 1v1 or even the best 1v3 dribbling skills in the world and who will soon be the best player in the world. Marking Neymar really requires constantly swarming him with two to three defenders and simply body checking him or tripping him, if you actually want to stop him or slow him down. The fact that Gonzalez did not perform any worse than most of the other defenders that are forced to mark Neymar on their own (excluding the world's elite center backs) shows how his defending is a step up from Carlos Bocanegra or Clarence Goodson.
Geoff Cameron walked into Mexico City's famed Estadio Azteca without really starting any games that were remotely close to the pressure of that game, and he essentially shut down Mexico's and Manchester United's elite two-footed striker, Chicharito. Many Americans incorrectly downplayed Chicharito's playing abilities or accused Chicharito of not taking advantage of his scoring opportunities, but anywhere that Chicharito went that game, Geoff Cameron was there. Toward the beginning of the game Cameron made a sliding lunge for a through-ball played for Chicharito, and that lunge actually stopped Chicharito's run because he lost sight of the ball or thought Cameron was going to get to it. By the time Chicharito saw that Cameron had not reached the ball with his slide, the ball was too far away for Chicharito to get to it. Cameron also stopped Chicharito time and time again with clean defensive tackles or interceptions . He used some physicality against Chicharito, but he did not hack at him or foul him. When Cameron put in that performance against Mexico, he did what no American center back had ever done: he played suffocating defense characterized by athleticism and the ability to dribble and pass out of trouble, as opposed to merely clearing the ball out of bounds or booting the ball 50 yards down field. Klinsmann showed no faith in Geoff Cameron against Brazil or any of this summer's World Cup qualifiers until the most recent qualifier with Guatemala, and Cameron's play against Guatemala and Mexico silenced his critics.
Fabian Johnson claimed the starting spot at left back for the United States when he combined the ball control skills of an attacking midfielder with blazing speed and sound defensive fundamentals, and he did it against elite European opponents like France and Italy as well as non-European opponents like Mexico, the United States' CONCACAF rival. Johnson starts in the Bundesliga, and it shows.
Michael Bradley has done what no only American soccer player has ever done, he played well enough in Serie A to earn himself a transfer to one of the top Serie A clubs and the world-famous soccer club, AS Roma. When Michael Bradley put on the Roma jersey and played, he topped even Freddy Adu's achievement of putting on the Benfica jersey and actually playing and scoring. Only John O'Brien has a similar achievement, evidenced by his many years of play with the legendary Dutch club, Ajax. Michael Bradley is currently injured, and Bundesliga veteran, Jermaine Jones should be started in Bradley's place if Bradley's muscle injury keeps him out of the World Cup qualifiers against Jamaica. When he's healthy, Bradley should be started as the United States' defensive midfielder extraordinaire, as he has proven for years now by his passing, his dead balls, as well as his excellent play for the United States in major FIFA tournaments and in the 2010 World Cup.
Freddy Adu deserves to start for the United States because of his ability to orchestrate a United States attack like only Benny Feilhaber can, and there is no reason that both players cannot play at the same time. Adu is not just a playmaker or a good passer, he is the only American along with Clint Dempsey that can beat top international defenders off the dribble. This is an area where Adu differs from Feilhaber, although both players are similar in their ability to score with both feet. Feilhaber is an expert at receiving passes in a way to move the ball away from his marker in order to quickly play the next pass or dribble if the situation calls for it. Unlike Feilhaber, Adu is capable of taking defenders off the dribble from a stand-still or at pace, contrary to the inaccurate criticism Adu has received where many observers accuse him of trying to take defenders off the dribble instead of simply just always passing the ball after one or two touches. Adu's play with Benfica and the United States national team bears witness to his abilities, and there is no evidence that the United States is good enough to play one-to-two touch passing against elite opponents and attack them without Adu or Feilhaber or both. Many will claim that Adu did not play very long for Benfica, but Adu has proven time and time again that he can play at a high level against top national teams. Unless the United States is like Brazil that has the option of starting Oscar, Ganso, Diego, Ronaldinho, or Kaká, then the United States needs to start the playmakers they have so Dempsey and Bradley have talented midfielders that they can combine with. Adu can perform two vital skills better than Dempsey and Bradley: play final balls and take defenders off the dribble, which breaks up the organization of the opposing team's defense.
Benny Feilhaber has consistently demonstrated his ability to improve the quality of the United States' play for many years now against the world's best national teams in the 2007 Copa America, in the 2007 Gold Cup, in the 2009 Confederations Cup, and in the 2010 World Cup. Feilhaber falls victim to a unique problem: he is undervalued by club teams in Europe because he is American, and he is much better than the Major League Soccer players he plays with on the New England Revolution, which prevents him from playing his more technically advanced style of soccer characterized by passing the ball quickly and moving without the ball. Many of Feilhaber's teammates are incapable of finishing the final balls he plays for them, and his club, the New England Revolution, even made the poor decision of selling the best box-to-box midfielder in Major League Soccer with the exception of David Beckham, Shalrie Joseph. Feilhaber has to be frustrated with the inability of his teammates to both see and make runs, as well as their inability to receive and release the ball quickly. One thing is certain, Feilhaber has always performed for the United States even against and especially against top national teams.
Clint Dempsey represents the first American soccer player born and raised in the United States that plays so well that it's hard to believe that he's American, so high is his skill level. Dempsey learned how to play soccer like all of the best soccer players in the world: he cultivated an advanced control of the ball by copying the play of the world's best players. Dempsey knew what good soccer looked like, and he honed his skills by studying the play of Diego Maradona as well as by playing games with people from Mexico and Central America. With all of his skill, Dempsey possesses a mentality that is a product of nature or nurture or both that causes him to love competing against the best competition, and he has no fear in facing even the world's best players. Eric Wynalda was a trailblazer when he played as a striker in the Bundesliga, and it took about 13 years for an American to be of a similar mold, but even better in his technical ability. Dempsey is quite simply 10 to 15 years ahead of his time as an American soccer player, and the fact that he is American probably prevented him from playing really high level soccer (even above the level of Fulham) since he was 18 years old. Hopefully, Dempsey will still be able to play club soccer for a team of a higher caliber than Fulham.
Juan Agudelo, although not born in the United States, is really one of the first American strikers to have all the physical gifts and playing skills that one could ask for in an elite striker. Agudelo attacks the goal directly, and he can play with both feet and finish with both feet. Additionally, he can score well with his head, and he has the ability to score off bicycle kicks, flying side-volleys, and other adventurous shooting styles that only Clint Dempsey and Terrence Boyd among the American player pool can score off or will even attempt.
Terrence Boyd is a pure out-and-out striker that frequently hits the passes he receives into the goal first time. Boyd, more so than any other American striker ever, attacks the goal directly, and he has the skill to finish with both feet and his head. Boyd is tall, strong, and very fast even by international soccer standards for strikers. He is the type of striker that shows no hesitation to attack defenses at full speed, and he has the technical ability to use that attacking style to score a lot of goals, whether they be with bicycle kicks, with headers, with left-footed volleys, or first-time right-footed blasts. Athletically, Boyd is a freak of nature, and he is fast enough and good enough to cause problems even for elite international center backs. Every time Boyd has played for the United States his play has warranted a starting spot in the next game, but Klinsmann has hesitated to start Boyd for some unknown reason.
All 11 of the players just suggested are proven international players that would constitute a better starting line-up than anything ever fielded by the United States. The United States should start the following players listed below (with the traditional Brazilian numbering system where the defensive midfielder wears number 5):
1. Tim Howard
2. Eric Lichaj (Right Back)
3. Omar Gonzalez (Right Center Back)
4. Geoff Cameron (Left Center Back)
5. Michael Bradley (Defensive Midfielder)
6. Fabian Johnson (Left Back)
7. Juan Agudelo (Center Forward)
8. Clint Dempsey (Free-Roaming Attacking Midfielder)
9. Terrence Boyd (Center Forward)
10. Benny Feilhaber (Central Attacking Midfielder)
11. Freddy Adu (Central Attacking Midfielder)
*This line-up has two central attacking midfielders with Clint Dempsey essentially playing without a set position. Additionally, Adu and Feilhaber should be allowed to go wherever the game takes them in the attack.
*The players listed above should be started (and the attacking midfielders and Michael Bradley should be allowed freedom of movement) in a 4-1-3-2 as follows:
Tim Howard
Eric Lichaj, Omar Gonzalez, Geoff Cameron, Fabian Johnson
Michael Bradley
Freddy Adu, Benny Feilhaber, Clint Dempsey
Juan Agudelo, Terrence Boyd
Find me on Twitter here: @FutebolSource or @COLINREESE
Like my Facebook page here: https://www.facebook.com/WorldSoccerSource