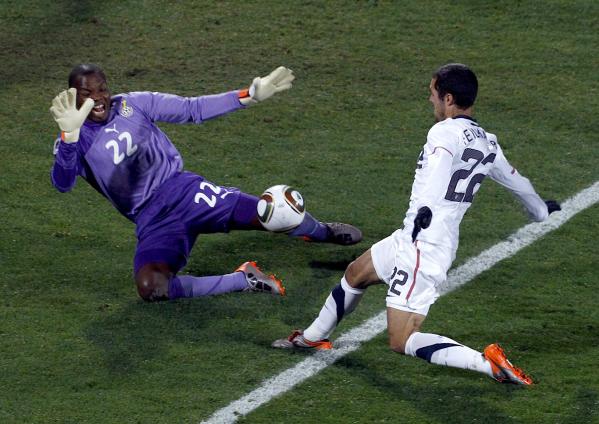 One of the primary problems with the USMNT under Jürgen Klinsmann's tenure has been his insistence on forcing Michael Bradley or Clint Dempsey to be deployed out of position as playmakers. Make no mistake; Klinsmann knows that both Bradley and Dempsey are not playmakers, but Klinsmann has forced both players to fill this role, which leaves vacuums where both players are naturally-suited to play.
Once Klinsmann deploys Bradley as a playmaker, or just in a more advanced position up-field, Klinsman is leaving the defense with a less technically-skilled defensive midfielder to whom they can pass their way out of trouble. Playing directly in front of the defense does not limit a midfielder's ability to help to control the tempo of the game or to participate in the attack, as even Andrea Pirlo, a true master, plays directly in front of the defense.
Bradley's role as a defensive midfielder is one of the most important roles for the team because he sees a lot of the ball when the United States is defending and when they are attacking. Additionally, playing as the defensive midfielder does not hinder Bradley's ability to attack because he can advance up field either by stringing passes together with his teammates or simply by making dribbling forays up-field to play a quality pass to one of his teammates making a run into the final third.
Many people, particularly Americans, see the defensive midfielder as almost some sort of low-skill position that is reserved for a player with just adequate passing skills, but this is incorrect. Being able to pass with the inside and outside of both feet and play one-touch soccer does not mean that Bradley is a natural playmaker, and whomever the United States uses as a playmaker will need Bradley behind him. Bradley constantly drifts back deep into the midfield because he is needed there unless the United States is attacking an opponent through a series of passes, and Bradley should be played deep in the midfield where he naturally feels inclined to play.
For people without a lot of experience with high-level soccer, Bradley's fluid technical skills with both feet equate to those of a playmaker, but being a playmaker requires a different and rare sort of passing mentality. A playmaker looks to constantly unlock defenses with final balls, soft chips, through-balls, and even passes with only a slim chance of threading the defense. Bradley can play final balls and score, but he would be better served by having a playmaker starting with him to give him a skilled player to combine with in the midfield. Starting Bradley as a defensive midfielder does not limit his influence on the game.
Even the Italian media refers to Bradley as a mediano, which is a defensive midfielder along the lines of Edgar Davids or Claude Makélélé (who were even more ruthless defensively than a normal mediano), but playing a mediano does not mean that the player does not have good technical ability, even at the highest level.
Although Klinsmann refers to Michael Bradley as a number 6 (a defensive midfielder that hangs back) or a number 8 (a holding or box-to-box midfielder), Klinsmann seems to view the role of Bradley as a player that can fulfill the role of playmaker when also started with Clint Dempsey. Klinsmann forces his starting line-ups into a series of numerical roles from one to eleven intended to create proactive soccer, but his line-ups are almost always devoid of a number 7,10, and 11, as he frequently starts what could be described as two to three number 6's. In a way, Dempsey is basically used by Klinsmann as a number 11, but there is still no real number 10.
Klinsmann has been reducing the number of creative attacking midfielders in the starting line-up by not playing Bradley as the number six. By way of contrast, Brazil uses a number 5 as a defensive midfielder that does not make attacking forays along with a number 8 who is a box-to-box midfielder that does attack and play defense, but in a recent game against Japan, Brazil started two number 8's, Ramires and Paulinho, which caused Brazil to keep possession and constantly attack.
Klinsmann would be wise to not always deploy his idea of a number 6 and a number 8, but instead he should use Bradley as the defensive midfielder which opens up a spot for a true playmaker. The United States' line-ups should maximize the skill of the players in the player pool while making sure any starting line-up is covered on the defensive end by using a talented defensive midfielder and four defenders, unless the United States elects to use three or five defenders.
In addition to starting Bradley as a sort of playmaker, Clint Dempsey has also been utilized as a type of playmaker by Klinsmann where Dempsey either plays as a second striker or just as an attacking midfielder that has the ability to play balls to whomever Klinsmann is starting at the striker position, and Klinsmann usually just starts one out-and-out striker.
One could argue that a problem with Klinsmann's tactics are that when he deploys Dempsey as a sort of pseudo-playmaker he is depriving Dempsey of having two targets to hit up top, so even if Klinsmann is using Dempsey out of position as a playmaker, he should be using Dempsey plus a pure striker and a second striker.
All soccer tactics hinge on the concept that whatever formation a coach uses to start the game, the formation and the location of the players on the field change as players make runs and cover for each other. Despite Klinsmann's intention to have his best players, Dempsey and Bradley, be the focal point of the attack in the final third, he is actually preventing Dempsey from being the player to be on the receiving end of not only more but better passes in the attacking third.
Many American writers and fans support Michael Bradley playing almost as a central attacking midfielder as he has an advanced skill-set, but the United States will only see better passing and more success when Klinsmann maximizes the number of his most talented players in his starting line-ups.
Like Freddy Adu and Benny Feilhaber have shown before him, Joe Corona's brief cameo against Guatemala along with his play in Olympic qualifying and in Mexico gave a glimpse of the passing style that makes for a talented playmaker. Whether Joe Corona is the answer as a playmaker, or Benny Feilhaber or Freddy Adu or Mix Diskerud or some other relatively unknown player in the United States player pool, is up for debate, but one if not more of these players need to be started and definitely included in the roster to allow Bradley and Dempsey to play their natural positions.
Adu has the dribbling, passing, and shooting skills to be deployed as a second striker, so the United States could start Dempsey along with someone like Feilhaber and Corona behind a striker tandem of Adu and a pure striker. Using this sort of line-up would give the United States the ability to maintain possession and create scoring chances, even against top national teams.
There is no rule that only one creative midfielder that looks to unlock the defense can be started, and the nature of the type of soccer that Klinsmann claims to want to play actually demands the constant movement of most of the players all over the field as they pass and move without the ball.
Starting about five years ago, the United States has had enough players with the ability to play quicker, one-to-two touch soccer, but playing this style requires starting technically-skilled defenders, starting Bradley, starting Dempsey, starting one or more playmakers, and starting not one but two forwards (unless the attacking midfielders provide a real and consistent scoring threat).
If the United States and specifically Klinsmann continues to not only start too many defensive midfielders but also defenders without advanced ball control skills in addition to just one striker, the United States will not play the style of soccer that Klinsmann describes as proactive, by which he essentially means actually attempting to beat your opponents by attacking them and scoring from the run of play as opposed to just trying not to lose.
Although it is not a solution for the defensive problems, starting one or more playmakers is vital to raising the skill-level of the United States national team. Contending that the United States does not have playmakers that can play international soccer is quite simply refuted by video evidence to the contrary, four playmakers were mentioned in this article and all of them have demonstrated the ability to fill the role of a playmaker against quality opponents. None of these playmakers are too young or too inexperienced.