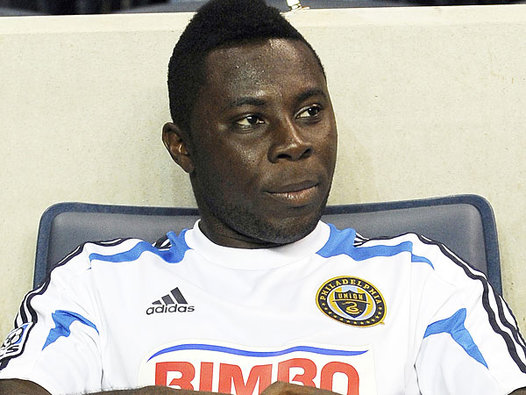 Many American soccer fans seem to judge Freddy Adu with the same illogical criterion with which Jürgen Klinsmann judges him: only total domination merits a roster spot.
Klinsmann has said that he wanted to see Adu taking over games more and dominating games more before he could play for the United States, but this make little sense from a coaching standpoint.
Why does a technically-skilled playmaker with a special skill-set need to dominate every game in order to play for the United States, when no other American is subjected to this standard?
Klinsmann and American fans want the United States to score more goals, but yet they invent nonsensical reasons to exclude all of the natural playmakers from the starting line-up or roster: Freddy Adu, Benny Feilhaber, Joe Corona, and Mix Diskerud.
Klinsmann and the United States are lacking players that have the technical skill to play a brand of quick-passing soccer that Michael Bradley, Landon Donovan, Clint Dempsey, Steve Cherundolo, Geoff Cameron, and Fabian Johnson play. Among the players listed above, none of them are playmakers that play the final passes that produces goals.
Plenty of Americans as well as Klinsmann feel that either Bradley or Dempsey should be forced to be played out of position as playmakers, but this opinion overlooks the reality that neither player is a true playmaker as Bradley thrives playing as a deep-lying defensive midfielder that has strong technical and attacking skills and Dempsey is skilled at attacking defenses and scoring goals.
While both of these players are much better than the majority of their teammates that Klinsmann has been calling up, they have never demonstrated the ability to play a constant stream of inch-perfect balls in the final third that Adu and several other playmakers have shown.
The criticism of Adu has mostly been that he has played for a lot of clubs and that his coaches at the Union this year chose to not start him multiple times.
These two pieces of criticism do not disprove the fact that Adu is the most technically-skilled player in the American player pool and that Adu has performed well for the United States, especially when he has played with players like Bradley, Dempsey, and Donovan, who have the skill level to play one-to-two touch soccer and read his passes.
Adu played most recently for the United States in Olympic qualifying where he not only scored but he also set up two crucial goals to go one goal ahead of El Salvador in the last game of Olympic qualifying.
Adu formed a good playing relationship with talented young players like Joe Corona, Juan Agudelo, Terrence Boyd, Mix Diskerud, Brek Shea, and others.
The last time Adu played for the United States' senior team was in the 2011 Gold Cup in which Adu immediately changed the game against Panama where he not only played the killer pass to set up Donovan's assist to Dempsey, but he also played a diagonal pass on the ground and on a silver platter for Bradley, which Bradley failed to shoot with conviction.
Additionally, in the final against Mexico, Adu was praised by both Pablo Ramirez and Hugo Sanchez of Univisión for his ability to unsettle the Mexican defense by taking defenders off the dribble and playing elegant passes and corner kicks; Adu also took the well-placed corner kick which Bradley put in the back of the net with a glancing header.
The United States only lost to Mexico once Steve Cherundolo sustained an injury, and the then-coach, Bob Bradley, made the mistake of subbing in Jonathan Bornstein, who Mexico instantly identified as the defensive weak link.
The problem that Adu comes up against is that when he goes to play overseas he has the stigma of being an American and when he plays in MLS people expect him to take over every game he plays in.
Many American fans seem to expect Adu to set up multiple goals every game and score multiple goals every game, or they do not want him to play for the United States. This line of thinking overlooks the fact that Adu has proven for five years in international play that he has the skill-set to be an effective playmaker even against teams like Brazil, Argentina, Spain, and Mexico.
This ability to be a dangerous playmaker is needed in an American midfield that has Dempsey as a free-roaming attacking midfielder and quasi-forward and Bradley as a technically-skilled defensive midfielder with the skill to play defense, pass the ball well, and to participate in the attack when needed.
While Dempsey and Bradley are the two most proven midfielders at the club level and international level for the United States, neither one has the same gift that Adu has to create goals, and this skill is the most needed quality that the United States lacks, along with a skilled center back partner for Geoff Cameron.
Adu can be used by the United States with a degree of flexibility because the United States and really Klinsmann could elect to deploy him as a second striker with an additional playmaker behind him or use him in a line of three technically-skilled midfielders with the ability to maintain possession and play one-to-two touch soccer.
Whether or not Klinsmann, American fans, American commentators, and American soccer writers think that Adu has performed well in MLS, there is nothing to suggest that Adu has ever demonstrated any difficulty being an effective attacking force for the United States in international play.
Even if the Philadelphia Union's coaches have left Adu on the bench or off the game day roster on several occasions, these were decisions made by coaches Peter Nowak and John Hackworth, whose coaching abilities have been questioned by many.
These coaching mistakes do not change the fact that Adu has an advanced technical skill-set as a playmaker, and the United States desperately needs a playmaker to create more scoring opportunities.
As this writer has contended in other articles, the United States even has more than one playmaker; lots of observers invent perceived problems with all of them, so they advocate for the United States to force someone to play out of position.
http://www.worldsoccersource.com/?p=2407
Among many Americans there appears to be some misunderstanding of the importance and the role of a playmaker. The best teams in the world all use playmakers because goals are the most important thing in soccer, and playmakers create goals, which create victories.
The playmaker is certainly expected to pressure the opposing team's defense when the opposition has the ball, but playmakers are not supposed to be routinely tracking all the way back deep into their own half to play defense because then they would be out of position to fulfill their role on the team, which is to control the tempo of the passing and to convert their team's passing into goal-scoring opportunities.
No one with an advanced understanding of the game has really ever questioned Adu's talent, but people have argued that Adu should not play for the United States if he is not starting and dominating every game in MLS.
The United States does not have the luxury of not including someone of Adu's ability on the roster because the United States is not good enough to not need players like Adu.
Soccer is a team sport, and just having Bradley and Dempsey in the midfield is not enough technical ability and firepower against opposition with 11 technically-advanced starters; the United States needs playmakers like Freddy Adu, Benny Feilhaber, Joe Corona, and Mix Diskerud to create goal-scoring opportunities for the United States, particularly when the United States is losing.
Hugo Sanchez praised the performance of Freddy Adu against Mexico in the 2011 Gold Cup final.