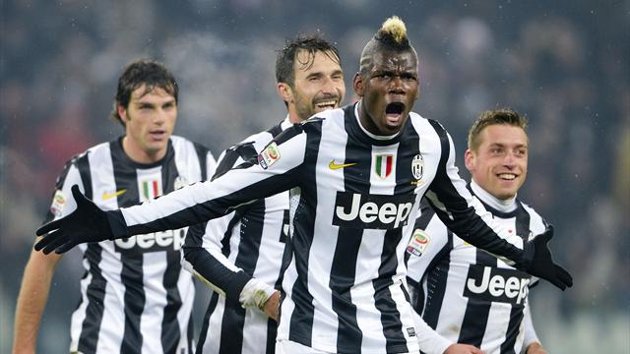 Andrea Pirlo's movement off the ball and constant movement all over the field seems to leave space for another midfielder who plays deep in the midfield, Paul Pogba, to have plenty of space to operate without getting in Pirlo's way or hindering Pirlo's play.
Therefore, less attention should be focused on what position Pogba is actually playing and more attention should be focused on the qualities that he brings to Juventus.
Italians have a variety of names for all of the positions in soccer, and in the midfield, mediano, mezz'ala, centrale, trequartista, and mezzapunta are some of the position names heard the most.
Paul Pogba is hard to characterize with the exception that he is not a trequartista or mezzapunta which are two names for the same advanced-playmaker role or the proverbial number 10 role. Andrea Pirlo, who now plays as a regista or a deep-lying playmaker who lines up at kick off directly in front of the defense, was originally used as a trequartista or mezzapunta until Milan moved him back to his now favorite regista role.
Pogba is some combination of a mediano, centrale, and (maybe down the road) a regista.
A mediano is a defensive midfielder who essentially plays as a midfield destroyer with the obvious caveat that anyone playing as a midfielder at the elite-level is expected to have advanced technical ability so as to not be a passing liability.
A centrale is a box-to-box midfielder along the lines of Arturo Vidal or Kevin-Prince Boateng, even though Boateng is often forced to play out of position as a pseudo-trequartista. In the past, players like Patrick Vieira and Michael Ballack were classic centrali (plural of centrale) and certainly someone like Ramires also would be classified as a centrale. Calling Paul Pogba a regista at this point is a stretch, but he has certainly shown the passing elegance and accuracy to play the sort of balls that a regista plays with ease.
Forcing Pogba into a box or trying to classify him as one of the three midfield positions mentioned above is not as important as the diverse arsenal of qualities that he brings to a midfield even as good as Juventus'.
Nobody really knows what midfield position Paul Pogba is actually playing for Juventus, and it does not matter because he is the total package and a complete player who provides everything one could ask for in a midfielder.
Pogba is a complete midfielder who provides so many different qualities that letting him play his game as opposed to forcing him into a set midfield role is probably the best policy, especially since Pirlo covers so much territory and knows exactly where to go on the field to compliment his teammates and orchestrate play.
Pogba is special because he provides goals, two-footed play, precision passing, strong and elegant tackling (both standing challenges and slide tackles), rock solid shielding of the ball, guile and trickery on the ball, and tireless running. Pogba scores volleys from distance with both feet. He plays soft chips that meet their target in stride. He plays one-to-two touch soccer, and he recovers the ball almost as soon as he or his teammates have lost possession. Pogba's play is causing Antonio Conte to consider making more adjustments to his line-ups than Conte even had to consider in the past.
Pogba has created debate in soccer circles about what position he plays, how good he is, and which player he plays like. There have been numerous comparisons to Patrick Vieira due to obvious physical similarities and the fact that Pogba is a French midfielder, but Pogba appears to have a more refined technical skill-set than Vieira in addition to superior athleticism that most noticeably shows up in the form of agility and gait.
Pogba is around 6'4" as a 19 year old, so it is safe to assume that Pogba will just grow taller and stronger while maintaining his lean and muscular frame. By way of a comparison to basketball, there is no reason to assume that Pogba will lose some agility or athleticism as he grows taller because basketball players of a similar age and that level of athleticism do not lose their athleticism and agility when they grow a few inches taller.
For some coaches, fans, and players, versatility in a player is sometimes viewed as a negative attribute as some people believe versatility usually means that a player is merely good in a variety of categories and in a variety of positions as opposed to being great at a certain position or at a certain aspect of soccer.
Pogba appears to excel at almost all of the fundamentals that a player is measured by, and he plays like a midfielder that can be devastating in the defense and in the attack. With a player who provides so many qualities, a coach can, to some extent, free the player up to roam the field wherever he is needed providing defense when defense is needed and attacking ability when attacking is needed. Pogba already knows how to play effectively and where to go on the field, but playing alongside Pirlo with undoubtedly numerous French and non-French legends offering him advice can only make Pogba better.
Excluding the defenders, Juventus had been utilizing Andrea Pirlo as a regista directly in front of the defense with Claudio Marchisio and Arturo Vidal playing in front of Pirlo as something like centrali (box-to-box midfielders) or mezz'ali (outside midfielders who tuck in). With Juventus' use of three defenders who are essentially center backs playing as right, center, and left defenders with two terzini fluidificanti or old school wingbacks playing in front of them essentially to the right and left of Marchisio and Vidal, Juventus has been playing something resembling a 3-5-2 formation.
This formation did not leave space for Paul Pogba in the starting line-up, but he has nevertheless been incorporated into the starting line-up or used as a substitute. With the rise of Paul Pogba characterized by a string of commanding performances and fabulous goals, Juventus has even more formation options than the club initially planned on using.
Now Juventus and Antonio Conte have the difficult job of deciding which regular starter or starters will be the odd men out in certain games. Perhaps the injury to Giorgio Chiellini and Kwadwo Asamoah's participation in The African Cup of Nations increase the amount of formation options with Pogba, but Conte and Juventus still have the dilemma of deciding which of the following midfielders should start: Andrea Pirlo, Arturo Vidal, Claudio Marchisio, Paul Pogba, and Sebastian Giovinco (who is both a trequartista and a second striker).
Paul Pogba's quality and athleticism are forcing Juventus to rethink their formations, and Pogba is one of several prodigies who are popping up on the world football landscape along with M'Baye Niang and Stephen El Shaarawy, who are all playing in Serie A.
The ascension of Pogba is both a surprise and foreseeable occurrence, as France has consistently produced soccer superstars, and France has two new teenage prodigies in Paul Pogba and M'Baye Niang, who should both prove to make France a formidable opponent for many years.
With the advent of Mario Balotelli, Paul Pogba, and M'Baye Niang, European soccer is seeing athletic specimens and freaks of nature who move with dazzling grace and speed. They are too good, too strong, too fast, and too tall to leave single-marked, and they are going to be around for a long time.