Follow me on Twitter here: @COLINREESE or @FutebolSource
Like the Facebook page here: https://www.facebook.com/WorldSoccerSource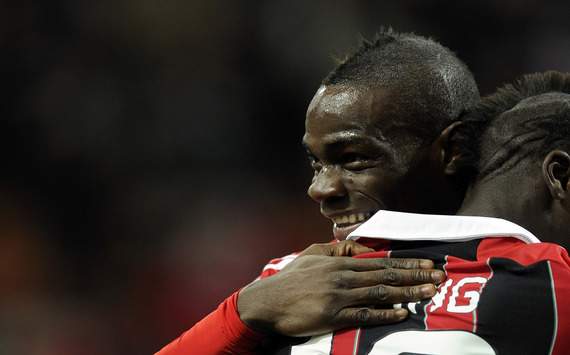 Mario Balotelli garnered most of the headlines for silencing his critics with his triumphant return to Serie A with AC Milan, but Balotelli has a history of delivering when the pressure goes up.
Most of the criticism of Balotelli's personal life and so-called attitude problem is off base and blown out of proportion. While at Manchester City, Balotelli was even subjected to professionalism and maturity lectures and quotes in the press from Nigel De Jong who jumped kicked Xabi Alonso in the chest in the 2010 World Cup Final.
Mario Balotelli is a prodigy and his skill has been on display for around five years, but the teamwork and sharing of the ball between two technical masters and freaks of nature like Mario Balotelli and M'Baye Niang was something of a first in the world of soccer. It could be argued that never before have two strikers with the athleticism, size, and technical ability of Balotelli and Niang attacked an opponent together with a selfless sharing of the ball in a tandem of total destruction.
Milan's other prodigy, Stephan El Shaarawy, should not be overlooked, as his skill and goal-scoring rate have been keeping Milan competitive, but seeing two soccer players with the physique, size, skill, and world-class athleticism of Balotelli and Niang attacking together must have made teams around Europe nervous.
Without exaggeration, what do you do when two players who have the total package of aggressive play, fantastic technical ability, and unmatchable athleticism attack you without one of the two players playing selfishly? There is nothing really the opposition can do. There are certainly teams with the ability to almost neutralize such players working together, and Niang and Balotelli will have off nights, but players with Balotelli and Niang's physical gifts and speed, inside of tall and strong frames, is certainly something new in the world of soccer.
As Balotelli has been around for several years, there have been tall, athletic, and skilled players before, but if more players with all of these qualities become more widespread, many elite soccer players are going to find themselves struggling to keep up with players who inevitably will beat you due to one of many qualities.
For all of the talk of Balotelli's so-called attitude problems and Niang's youth, both players must have shocked many people by their willingness to play together while still shining as individuals. Balotelli and Niang found a way in their first game to not compete with each other, but rather to make each other better.
Any defenders or opposing players for that matter who face Balotelli and Niang will be in for a rough outing because, even if one or both of the players do not score or have something of an off game, the constant onslaught of speed, skill, adventurous play, and strength will be a total nightmare.
Follow me on Twitter here: @COLINREESE or @FutebolSource
Like the Facebook page here: https://www.facebook.com/WorldSoccerSource