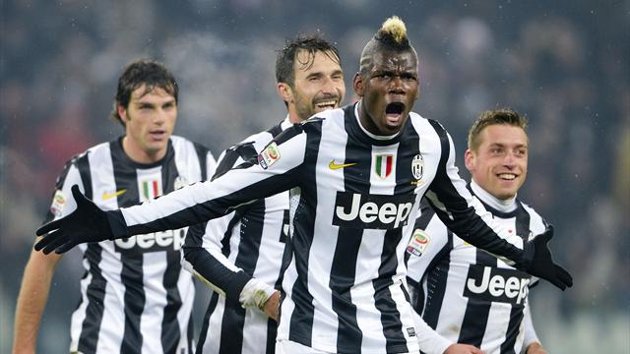 *Note: Lionel Messi was not included in this list because the list is intended to be a Best XI of players who are young prodigies who are new to the scene or underrated. Lionel Messi is widely considered the best player in the world, and he belongs on a list of simply the Best XI.
*Note: Leonardo Bonucci seemed to not really be young enough or underrated enough to be part of this list. Bonucci would likely be the starting center back with Thiago Silva on a World's Best XI list. Salvatore Sirigu is older than some of the other players because he is a goalkeeper, and 25 is fairly young for an elite goalkeeper.
The World's Best XI: The Young, The Underrated, The Sleepers, and the The Newcomers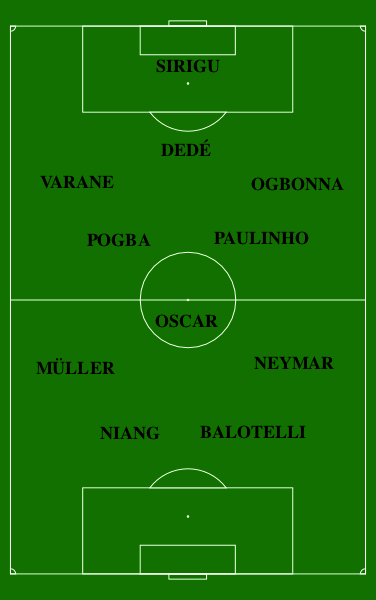 *Many people may call the formation above narrow, but anyone who thinks that should try breaking down the back six players or stopping the five attackers. This formation uses two center forwards (a.k.a. first-strikers)
Goalkeeper: Salvatore Sirigu (Paris Saint-Germain; Italy)
Many of the top, so-called "young" goalkeepers are around 25 years old, and this is the case with Salvatore Sirigu. The Italian Paris Saint-Germain goalkeeper was part of the project to stock Paris Saint-Germain with elite players to bring PSG back to elite status and prominence, and the fact that Sirigu was sought out says a lot about his ability. Based on Salvatore Sirigu's play with Paris Saint-Germain, the Azzurri net will be in good hands when Gigi Buffon retires or is unavailable. Tall and athletic with good reflexes, Sirigu fits right into a club team stocked full of world-class players.
Right Back: Raphaël Varane (Real Madrid; France)
Raphaël Varane is a 19 year old starting center back for Real Madrid who can play anywhere in the defense and even as a central midfielder. Varane's ability and defensive prowess have stood out on more than one occasion while playing against the pass masters of Barcelona, not to mention Lionel Messi. Tall, skilled, fast, and 19, Varane will be the cornerstone of Real Madrid's and France's defense for years to come. There's a new crop of elite defenders on the world stage, and Raphaël Varane is one of the best defenders in the world regardless of age. Varane was an easy and automatic pick for a Best XI list of new, young, or underrated players.
Center Back: Dedé (Vasco da Gama; Brazil)
Dedé is widely regarded as the best Brazilian defender playing in Brazil, and perhaps only Thiago Silva is a better Brazilian defender than Dedé. Dedé is an enormous human being, especially for a soccer player, and his technical ability and dexterity with his feet is not hindered by his height and incredible physical strength. Until Dedé plays outside of Brazil in Europe, he will continue to be underrated, but Dedé is wanted by almost every top club in the world. All the hype about Dedé is true, and the stamp of authenticity is the almost universal belief among the Brazilian people that Dedé is the best defender playing in Brazil. Dedé is an imposing figure and a scary individual. Dedé will be feared for years.
Left Back: Angelo Ogbonna (Torino; Italy)
Angelo Ogbonna, like Dedé and Varane, is the most sought after young defender in the world. Ogbonna is a world-class athlete with natural technical ability who runs and moves with grace. Ogbonna plays as a center back or left back, and whoever buys Ogbonna from Torino will be dropping a lot of cash. Expected to partner with Leonardo Bonucci in the center of the Italian defense, watching Ogbonna in action is quite the sight to see. Ogbonna is easily one of the very best defenders in the world.
Central Midfielder: Paul Pogba (Juventus; France)
The French midfielder playing for Juventus like several of his countrymen on this list is a teenage prodigy who was ready to play at the highest level the first time he was given the chance. Pogba is a central midfielder that gives a team everything: passing, defense, speed, goals, running, vision, strength, and mental toughness. Pogba's skill-set is not confined to a single midfield position, as Pogba has everything. Pogba has no single position that can be classified as his natural position, except that he is a central midfielder. Pogba's play at Juventus as a teenager speaks for itself, and his spectacular highlights in addition to overall performances throughout games make Pogba already one of the best midfielders in the world. Read more about Paul Pogba here:
 http://www.worldsoccersource.com/paul-pogba-the-mediano-regista-centrale-combo-midfielder/
Central Midfielder: Paulinho (Corinthians; Brazil)
Paulinho has garnered worldwide praise for his play at Corinthians, and he is now a fixture on the Brazilian national team where he (along with Ramires) wears the number 8 of the box-to-box midfielder. The Seleção has played Ramires and Paulinho together as two box-to-box midfielders on some occasions as opposed to using a box-to-box midfielder with the more defensive number 5 or cabeça de área who roams the back of the midfield in front of the defensive back four. Given Paulinho's overall ability and strong defensive skills in addition to his speed and stamina, many clubs have sought out Paulinho's services, none with more determination than Inter Milan. Paulinho is a complete central midfielder who provides everything: defensive coverage, quality passing, speed, technical ability, 1v1 ability, and goals.
Attacker: Thomas Müller (Bayern Munich; Germany)
Thomas Müller started for Germany and scored five World Cup goals and provided three assists at the age of 20 at the 2010 World Cup in South Africa. Additionally, Müller is a starter for Bayern Munich where he plays the role of two players as a playmaker and a striker. Still, Thomas Müller has his share of critics, even though his record speaks for itself and his ability is self-evident by anyone who looks at it. There are those who are already pushing for Marco Reus or Tony Kroos to take his starting spot for Germany, but Müller won the World Cup Golden Boot at age 20 in a tournament where many professionals complained that the official ball was difficult to control. Müller has speed, creativity, two-footed skill and finishing ability, exceptional passing, and a nose for goal. 126 appearance for Bayern Munich and 44 goals plus 39 appearances for Germany and 11 goals at 23 years old speak for themselves.
Playmaker: Oscar (Chelsea; Brazil)
Neymar gave Oscar the nickname, "Oscraque," while Neymar was still playing with the playmaking prodigy, Ganso, and that's all anyone needs to know about Oscar. Oscar stepped into English Football like it was nothing, despite all the naysayers saying the physicality of the English Premier League would be hard for Oscar to deal with. Oscar was not the first world-class playmaker to grace the English Premier League, but he did put everyone in the English Premier League on notice that there was a young Brazilian prodigy orchestrating the attack for Chelsea with a level of skill and creativity nowhere to be found in the EPL.
Attacker: Neymar (Santos; Brazil)
This writer has never seen a player who attacks defenders like Neymar or who has the same 1v1 dribbling ability, and this includes Pelé, Diego Maradona, Ronaldo, Zinedine Zidane, Ronaldinho, Lionel Messi, and Cristiano Ronaldo.
Neymar will be the best player in the world soon, but the incredible skill of Mario Balotelli (discussed below) should not go overlooked. Neymar's dribbling ability is already at a level really unseen before, even be Ronaldinho. While Ronaldinho destroyed defenders at pace or from a standstill in his prime, Neymar seems to combine two to three tricks in one sequence, which are effective and not just for show. Much of the focus on Neymar is his speed, quickness, incredible dribbling skill, and his goal-scoring ability with both feet, but Neymar is a magnificent passer who goes all over the field to receive the ball and play excellent passes to his teammates. Words do not do Neymar justice, and Neymar must be seen on video or in person to fully appreciate. Neymar is a sight to behold, and he will eclipse Messi, even when one looks at video of Messi in his prime. With all of the new talent on the world scene, Neymar might not receive four Ballons d'Or as Messi has, but Neymar's skill looks more complete than Messi's. Read more about Neymar here:
http://www.worldsoccersource.com/neymar-at-20-years-old/
First-Striker: Mario Balotelli (AC Milan; Italy)
With the exception of Neymar, Mario Balotelli is possibly the best player of his generation skill-wise, and he lives to silence his critics in big games. Super Mario is almost always more technically-skilled than his teammates or opponents, and his size and athleticism are a new frontier in world soccer. A first striker in the mold of Ronaldo, Balotelli is also a dead ball specialist. Balotelli strikes fear into the hearts of his opponents, and his so-called mental problems and off field problems are normally pure fiction. Now back at the club that he supported as a child, AC Milan, where he is performing well, Balotelli should no longer have to answer his critics after his masterclass against Germany in the semifinal of UEFA Euro 2012. Mario Balotelli is without a doubt the most talented first-striker since Ronaldo and Thierry Henry. Balotelli's only competition for the title of the best first-striker in the world is his teammate, M'Baye Niang. Perhaps, Niang possesses better 1v1 dribbling skills than Balotelli, but Balotelli's are off the charts. Read more about Mario Balotelli here:
http://www.worldsoccersource.com/hunting-in-packs-mario-balotelli-and-mbaye-niang-attack-together/
First-Striker: M'Baye Niang (AC Milan; France)
M'Baye Niang is a 6'4" teenage striker who combines supersonic speed with a magnetic first touch and 1v1 skills and tricks that are only rivaled by Neymar, Cristiano Ronaldo, and Mario Balotelli. Many observers cannot discuss M'Baye Niang without discussing Mario Balotelli because of obvious physical similarities, but M'Baye Niang is a prodigy and a phenomenon in his own right. Niang uses both feet interchangeable, and he attacks defenders and plays at one speed: full speed. Keep an eye on M'Baye Niang because in his first Champions League game, which was against Barcelona, he left Carles Puyol for dead and was the catalyst of the second and decisive goal. Niang is an elegant player who provides electrifying and effective play. Like Mario Balotelli, M'Baye Niang is a first-striker in the style of Ronaldo and Thierry Henry. Niang also looks to be a player who excels at dead balls and passing. Unlike his teammate Mario Balotelli, Niang appears to enjoy tracking back on defense to hound the opposition and regain possession.
Honorable Mention:
Attacker / Winger / Outside Forward: Lucas Moura (Paris Saint-Germain; Brazil)
Lucas Moura is another electrifying young talent whose skill is unquestioned. Lucas electrifies with his speed, skill, dribbling, and overall attacking skill. Lucas should be an almost certain starter for the Seleção in the 2014 World Cup in Brazil.