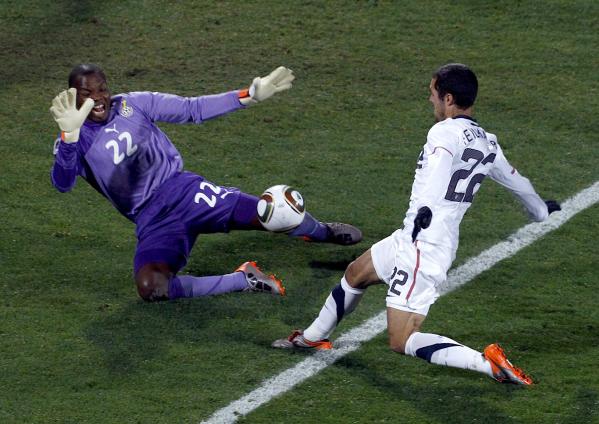 Roughly a year ago, Jürgen Klinsmann suggested that the problem with the United States Men's National Team was that the team needed to be "an edge more nastier" and work the referees more.
That tactic seems to have not worked.
Klinsmann once famously said "Anyone can play left back," and if that was his attitude in a World Cup qualifier, then inexperienced players with a high-skill level deserve a shot in the upcoming friendlies with Belgium and Germany.
Since Klinsmann's approach to coaching the United States Men's National Team has achieved no real progress in improving the technical ability of the team, this writer would contend that essentially tossing in a large group of new players into the deep end against Belgium and Germany would at least offer the potential to see some improvement at various positions and in the overall technical ability of the team.
With other CONCACAF teams demonstrating better technical skill in World Cup qualifiers than the United States, the next two friendlies should be used to really take some roster and starting line-up risks just to see what the United States has in the talent pool. Certainly, Germany offers the chance to see new players' skill level while factoring in nerves and inexperience.
What's the real harm in really seeing how some totally new and promising players do when thrown into the lion's den against Germany in an international friendly?
No matter what happens against Belgium or Germany, the United States should fare fine in World Cup qualifiers if it starts Tim Howard, Jonathan Spector, Omar Gonzalez,  Geoff Cameron, Fabian Johnson, Landon Donovan, Michael Bradley, Benny Feilhaber, Clint Dempsey, Juan Agudelo, and Jozy Altidore.
As opposed to what Klinsmann suggested below, a major change in the players included on the United States Men's National Team as discussed below would seem to be a better strategy to improve the level of play.
Change the players or up the nastiness as suggested in the video below? You decide.
Goalkeepers:
Tim HOWARD
Brad GUZAN
Sean JOHNSON
Defenders:
Geoff CAMERON
Omar GONZALEZ
George JOHN
Gale AGBOSSOUMONDE
Fabian JOHNSON
Jonathan SPECTOR
Andrew FARRELL
Chris KLUTE
Midfielders:
Michael BRADLEY
Perry KITCHEN
Benji JOYA
Dax McCARTY
Clint DEMPSEY
Benny FEILHABER
Joe CORONA
Freddy ADU
Forwards:
Juan AGUDELO
Terrence BOYD
Tony TAYLOR
Mario RODRIGUEZ
Possible Starting XI Formation: