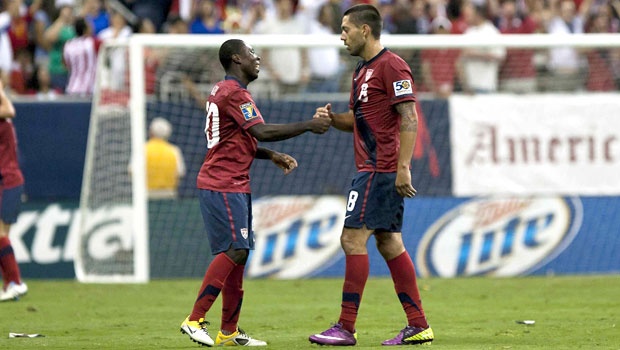 It's hard to be in the public spotlight, and what Jürgen Klinsmann and the players on the United States Men's National Team do is very emotionally intense.
In other countries the pressure the press puts on those involved in professional soccer on the national and international level is much more intense than in the United States, but there's still a lot of pressure in the United States as well.
With that being said, Americans do seem to have very low standards for Jürgen Klinsmann and the United States Men's National Team in regards to the quality of play.
There will always be mistakes made by professional athletes, and crucifying professional soccer players for mistakes is inappropriate and classless.
Americans' standards for Jürgen Klinsmann and the United States Men's National Team are too low because members of the American soccer media and the American fan base fail to intelligently question why attempts aren't made to correct tactical and player selection mistakes made by Klinsmann.
Over and over again, members of the American media and fans just accept rosters and line-ups that simply make no sense, whether one chooses to look at the number of defensive midfielders used, players being played out of position, or players who are visibly not as talented or physically-gifted being called up and started over more deserving players.
This is the way that American standards are too low.
Ridiculing players for a poor pass or a shanked shot or a missed scoring opportunity is pointless because the player who made the mistake already knows about it, and mocking someone for making a mistake won't undo the mistake nor will it encourage the player to keep playing with confidence. It's also a classless thing to do if taken beyond the level of merely having high expectations of a professional soccer player.
What Americans and non-Americans alike should do is expect Jürgen Klinsmann to alter the combinations of players he uses or perhaps the very players he uses.
Klinsmann can try to contend that his tactics are working and the starting line-ups he uses are working, but they aren't working by any standard that would be used in other major soccer countries.
Continuing to play strikers without enough attacking midfielders to play them final balls would not be accepted in another country.
Fielding line-ups that use players in the defense, in the midfield, and in the attack without the ability to comfortably pass the ball around the field and maintain some level of possession would not be well-received in countries with better national teams.
Playing any player at any position without the ability to use both feet or the physical gifts to compete at the international level would simply be lambasted in the press in other countries.
Using formations where an adequate defense wasn't balanced by a midfield and front line capable of threatening the goal of the opposition would also not be respected in countries with better national teams.
In short, Klinsmann fields line-ups where the defensive back four, which is actually good now, is not aided by a midfield and an attack with the ability to pass the ball well, maintain possession, create shots, and score goals.
If you use your best players, you may win or you may lose, but if a starting line-up is structured to use too many midfield spots for supplemental defenders, then the coach is giving the team little to no chance of winning.
Klinsmann's line-ups are set up not to lose.
By way of a fair example to Klinsmann, the Honduras games is an appropriate game to examine because that game didn't involve a blizzard or the injury to Klinsmann's first choice goalkeeper, first and second choice right back, and first and second choice left back.
The loss to Honduras is a good example of the American media and fan base criticizing a correct choice Klinsmann made in not starting Carlos Bocanegra or Clarence Goodson, while not criticizing the personnel and formation of the midfield.
The defeat to Honduras also showcased a line-up where only one starting line-up selection set the United States up to not have the right combination of players to defend and attack.
Just one player, Danny Williams, took a mostly solid starting line-up and turned it into a line-up where the midfield was short one additional attacking midfielder who was needed to improve the overall passing and the creation of scoring opportunities.
On paper, Klinsmann scored 10 out of 11 in regards to his line-up choices.
Ignoring the fact that Eddie Johnson was supposedly playing as a left winger, Klinsmann's line-up was made up of two outside backs with the skill and speed to attack and defend wide, two center backs with the requisite quickness and skill to defend and pass and dribble out of trouble, two defensive-minded midfielders with advanced technical ability even by international standards, a sort of free-roaming attacking midfielder with the ability to dribble, pass, and shoot, and two strikers with definitely the speed and by-and-large the skill to disrupt international-caliber defenders.
The problem was the inclusion of Danny Williams as a midfield destroyer when Klinsmann already had two skilled and aggressive defensive midfielders with the ability to break up the passing of the opposition if they weren't playing in ankle deep grass in a sauna.
Nevertheless, Honduras played well with the heat and humidity and the grass which truly was too long for a World Cup qualifier.
Setting aside the weather and the grass, Honduras played well, and the United States used a starting line-up that failed to put the players in a position to have a team capable of playing as a collective unit where attacking skill was balanced with defensive skill.
Criticizing Jürgen Klinsmann for this midfield set-up that didn't provide Clint Dempsey, Michael Bradley, and Jermaine Jones with a fourth member who could provide a creative passing skill-set that they themselves mostly couldn't provide is a fair and respectful criticism of Klinsmann.
Continuing to call out Klinsmann for not balancing a strong defense and a strong attack is something that the American soccer media fails to do with any conviction or specificity.
Follow on Twitter: @COLINREESE or @FutebolSource
Like WSS on Facebook: https://www.facebook.com/WorldSoccerSource
© Colin Reese