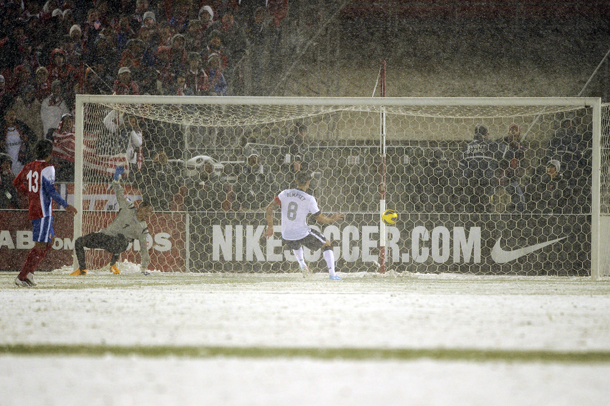 Commentary:
Jürgen Klinsmann's starting line-ups make no sense.
The United States Men's National Team can improve immediately if the right combination of Jürgen Klinsmann regulars are started with some newer and not so new proven players.
The recipe is simple: keep Tim Howard, Omar Gonzalez, Geoff Cameron, Fabian Johnson, Jermaine Jones, Michael Bradley, and Clint Dempsey in the starting line-up, and then add Landon Donovan, Benny Feilhaber, Juan Agudelo, and Jonathan Spector .
This gives the United States a solid goalkeeper, four capable and proven defenders, a balanced midfield that can pass, and a more creative and talented young striker in Juan Agudelo.
This line-up is not necessarily the very best option for the United States, but it is a proven and balanced one, which can greatly improve the United States' play before a more radical overhaul is attempted.
Since Klinsmann likes to use at least two defensive midfielders, then he should start three attacking midfielders in front of them in a four-two-three-one formation.
Here is why the following players should be started:
Goalkeeper: Tim HOWARD (Everton)
The United States Men's National Team doesn't have a problem with its goalkeepers, and Howard continues to provide several world-class saves every friendly and World Cup qualifier that prevent the United States from losing. Howard is a proven international and English Premier League goalkeeper, and the United States would have lost a lot of World Cup qualifiers under Jürgen Klinsmann if Howard hadn't made all the saves that he did.
Right Back: Jonathan SPECTOR (Birmingham City)
Many Americans easily forget how well Jonathan Spector has consistently played against even the most elite international opponents like Spain and Brazil. Using Jonathan Spector gives Jürgen Klinsmann and the United States Men's National Team, the confidence that an experienced and proven player is being used who is also much younger than Steve Cherundolo.
Center Back: Omar GONZALEZ (LA Galaxy)
Omar Gonzalez has demonstrated that he has the skill and athleticism plus the obvious defensive qualities to play international soccer for the United States, and he is a big upgrade to the skill and athleticism of Carlos Bocanegra and Clarence Goodson.
Geoff Cameron is better and more athletic than Gonzalez, but Gonzalez is a very talented center back who is perhaps a safer choice than tossing some of the younger American center backs into the fire.
Center Back: Geoff CAMERON (Stoke City)
One of the main problems for the United States over the years has been the weakness in the center of the American defense, and Cameron strengthened this weakness when he was finally used as a center back for the United States.
Cameron brings a new level of skill, athleticism, and coolness under pressure to the center of the American defense, and he needs to be played as a center back so the United States can play up to its full potential.
Starting Geoff Cameron and Omar Gonzalez lowers the chances of the American defense being frequently beaten.
Left Back: Fabian JOHNSON (Hoffenheim)
There's not a good reason to not start Fabian Johnson at left back because he's simply too good. While some of the back ups at outside back who Klinsmann has put on the roster are suspect, Fabian Johnson is a good starting selection.
Starting Gonzalez, Cameron, and Johnson allows for a defensive set-up that is solid and fairly well-tested, and inserting an experienced player like Jonathan Spector at right back is a safe and good choice.
Defensive Midfielder: Michael BRADLEY (Roma)
Contrary to what many Americans think, Bradley is a defensive midfielder. Bradley isn't strictly a midfield destroyer who always hangs back deep to break up the passing of the opposition, but he is a defensive midfielder.
Bradley fulfills an important role: he breaks up the passing of the opposition, he provides a passing outlet for the defensive back four, he drops back deep to essentially play as a fifth defender, and he actively participates in the passing play of the United States' midfield.
Playing at his natural position doesn't hinder Bradley's involvement in the game, but it allows him to be a main participant in the offensive and defensive aspects of the game.
Michael Bradley's more defensive midfield role is equally as important as Clint Dempsey's more attacking role.
Defensive Midfielder: Jermaine JONES (Schalke)
No one plays in the Bundesliga and the Champions League for a team like Schalke without world-class technical ability. The German clubs don't let players play whose technical ability and fundamentals are a liability.
The question with Jones is whether or not the United States needs to start Michael Bradley and Jones at the same time, as there are already four defenders and a goalkeeper. Using two defensive midfielders is certainly common, and it may or may not be overly defensive depending on the other players making up the front six of the starting XI.
Right Attacking Midfielder: Landon DONOVAN (LA Galaxy)
While there are a number of talented attacking midfielders in the pool who Jürgen Klinsmann has basically refused to use even if he calls them up, Klinsmann does like Landon Donovan. A great first step for the improvement of the passing and quality of play of the USMNT would be to start Donovan, Clint Dempsey, and a playmaker in a line of three in front of the defensive midfield tandem of Jones and Bradley.
Central Attacking Midfielder: Benny FEILHABER (Sporting KC)
At this point, Klinsmann needs to accept the reality that he cannot simply continue to field starting line-ups without the personnel to produce good passing and shots on goal. Benny Feilhaber is a proven playmaker at the international level, and using one playmaker to balance defensive midfielder heavy formations is reasonable and necessary.
By choosing to start Feilhaber with Donovan, Dempsey, and Bradley, Klinsmann is using a formation which is not risky or experimental, but rather one with a proven track record of success.
Left Attacking Midfielder: Clint DEMPSEY (Tottenham)
It's important that Clint Dempsey not be tasked with the role of a playmaker because Dempsey's game is built on attacking the goal and being one of the targets for final balls as opposed to being required to play as a true playmaker, which is exactly what Klinsmann makes him do.
By starting Benny Feilhaber, Dempsey is free to roam around making runs and play off a playmaker. When Feilhaber is used as a playmaker, Dempsey has a teammate who can combine with him and play him the types of passes Dempsey is looking for.
Striker: Juan AGUDELO (Chivas USA)
Taking nothing away from Jozy Altidore's goal-scoring rate this season or his improved technical skills, Juan Agudelo is a more graceful and technically-skilled striker than Jozy Altidore with the same size and athleticism.
Altidore is stronger than Agudelo, but Agudelo is a powerful and crafty striker who attacks the goal more than Altidore.
In short, Agudelo offers Altidore's athleticism with higher marks for creativity, smoothness, aggressive play, and technical ability.
Agudelo has never had any problems playing against elite international competition, and unlike Altidore, Agudelo poses more of a scoring threat in international soccer by involving himself in the game more than Altidore .
Agudelo has more experience with the United States Men's National Team than Terrence Boyd, so Agudelo is a safer pick if the goal is to improve the United States' play by using experienced players who are better than some of the players currently used by Klinsmann. Nevertheless, Boyd would also bring more of a goal-scoring threat than Altidore.
Outlook:
If Jürgen Klinsmann fields something along the lines of the starting line-up proposed above, then the United States will see a vast improvement in the ability of the team to keep possession of the ball in all areas of the field and an improvement in its ability to attack its opponents.
This is an easy change to make that doesn't require experimentation or using inexperienced players in vital World Cup qualifiers.
Nevertheless, it would be a mistake for Klinsmann to not allow Joe Corona, Terrence Boyd, and Freddy Adu to see more playing time for the USMNT, and many players like Joe Gyau, Perry Kitchen, Mario Rodriguez, José Villarreal, Gale Agbossoumonde, Andrew Farrell, and Chris Klute should be watched closely and tested.