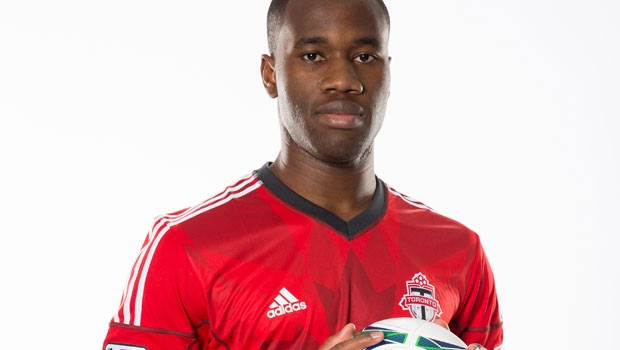 It's a mystery why  Jürgen Klinsmann doesn't always put Geoff Cameron, Omar Gonzalez, and George John on the United States Men's National Team roster as three of the four center backs. In the list below, World Soccer Source ranks George John fourth in the USMNT center back depth chart (below Gale Agbossoumonde). Both Soccer America and Soccer By Ives have ranked American center backs, but World Soccer Source believes those rankings don't include many of the center backs with the athleticism and skill to help the United States improve as a national team on the international level.
1.) Geoff Cameron (Stoke City)
Technically-skilled with both feet, quick, fast, aggressive, and proven in the EPL and at the international level, Geoff Cameron raised the bar on all American center backs. When Cameron started playing for the USMNT, the center of the American defense saw a major improvement in the ability of the American defense to resist being broken down by opponents. With Cameron in the center of the American defense, the USMNT can dribble and pass better out of trouble in the back, and the center of the American defense isn't as easy to penetrate and beat.
2.) Omar Gonzalez (LA Galaxy)
While not as technically-skilled or athletic as Cameron, Gonzalez is quite athletic and he is comfortable with the ball at his feet. Gonzalez is also a strong defender in terms of his ability to tackle, marks attackers, and win battles in the air. Like Cameron, Americans have called for Gonzalez to start as one of the center backs for the national team, and now the center of the American defense looks more skilled and athletic and defensively stronger than it has ever been. Gonzalez has now had several international games to demonstrate just how good of a center back he is, and he has also performed well against La Liga MX sides like Monterrey in the CONCACAF Champions League.
3.) Gale Agbossoumonde (Toronto FC)
Gale Agbossoumonde is a well-known name in American soccer circles, and now that the 21 year old Agbossoumonde has started several games in a row for Toronto FC in MLS, people can see Agbossoumonde's combination of skill on the ball, athleticism, size, and defensive fundamentals and instincts. Agbossoumonde should prove to be an essential element of the USMNT's defense going forward, and American soccer fans will have to see how willing Jürgen Klinsmann is to give him a chance. In addition to the athleticism and technical ability, Agbossoumonde doesn't panic in the back, and he remains calm even after major and minor mistakes. The Toronto FC center back has been very impressive even against Thierry Henry and the New York Red Bulls, and USMNT fans should watch his play in MLS closely.
4.) George John (FC Dallas)
For several years now, it's been unclear why Geoff Cameron, Omar Gonzalez, and George John weren't all incorporated into the USMNT and steadily given more playing time. It took Klinsmann about five or six months to even call Cameron and Gonzalez into a USMNT camp, but Klinsmann essentially totally ignores John besides all of the praise of his play from players, coaches, scouts, and foreign clubs. The Greek national team has even expressed interest in having John play for them. Like Cameron and Gonzalez, John is technically-skilled with the ball while also being a strong defender, and he has a level of athleticism above players like Clarence Goodson and Carlos Bocanegra. Matt Besler of Sporting Kansas City has been used by Klinsmann, but John is visibly more talented than Besler who is largely one-footed.
5.) Perry Kitchen (DC United)
Perry Kitchen is a very good defensive midfielder who has also shown that he can play as a center back, and anyone who has watched Kitchen play can see his combination of defensive and passing skills. Perry offers the USMNT a center back who tackles as well as he passes and dribbles. The United States Men's National Team is trying to use players with better touch and control of the ball at every position, and Kitchen is a young MLS player who should always be in the discussion for a roster spot on the USMNT where he could be used as a defensive midfielder or as a center back.
6.) Maurice Edu (Bursaspor)
Maurice Edu receives a lot of criticism for his supposed lack of refined passing skills, but Edu is much better than most of his critics think. Edu has consistently been playing overseas, and Edu performed well as a center back against Chicharito and company in the United States' victory over Mexico in Estadio Azteca in August of 2012.
When the United States played Mexico in World Cup qualifying in March of 2013, Edu helped Michael Bradley to protect the USMNT's defense from Mexico's midfielders and forwards.
In that game, Maurice Edu completed 39 of 45 passes as a defensive midfielder, and Edu had a number of tackles and recoveries.
Occasionally, Edu has games where many of his passes are hospital balls, but he is a two-footed, fast, quick, and strong player who tackles well. Edu is still a much safer option that players like Clarence Goodson and Carlos Bocanegra who are not technically-skilled enough or not quick enough or both.
7.) Amobi Okugo (Philadelphia Union)
Amobi Okugo is the type of center back that is becoming increasingly more common: fast defensive midfielders who are converted to center back. It's possible that Okugo should be ranked higher than seventh in the USMNT center back depth chart, but after ranking Cameron and Gonzalez first and second, the ranking of the remaining center backs is hardly scientific.
Okugo is a fast and quick center back who uses both feet to dribble and pass out of the back, and his athleticism and defensive skills allow him to chase down attackers when he is beaten with a pass or taken off the dribble. Okugo will likely just continue to get better and better as this MLS season goes and as he gets more acclimated to his center back role.
Klinsmann claims that he's looking to improve and change the USMNT, but he has shown a real reluctance to incorporated players like Okugo into the USMNT set up before World Cup qualifying began. It's hard to argue that a one-footed player like Matt Besler who can't keep up with better and faster attackers without a lot of support from defensive midfielders is more deserving of a role on the national team than Okugo.
While this opinion may be unpopular with many USMNT fans after the United States tied Mexico with Besler starting at center back, Besler was being protected by two defensive midfielders in that game who combined to complete about 100 passes, which indicates how active they were in passing the ball out of the danger zone.
8.) Andrew Farrell (New England Revolution)
Andrew Farrell has been used as a right back by the New England Revolution, but he can play anywhere in the defense. Andrew Farrell is as much of a center back as he is an outside back.
Farrell likes to charge forward into the attack with dribbling runs in order to play passes to his teammates, and his overall athletic gifts and his comfort with the ball at his feet make him another MLS defender who Klinsmann should test out in USMNT camps or in international friendlies.
Klinsmann won't know how Farrell can do until he is looked at and tested.
With any skilled young player, Farrell should be allowed to show what he can do in several camps or international friendlies before any final judgments are made about his abilities.
Who knows? Maybe Farrell is already ready to play as an outside back or center back for the USMNT.
9.) Caleb Stanko (SC Freiburg)
Tab Ramos has backed both Caleb Stanko and Shane O'Neill for USMNT duty, and Stanko's play in CONCACAF U-20 World Cup qualifying along with the fact that he's playing in Europe at such a young age make his name a name to remember. Stanko should continue to improve and be more discussed in U.S. soccer circles. The next couple of months should show allow Stanko to show more of what he can do. Anyone backed by Tab Ramos deserves to be taken seriously, and Stanko will likely be a name that USMNT fans will hear more of in the near future
10.) Shane O'Neill (Colorado Rapids)
Since Tab Ramos has voiced his support of Shane O'Neill and used him in U-20 World Cup qualifying, people can monitor O'Neill's play with the Colorado Rapids. Playing in MLS gives O'Neill a high degree of visibility for Klinsmann and the USMNT's coaching staff. O'Neill's games will be able to be analyzed and monitored, and his strengths and weaknesses as well as his progress will be easy to observe in MLS. Like Stanko, the next couple of months will show how O'Neill is progressing and how highly Klinsmann and others involved with and connected to the USMNT rate him. O'Neill is another young promising player, and American soccer fans can no longer complain that the talent pool at center back is shallow.
Follow on Twitter: @COLINREESE or @FutebolSource
Like WSS on Facebook: www.facebook.com/WorldSoccerSource
© Colin Reese