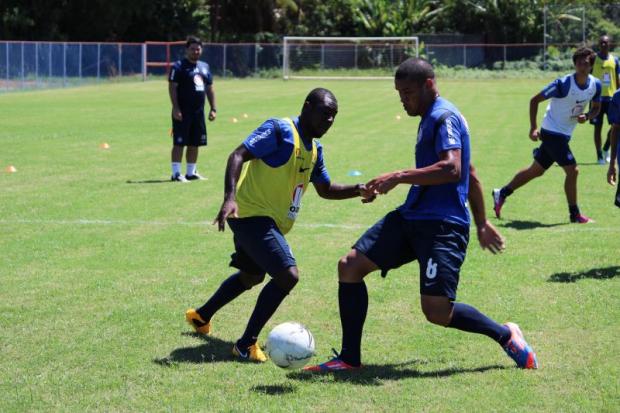 *Jürgen Klinsmann and the United States Men's National Team have four solid playmaker options:
1.) Benny Feilhaber (Sporting Kansas City)
Any American soccer fan who is a critic of Feilhaber's quality and resume as a playmaker at the international level is free to check the video evidence and statistics available on the internet.
Beginning with the 2006 World Cup and right afterwards, the United States Men's National Team gained three quality midfielders to play with Landon Donovan: Clint Dempsey, Benny Feilhaber, and Michael Bradley.
When one looks at some of the United States Men's National Team's greatest exploits besides the 2002 World Cup, one will see Benny Feilhaber there.
When the United States was starting two defensive midfielders in the 2009 Confederations Cup and the 2010 World Cup and not scoring or passing well, Feilhaber was brought into the games to improve the passing.
Until Jürgen Klinsmann lets Joe Corona see real playing time and Corona performs well at the international level, then Klinsmann has no excuse for not using Feilhaber.
Many American soccer fans can criticize Feilhaber and mock the idea of his inclusion on the national team under Klinsmann, but they should produce the name of a better playmaker they want to see play instead.
Feilhaber has completed 292 of 367 passes for Sporting Kansas City this year according to the Chalkboard stats off Major League Soccer's official site which results in an 79.5% pass completion rate, even though Feilhaber attempts to slip a lot of low percentage passes through the defense in order to break down the opposition's defense.
Feilhaber's critics can no longer say that he isn't playing well in MLS because he's performing very well this season for one of the best team in MLS.
Feilhaber has a history of improving the passing of the United States Men's National Team more so than other American midfielders have, and there is nothing to suggest that Feillhaber isn't the most proven American playmaker on the international level
2.) Freddy Adu (E.C. Bahia)
Freddy Adu is more talented and faster than Benny Feilhaber, but Adu almost falls into a different category of position: second striker. While Adu is a central attacking midfielder, his technical qualities and speed allow him to play as a second striker, even with a playmaker like Feilhaber playing behind him in the midfield.
This set-up is too attack-minded for many members of the American soccer media and the American fan base, but it is a formation worth trying out, as it gives the United States lots of creativity in the final third.
Adu has been given less caps for the United States Men's National Team than Benny Feilhaber, and Feilhaber has the benefit of having his play in the 2007 Gold Cup, the 2007 Copa America, the 2009 Confederations Cup, and the 2010 World Cup to point to in order to stake his claim as the best American playmaker, which doesn't mean that Feilhaber is a more talented player than Adu.
One aspect of Adu's record with the United States Men's National Team that many people ignore or forget is that Adu has always performed well when he has been used by the national team even going back into his teens.
Adu's critics need to prove that he hasn't performed well for the United States Men's National Team when he has been used, and that is very difficult to prove.
Bob Bradley would call Freddy Adu up from time to time during his tenure as coach of the United States, and Adu never performed poorly.
Adu is playing in Brazil for an old and famous club, Bahia, and this fact says a lot about Adu's skill level and style of play.
That fact that Adu is playing his club soccer in Brazil should never be far from any critic's mind.
3.) Joe Corona (Xolos de Tijuana)
Joe Corona himself has described his preferred position as behind the strikers in the center, and Corona does also play slightly more right or left as an attacking midfielder.
Corona can play any attacking midfielder role for the United States, and particularly the way he was able to play well against Corinthians on two occasions shows his technical ability.
Many members of the American soccer media and the USMNT fan base often refer to Corona as "promising but raw and inexperienced at the international level," but that statement is largely disproved by the fact that Corona starts in Copa Libertadores for a team that is doing well.
Playing professionally in Mexico in addition to playing against opponents from around South America disproves the "raw or inexperienced at the international level" tag. While the Copa Libertadores is club soccer as opposed to country against country, it is nevertheless high-level international competition.
Corona might be having the best club form of all of the American playmakers because he is starting consistently in a league where the quality of the soccer is better than MLS, and he is performing well in a competition like the Copa Libertadores which no other American playmaker is doing.
A close examination of Corona's game reveals a creative midfielder who uses both feet to dribble, pass, and shoot, and he provides the ability to set up goals and score goals against stronger competition than is found in Major League Soccer.
Are Benny Feilhaber and Freddy Adu better than Joe Corona?
It's unclear until they are  played more by Klinsmann, and people can see which one does the best.
For the purpose of this article, Feilhaber and Adu have seen much more playing time for the USMNT than Corona, so people know or should know that those two players can perform against top international competition.
Nevertheless, there's no reason to doubt that Corona can perform well for the USMNT and improve the passing and the attack.
Despite the fact that Corona was ranked third in this article by virtue of Adu and Feilhaber having more international experience, there is no rule that only one of these players can be used at the same time.
All three can play various attacking midfielder positions, and Adu and Corona can play as second strikers.
Many national teams and club teams start multiple attacking midfielders with one or more defensive midfielders behind them, and if Klinsmann is going to start Michael Bradley and Jermaine Jones, starting some three or four-man combination of Dempsey, Corona, Adu, Feilhaber, and Donovan is a good idea.
4.) Mix Diskerud (Rosenborg BK)
An interesting commonality among all of the playmakers discussed in this article is that all of them have sort of connection to non-American soccer.
Perhaps there is something about the technical qualities of playmakers that other cultures and countries value more than Americans and the United States Men's National Team value.
On the other hand, Clint Dempsey was born and raised in Texas to American parents, and he values technical ability and skill above all other soccer qualities.
Like Corona, Feilhaber, and Adu discussed above, Diskerud is good at what he is supposed to do: facilitate passing and set up goals.
The reason why a former German striker of Klinsmann's abilities uses none of these four playmakers is a mystery, but certainly Diskerud has demonstrated how his skill on the ball, his vision, and even his shooting can be very helpful to the teams he plays for.
While Feilhaber, Adu, and Corona are players whose skills and performances are easily viewable on television and online, perhaps Diskerud's performances have been out of the American eye more so than the other hand.
Without a doubt, Diskerud's chemistry with Adu and Corona were evident during qualifying for the 2012 Olympics, and Diskerud has performed well for the USMNT against Russia and several other decent to strong national teams.
Is Diskerud the fourth best American playmaker?
Nobody knows because Klinsmann won't really use any of them for a reasonable amount of playing time.
Follow on Twitter: @COLINREESE or @FutebolSource
Like WSS on Facebook: www.facebook.com/WorldSoccerSource
© Colin Reese