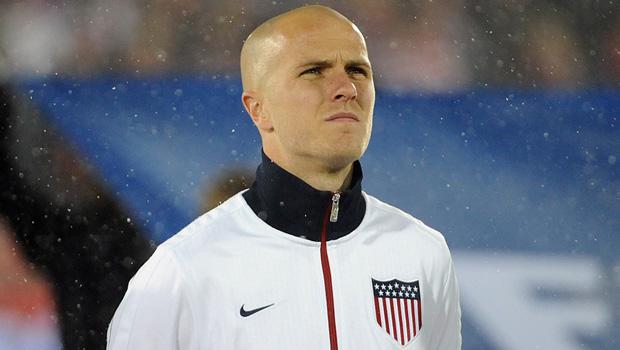 Fielding a line-up that is strong defensively and offensively is only Jürgen Klinsmann's first step in having a United States Men's National Team that will be truly respected around the world as a team capable of beating top national teams.
For now, the United States, which means Klinsmann, needs to start a group of players with the ability to win in CONCACAF World Cup qualifying.
Setting aside the laundry list of players frozen out of the United States Men's National Team by Jürgen Klinsmann, the coach of the United States is now two starting line-up changes away from proactive soccer: Landon Donovan and Benny Feilhaber.
Klinsmann likes to use Tim Howard, Timothy Chandler, Omar Gonzalez, Geoff Cameron, Fabian Johnson, Jermaine Jones, Michael Bradley, Clint Dempsey, and Jozy Altidore, and all of those players can produce the type of one-to-two touch soccer that breeds victories.
Despite the loss to Honduras, that starting XI fielded by Klinsmann was really close to being a strong and balanced line-up.
Even though the starting line-up used to face Honduras was close to being a balanced and talented starting XI, every Klinsmann line-up has the same fatal flaw of not including the personnel needed to attack and maintain possession.
On the one hand, Klinsmann has sometimes been close to fielding balanced and talented line-ups, but, on the other hand, his failure to include the right mixture of defensive and attacking midfielders has allowed teams like Honduras and numerous others before them to pass the United States Men's National Team off the park and create scoring chances.
Even though some of the players listed above are open to debate, none of them are liabilities or inexperienced players.
Specifically, Jozy Altidore has received a lot of criticism for his lack of shots on goal and goals scored for the USMNT, but the types of goals he has scored in Holland as well as his goal-scoring rate there indicate that the primary reason for the United States' lack of scoring is really a lack of final balls and skilled passing.
Klinsmann certainly has made a lot of decisions worthy of criticism and questioning, but like World Soccer Source has discussed before, the starting line-up chosen to face Honduras was almost a totally balanced and essentially full strength line-up.
Feilhaber and Donovan were particularly singled out above as deserving of a starting spot for the United States because they can strengthen the U.S.' weaknesses with proven skill-sets at the international level.
If Bradley and Jones are played deep as defensive midfielders and pseudo-box-to-box midfielders with Donovan, Feilhaber, and Dempsey in front of them from right to left, then the United States has five midfielders who can maintain possession, regain possession, and ensure that Altidore receives adequate service up top.
Adding Donovan and Feilhaber to the starting line-up used in the loss to Honduras means that Danny Williams and Eddie Johnson would be relegated to the bench.
The essential thing to remember about the line-up proposed is that while it uses 11 skilled, proven, and athletic players, it can be adjusted during the game if the roster also includes people with the skill and athleticism to play if a change is needed for whatever reason.
There's no reason to think the United States doesn't have the personnel to start playing better in World Cup qualifying, but Klinsmann's continued refusal to make any sort of tactical changes to the players used in the midfield and up top is a reason for concern.
Donovan and Feilhaber correct this primary flaw with Klinsmann's tactics.
Donovan brings technical ability, speed, experience, assists, and goals, and Feilhaber provides the creativity to be the missing passing link between players like Jones and Bradley and attackers like Dempsey, Donovan, and Altidore.
Additionally, Feilhaber's passing and movement of the ball put the American midfield in a passing rhythm (a favorite Klinsmann term) where he improves the passing and scoring threat of the team.
More technically-skilled players used at the same time produce a more attractive and effective style of play where all of the players can combine with each other and play off each other.
Donovan allows Dempsey and Altidore to have another elite player to combine with in the final third and elsewhere, and Feilhaber brings the vision and passing ability to break down defenses (and the ability to also score himself).
As in the past, Klinsmann needs to keep using the skilled and effective players he does use, but he needs to incorporate Donovan and Feilhaber to form a cohesive United States Men's National Team that can defend, maintain possession, and create scoring chances.
His current line-ups never do all three of those things in the same game, and they almost never create a reasonable amount of scoring chances.
Tactics and style of play are entirely dependent on the skill level and the athleticism of the players started and used, and the United States Men's National Team can no longer afford to use players who don't have the ability to play with a high level of technical skill even when the speed of play and the quality of the opponents increase.
The line-up proposed here is a balanced line-up made up of proven players who all fulfill certain roles to form a cohesive unit.
The United States not only needs substitutes for every one of these players but also players on the roster to allow Klinsmann to alter his formations and tactics depending on the opponent.
Proposed Starting XI That Should Satisfy Klinsmann's Requirements For Now: Howard; Chandler, Gonzalez, Cameron, Johnson; Bradley, Jones; Donovan, Feilhaber, Dempsey; Altidore