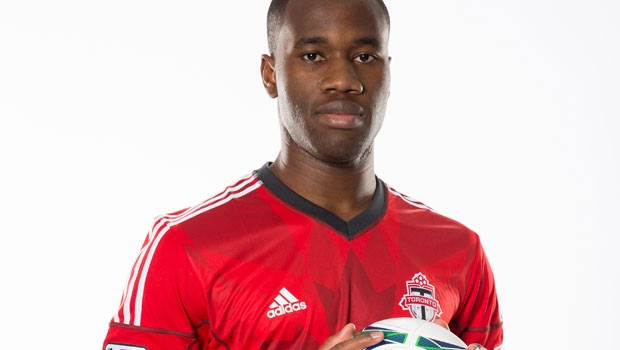 Despite criticism of the quality of Major League Soccer, there have always been talented American players in MLS who have been able to perform and excel at the international level. Here are several American MLS players who the USMNT can use and why they need to be used by Jürgen Klinsmann:
Juan Agudelo
The U.S. Men's National Team is simply not good enough to not need strikers of Juan Agudelo's technical ability, fearlessness, nose for goal, and creativity—not to mention that all of these playing qualities are found in a quick, tall, fast, and strong athlete.
Juan Agudelo is way too skilled and athletic to not play for a team like the United States which not only struggles to score goals or produce a technically-advanced style of play but that also is regarded by national teams and people from around the world as a physically-fit but somewhat technically weak national squad.
George John
* From a previous World Soccer Source article found here .
For several years now, it's been unclear why Geoff Cameron, Omar Gonzalez, and George John weren't all incorporated into the USMNT and steadily given more playing time. It took Klinsmann about five or six months to even call Cameron and Gonzalez into a USMNT camp, but Klinsmann essentially totally ignores John besides all of the praise of his play from players, coaches, scouts, and foreign clubs. The Greek national team has even expressed interest in having John play for them. Like Cameron and Gonzalez, John is technically-skilled with the ball while also being a strong defender, and he has a level of athleticism above players like Clarence Goodson and Carlos Bocanegra. Matt Besler of Sporting Kansas City has been used by Klinsmann, but John is visibly more talented than Besler who is largely one-footed.
Perry Kitchen
The U.S. Men's National Team needs Perry Kitchen. If Michael Bradley were ever injured or suspended (like in the 2009 Confederations Cup Final when Brazil scored three second half goals), then the United States would only have Jermaine Jones as a technically-skilled defensive midfielder to replace Bradley. While Edu is a much better player than many Americans give him credit for, Kitchen is a player who can bring the U.S. another effective defensive midfielder with advanced two-footed skill on the ball, and there is room for Kitchen on a 23 man roster. Kitchen's ability to play center back along with his comfort on the ball make him a player that is needed in a balanced USMNT roster with skilled replacements at every position.
Benny Feilhaber
Benny Feilhaber (along with Freddy Adu) is the only American playmaker who has ever demonstrated with the national team that he has the ability to bring the technical ability needed to not only play at Michael Bradley's, Clint Dempsey's, and Landon Donovan's level, but also to bring the vision and passing ability to break down defenses in a way that the other three midfielders listed above can't. Once a player consistently performs well for the USMNT for six years even against the most elite competition in international soccer (and he's under 30 years old), there really is not a good excuse for not including a player like Feilhaber on the roster, unless you have better playmakers who are improving the U.S.' passing and setting up goals. The USMNT does not.
Gale Agbossoumonde
Agbossoumonde has everything you could want in a center back: defensive instincts, skill on the ball, speed, controlled tackling, strong heading ability, lateral quickness, and calmness. Agbossoumonde is young, but he is way too talented and athletically gifted to ignore. Now playing in MLS at 21 years old, Agbossoumonde has demonstrated in a string of starts that he deserves to be strongly considered for the upcoming friendlies, World Cup qualifying, and the Gold Cup. It's important to give Agbossoumonde his first USMNT cap, so that he can serve the American defense for years to come.
Andrew Farrell
Andrew Farrell's versatility, skill, speed, and strength is needed on a USMNT with a history of poor defensive performances. The sooner players like Farrell are incorporated into the national team, the sooner the players without the skill and athleticism to be effective defenders against elite attackers will be phased out of the U.S. Men's National Team.
Amobi Okugo
Amobi Okugo now plays as a center back after being converted from a defensive midfielder, but he can certainly play both. Okugo certainly is the type of player the USMNT needs: a fast, technically-skilled, two-footed, quick, tall, and defensively strong center back. Okugo continues to improve as a center back, and his style of play based on skill plus athleticism is a major upgrade from many of the American center backs in the past who simply headed balls out of the back or cleared the ball 50 yards downfield. Okugo can help prevent the United States from being in the situation it was in against Mexico where the United States needed Maurice Edu at center back and defensive midfielder at the same time (instead Klinsmann had to use both Michael Bradley and Maurice Edu as defensive midfielders to protect Matt Besler at center back).
Chris Klute
Chris Klute has all of the technical and physical tools to perform well at the international level. Klute as an outside back brings a strong combination of attacking and defensive skill. Whether Klute is just included in a USMNT camp to be looked at more closely or put on the roster for the upcoming friendlies or even considered for the Gold Cup or World Cup qualifying, American soccer fans should keep an eye on Chris Klute. There is often talk of putting certain MLS players on the USMNT, but their technical abilty and athleticism doesn't translate to the international level. Klute just might be a sleeper who has all of the tools and gifts to play international soccer.
José Villarreal
José Villarreal is exactly what the United States Men's National Team needs: a creative, quick, aggressive, and technically-skilled striker. Villarreall has garnered a lot of attention for his play in MLS, in Under-20 World Cup qualifying, and his play in the CONCACAF Champions League. If one watches Villarreal closely in games for the LA Galaxy and reviews his highlights, it becomes clear why he's knocking on the door of the USMNT roster; he's probably ready to play for the USMNT right now.
Honorable Mention:
Zach Loyd
Kofi Sarkodie
DeAndre Yedlin
Dax McCarty
Jeremy Hall
EDIT: DeAndre Yedlin belongs on the USMNT now. His combination of attacking skill and bravado combined with his speed and defensive tenacity and timing makes him a modern outside back who the USMNT sorely needs.
Follow on Twitter: @COLINREESE or @FutebolSource
Like WSS on Facebook: www.facebook.com/WorldSoccerSource
© Colin Reese