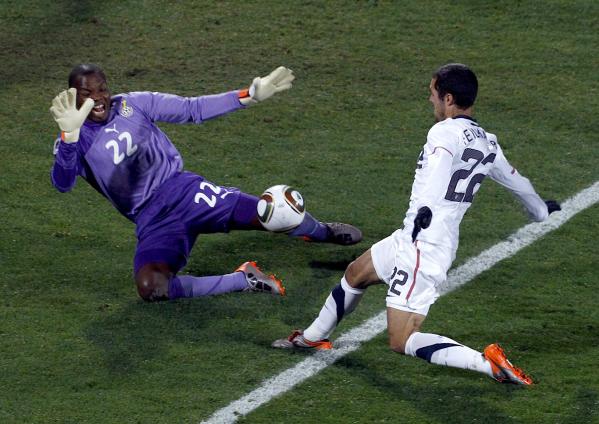 Player selection is everything for a national team coach. The players a national team calls up is the single most important talking point for evaluating how a national team coach is doing, and the second most important thing is which players are started.
There are only a handful of players who Jürgen Klinsmann has been regularly calling up to the United States Men's National Team who are vital players.
Only seven players who Klinsmann regularly calls up are vital players for the USMNT, and two of them are goalkeepers: Tim Howard, Brad Guzan, Geoff Cameron, Omar Gonzalez, Fabian Johnson, Michael Bradley, and Clint Dempsey.
There is lots of room for improvement within the Starting XI, while still keeping the international-caliber players who form the backbone of the squad.
The USMNT Starting XI is solid at goalkeeper (Tim Howard), at left back (Fabian Johnson), at the center back spots (Omar Gonzalez and Geoff Cameron), at the defensive midfielder position (Michael Bradley), and at one attacking midfielder position (Clint Dempsey).
Therefore, many of Klinsmann's Starting XI selections are correct, but it's the other starters and the rest of the roster that need changing.
On the other hand, many of Klinsmann's roster selections aren't better than other options available to Klinsmann, and still others are international-caliber players who are on the roster but go unused.
In the defense, the USMNT benefits from players like Geoff Cameron, Omar Gonzalez, and Fabian Johnson, but why does the USMNT need Justin Morrow, Matt Besler, Tony Beltran, DaMarcus Beasley (listed as a midfielder), and Clarence Goodson?
That's five defenders out of eight whose technical-ability or ability to keep up with international attackers is a big question mark.
Klinsmann made a bold decision when he started Gonzalez against Honduras, and now he needs to make another one and put Gale Agbossoumonde on the roster as one of the USMNT's center back options.
In the midfield, why do players like Kyle Beckerman, Sacha Kljestan, Danny Williams, José Torres, and Brad Davis receive call-ups when the end result is always the same: poor passing and no scoring chances created? To be fair to Kljestan, he doesn't even get the chance to play when Klinsmann calls him up.
Why do Beckerman, Kljestan, Williams, Torres, and Davis not deserve call-ups?
Beckerman doesn't have the requisite quickness to display his technical-ability (which is sound) in faster international games.
Kljestan is a fundmentally-sound professional who plays well in Europe, but his technical ability is way below Joe Corona, Benny Feilhaber, and Freddy Adu. Feilhaber has a history of outperforming Kljestan in international play.
Williams has never demonstrated he has the ability to play anywhere close to Michael Bradley's or Jermaine Jones' ability on the international level.
Torres has featured for the United States many times without demonstrating an ability to improve the passing ability of the American midfield, nor has he really produced any final balls.
Torres is also entirely one-footed, and this is the problem with Davis as well. When compared to Feilhaber, Torres and Davis are repeatedly thoroughly outplayed by Feilhaber.
Joe Corona has the ability to improve the United States, but Klinsmann simply refuses to play him. No one plays well against major São Paulo clubs in the Copa Libertadores as an attacking midfielder if he doesn't have excellent technical ability.
As the public scrutiny and pressure builds, Klinsmann will have to justify how his roster selections and his starting line-up selections are producing the quality of soccer needed to not only qualify for the World Cup but just to improve the play of the United States.
The United States needs a shake-up in the midfield more so than at striker because Jozy Altidore, Herculez Gomez, Terrence Boyd, and Eddie Johnson are all international-caliber strikers. Juan Agudelo's skill, aggressive and creative style of play, and his athleticism warrant a roster spot, but the primary problem is the connection between the midfield and the attack.
Jürgen Klinsmann would be wise to keep much of the backbone of his starting line-ups, but he should insert some better players (Joe Corona and Benny Feilhaber) to play with that backbone. He should also fill the rest of the roster with international-caliber players who can be used as substitutes or even started, if they showed that they could improve the United States' play.