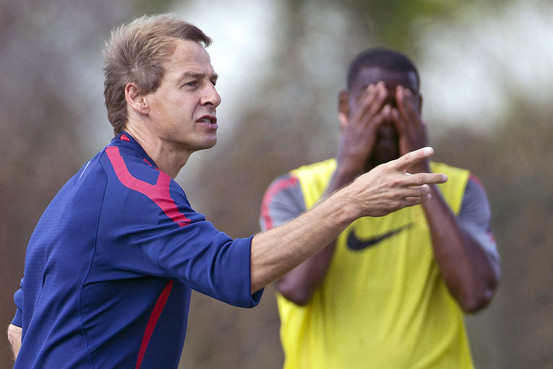 Commentary:
Does anyone know what Jürgen Klinsmann is doing?
Does Jürgen Klinsmann know what he is doing?
Everyone has to play with the hand they were dealt, but Jürgen Klinsmann is having trouble fielding a proactive United States Men's National Team in a country with over 300 million people.
Certainly, the very best soccer players on the planet are from countries other than the United States of America, but Klinsmann isn't exactly short on quality player options.
Jürgen Klinsmann's principal argument is two-fold: 1.) people from other countries become better at soccer because of their soccer environment; and 2.) American soccer players need to be indoctrinated into his system of playing one-to-two touch soccer.
One flaw with this argument (among other flaws) is that technically-skilled and athletic players like Clint Dempsey and Michael Bradley were born and raised in the United States, and there are lots of Americans who are fairly close to their playing ability.
This contention that Klinsmann needs to slowly get his group of players to slowly embrace a new style is totally illogical because one-to-two touch soccer is not new to American soccer players, so Klinsmann's job is to merely select the players who can play that way.
A starting line-up has 11 players, and without any deep thought, it's easy to think up a skilled starting XI that can play one-to-two touch soccer: Tim Howard, Steve Cherundolo, Geoff Cameron, Omar Gonzalez, Fabian Johnson, Michael Bradley, Joe Corona, Benny Feilhaber, Clint Dempsey, Juan Agudelo, and Jozy Altidore.
That starting line-up doesn't even include Landon Donovan and many other skilled players, so what is Klinsmann doing?
The United States has the players that Klinsmann needs to start having the United States playing an improved brand of soccer, so why is Klinsmann avoiding using so many obvious line-ups?
If Klinsmann starts Tim Howard, one of several right backs, Omar Gonzalez, Geoff Cameron, Fabian Johnson, Michael Bradley, Jermaine Jones, Clint Dempsey, and Jozy Altidore, then he still has two open roster spots to insert some creative attacking midfielders who can fix the element that's missing from the line-up listed above: possession in the midfield and shots on goal.
Klinsmann can insert Joe Corona and Benny Feilhaber into the starting line-up or he can insert one of them with another striker to partner with Altidore. Additionally, Klinsmann can use Landon Donovan and Freddy Adu.
So, what is Jürgen Klinsmann doing as coach of the United States Men's National Team?
Why is he watching the same tactical mistakes play out on the field game after game?
Why won't Klinsmann insert proven creative players into his line-ups, and why won't he use many of the very talented and athletic new and/or younger players?
The United States Men's National Team clearly needs either a new national team coach, or it needs some assistant coaches who can improve Jürgen Klinsmann's ability to scout talent and make rosters and line-ups.