Follow me on Twitter: @COLINREESE or @FutebolSource
Like WSS on Facebook: www.facebook.com/WorldSoccerSource
© Colin Reese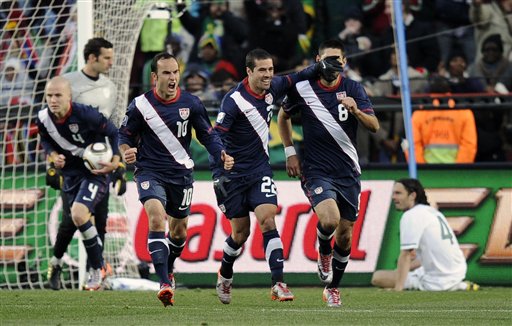 The United States Men's National Team roster selected to participate in two friendlies (Belgium and Germany) and three World Cup qualifying games (Jamaica, Panama, Honduras) contains several solid, international-caliber selections, but the roster also fails to correct weaknesses in the balance and technical ability of previous rosters.
With the May/June USMNT roster, Jürgen Klinsmann repeats many of the same tactical problems, which are an inadequate amount of players at each position, a lack of creative midfielders to improve the passing and the attack, and bizarre defensive selections.
Lack of Outside Backs:
The roster contains only two natural outside backs: Fabian Johnson and Edgar Castillo (both left backs, although Johnson can play as a right back).
While calling up two left backs to a roster is a common and wise practice for a national team coach, calling only two natural outside backs as opposed to four (two right backs and two left backs, and players who play both) is a very misguided coaching oversight that leaves the United States without a true right back and also without enough quality substitutes.
Hypothetically, if the United States were to start with Fabian Johnson as a right back and Edgar Castillo as a left back, there wouldn't be any other natural right backs to substitute for Johnson unless Geoff Cameron were not used as a center back, which is exactly where he is needed.
While Klinsmann has selected players like Michael Parkhurst and DaMarcus Beasley who Klinsmann believes to be outside backs, the reality is that Klinsmann has omitted very capable outside backs who the United States needs on the roster.
Players like Jonathan Spector, Eric Lichaj, and Zach Loyd are all capable and experienced international outside backs, and if Klinsmann is merely looking for substitutes for Castillo and Fabian Johnson, then calling up some combination of Spector, Lichaj, and Loyd would have been a wiser decision.
If the purpose of calling in more than 23 players into the camp was to see more players, then Klinsmann is missing an opportunity to evaluate newer or younger players like DeAndre Yedlin, Kofi Sarkodie, Andrew Farrell, and Chris Klute.
Even if Klinsmann doesn't plan on using them, calling in natural outside backs with the athleticism and technical skill to play international soccer would have been an effective use of the training camp, as opposed to just forcing unnatural outside backs to play there.
Since Klinsmann is essentially using a make-shift defense, then he should have at least selected players with the potential to either serve as capable substitutes or strengthen the USMNT's defense.
Lack of Playmakers:
Other than Joe Corona, the United States Men's National Team roster selected by Klinsmann is almost entirely devoid of creative midfielders or actual playmakers in order to increase the amount of final balls played to Jozy Altidore and other American strikers.
Graham Zusi was selected by Klinsmann, but Zusi (despite his improved passing and dribbling in Major League Soccer) does not provide the same level of creativity and technical ability that players like Benny Feilhaber, Joe Corona, Mix Diskerud, and Freddy Adu have proven to provide.
Given Brad Davis' and Danny Williams' inability to perform well enough at the international level, someone of Feilhaber's proven ability and current club form would have been a better use of a roster spot for a coach who needs to improve the passing, attacking, and goal-scoring of his team.
Center Back Omissions:
Matt Besler received many rave reviews for his play against Mexico, but this writer immediately pointed out that Besler was being protected by two defensive midfielders (Michael Bradley and Maurice Edu) who provided defensive coverage and a passing outlet out of the back.
Besler has a tendency to only use his left foot, while George John is technically-skilled with both feet as well as defensively-skilled.
For about two years or more, the obvious candidates to improve the center of the American defense were Geoff Cameron, Omar Gonzalez, and George John, and only Gonzalez and Cameron have been used (and it was late into Klinsmann's tenure).
In a camp with more than 23 players, Klinsmann squandered an opportunity to look at Gale Agbossoumonde who has played more than enough games in Major League Soccer to at least entice the USMNT to look at him with the full national team.
The argument can be made that the USMNT basically has two proven international-caliber center backs in Geoff Cameron and Omar Gonzalez, but the USMNT needs more.
As the United States has improved, it's become clear that both Clarence Goodson and Carlos Bocanegra do not quite have the technical skill or quickness to realistically provide the USMNT with the caliber of center backs needed for international play.
To anyone who has watched him play, Agbossoumonde is simply too skilled on the ball, too athletic, too smart, and too defensively-skilled to omit, even if it is a bold roster selection. After a series of strong performances in MLS along with his reputation in the U.S. Soccer community, Agbossoumonde deserved the chance to challenge Besler for a roster spot in camp with more than 23 players.
Follow me on Twitter: @COLINREESE or @FutebolSource
Like WSS on Facebook: www.facebook.com/WorldSoccerSource
© Colin Reese