Follow me on Twitter: @COLINREESE or @FutebolSource
Like WSS on Facebook: www.facebook.com/WorldSoccerSource
© Colin Reese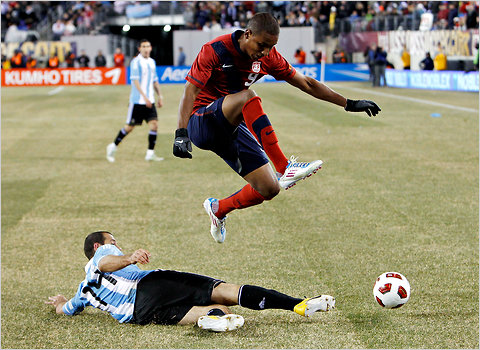 Jürgen Klinsmann omitted a shocking amount of proven and talented players from the May/June United States Men's National Team roster. Whether it was outside backs, center backs, or attacking players, Klinsmann's newest roster ignores major weaknesses with the USMNT.
Benny Feilhaber
Choosing Brad Davis who Klinsmann never uses over a proven international performer like Benny Feilhaber who provides creativity, technical skill, and the type of passing that is necessary to have Michael Bradley and Clint Dempsey firing on all cylinders for the USMNT is inexcusable. With the USMNT's passing being as bad as it is, not using a playmaker like Benny Feilhaber who not only is in good club form but who also has undeniable skill is illogical. Out of eight midfield roster spots, Jürgen Klinsmann and the United States Men's National Team needed one to be filled by Benny Feilhaber. Given Jozy Altidore's scoring form in Europe, Feilhaber is needed to provide Altidore and the other American strikers with the types of final balls they need.
Juan Agudelo
The lack of criticism in the media about the exclusion of Juan Agudelo from the May/June rosters is a classic example of Americans not backing the types of players who can improve the skill level of the United States Men's National Team compared to other national teams. Agudelo's combination of skill, size, creativity, adventurous attacking, refined finishing, speed, quickness, and bravado is needed to provide moments of brilliance that lead to goals and victories. Excluding Agudelo is a failure to recognize the talent gap between the level at which the United States is performing and the level at which the first and second-tier national teams play. While there is nothing wrong with any of Klinsamnn's striker selections, Agudelo has displayed a skill-level that none of them quite have with the exceptions of Terrence Boyd and Clint Dempsey, who is really an attacking midfielder. The Agudelo snub is an indication of a systemic problem of not incorporating the most technically-skilled players in the talent pool into the USMNT.
Mix Diskerud
Like Joe Corona, Benny Feilhaber, and Freddy Adu (who is in the process of working his way into playing time for Bahia), Mix Diskerud offers playmaking abilities and general one-to-two touch abilities that are missing from Klinsmann's USMNT rosters. Diskerud like Corona, Feilhaber, and Adu is not an attacking midfielder who has to play as a central attacking midfielder or playmaker, but who can play on the right or left side of the field while not restricting himself to hugging the sideline like a traditional winger. The United States needs players like Diskerud on the roster and in the starting line-up because players like Dempsey and Bradley cannot beat teams by themselves, rather they need technically-skilled midfielders to combine with, in order to establish ball possession in the midfield and create scoring opportunities.
George John
George John is more technically-skilled and defensively-skilled than both Matt Besler and Clarence Goodson who were both selected to the May/June USMNT roster. John has been highly rated by knowledgeable soccer experts as well as knowledgeable fans for several years, and there is no real reason why Klinsmann should continue to exclude John. John doesn't have elite speed, but he certainly is quick enough and fast enough to play for the United States. Clarence Goodson is mostly strong in the air while being easy to beat off the dribble or easy to beat with speed, but John doesn't have a similar amount of limitations or flaws. Besler is certainly a solid MLS professional, but he is a one-footed soccer player who received much of his hype due to a performance against Mexico where he was protected by two defensive midfielders. Besler does use his right foot slightly more often now, but John has no such obvious deficiencies in his technical skill-set. John has also received interest from the Greek national team and English Premier League clubs.
Eric Lichaj
Since Klinsmann isn't using natural outside backs on his roster over Eric Lichaj, excluding Lichaj from this USMNT roster makes little sense, given his proven ability at the international level and in the English Premier League. Regardless of Lichaj's ups and downs in playing time in the EPL this season, he is a young, skilled, proven, and athletic defender who can play as both a right back and as a left back. On a roster without four natural outside backs, the reasoning being Klinsmann's snub of Lichaj is hard to even guess. Klinsmann needed natural outside backs on this roster, and Lichaj is a young and proven one.
Jonathan Spector
Even more so that Lichaj, Jonathan Spector is a proven international-caliber outside back who the USMNT needed on a roster with only two natural outside backs instead of the usual four. Maybe Spector has some nagging injury that people more in the know are aware of, but with Timothy Chandler injured, Spector is an obvious roster choice if proven ability is important to Klinsmann in crucial World Cup qualifiers.
Landon Donovan
If Jürgen Klinsmann had incorporated players like Joe Corona, Joe Gyau, Benji Joya, Freddy Adu, Benny Feilhaber, and Mix Diskerud into the USMNT during his tenure, then it would have possibly been excusable to omit Landon Donovan from this roster. Klinsmann failed to give the players above playing time in order to make the USMNT more skilled and more attack-minded, but given the lack of quality passing or effective attacking by the United States, Klinsmann and the USMNT probably need Landon Donovan.
Follow me on Twitter: @COLINREESE or @FutebolSource
Like WSS on Facebook: www.facebook.com/WorldSoccerSource
© Colin Reese