Follow me on Twitter: @COLINREESE or @FutebolSource
Like WSS on Facebook: www.facebook.com/WorldSoccerSource
© Colin Reese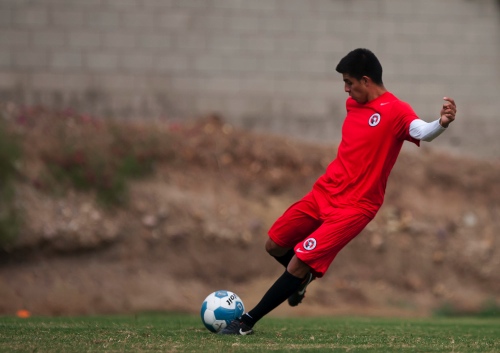 Jürgen Klinsmann has no excuse for keeping Joe Corona as a benchwarmer for the United States Men's National Team in World Cup qualifiers.
There is no excuse: not his age, not his skill level, not his club form, not the league he plays in, not the position he plays, not his work rate, and not his playing style.
Joe Corona satisfies any criteria that Klinsmann chooses to look at.
The reality of Klinsmann's decision to keep Joe Corona on the bench is that there is no excuse for several other players to have earned starting spots over Corona during Klinsmann's tenure.
The United States Men's National Team needs a player like Joe Corona on the field in every game to bring special passing and technical qualities that only Benny Feilhaber and Freddy Adu have been able to bring to the USMNT.
Since the United States Men's National Team has no possession in the midfield or creative passing in the final third, there is no defense for not starting an American playmaker who performs consistently in the Copa Libertadores and in La Liga MX.
Corona shouldn't just be playing for the United States, but he should be starting.
Every game the United States Men's National Team has played under Klinsmann's tenure showcases the same problems: poor passing, no final balls, no quick combination play, no technically-advanced attacking soccer, almost no shots on goal, and basically no goals.
Jürgen Klinsmann has to answer for his refusal to start Joe Corona, rather than just starting the same players and hoping to see better passing.
Klinsmann needs to prove that Graham Zusi is displaying quality passing in international play, and he needs to prove Zusi is providing the American strikers with the quantity and quality of service that they need in order to have a chance to score.
Klinsmann needs to justify his decision to make Joe Corona sit on the bench.
Corona has not been given any real chance to show how much he can help the United States.
While Graham Zusi is a solid MLS professional, Joe Corona is a creative attacking midfielder who can produce smooth passing and advanced technical ability when the skill level of the opposition is well above MLS levels, which is something Zusi has been unable to do so far.
If Zusi had been improving the passing of the United States, then it wouldn't matter that Zusi plays in MLS while Joe Corona starts in a better league, La Liga MX, and in one of the best soccer competitions in the world, the Copa Libertadores.
Joe Corona surpasses Graham Zusi in the following areas: technical skill, speed and quickness, passing ability with both feet, shooting ability with both feet, dribbling ability with both feet, and the league played in.
This is the reality of Joe Corona: Graham Zusi is good, but Joe Corona is much better.
Follow me on Twitter: @COLINREESE or @FutebolSource
Like WSS on Facebook: www.facebook.com/WorldSoccerSource
© Colin Reese