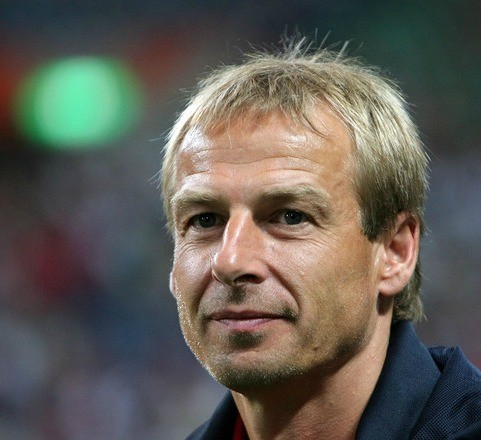 Is Jürgen Klinsmann a coaching improvement for the United States Men's National Team?
Despite being a legendary German striker and a certified soccer great, the answer to that question is, "No."
With the news that Jürgen Klinsmann added Brad Evans to the United States Men's National Team roster, it's difficult to not question Klinsmann's coaching acumen once again, given how Brad Evans played against Canada in January and how he played before.
Rather than maximizing the talent available to him, Jürgen Klinsmann has chosen to field starting line-ups build around the concept of a midfield devoid of creativity and not play to win. In short, Klinsmann has chosen to coach teams that play the exact opposite of what he promised: technically-skilled soccer.
Playing technically-skilled soccer doesn't mean that you don't use defensive midfielders or effective defenders, but it does mean that you place a premium on looking for the most skilled players available to you.
Eleven years after the United States' strong 2002 World Cup performance and several years after displaying more advanced technical ability in the 2009 Confederations Cup and the 2010 World Cup, it's hard to support any argument that Klinsmann has been using better players or fielding line-ups who have improved the performances of the United States from its performances in those tournaments.
Without question, American soccer and the United States Men's National Team is being held back by Jürgen Klinsmann because he simply won't play the best players or make adjustments to his rosters.
Since Jürgen Klinsmann has coached the United States for almost two years now, it is safe to say that both Bruce Arena and Bob Bradley are better soccer coaches than Jürgen Klinsmann.
Bob Bradley received criticism for frequently using Jonathan Bornstein as a left back, but Bob Bradley's major coaching flaw was his insistence on not learning how to field two defensive midfielders with a playmaker in a 4-2-3-1 formation.
Bradley chose to always start two defensive midfielders in a 4-4-2 formation in major FIFA tournaments, but he would always substitute Benny Feilhaber into the game in the second half to improve the possession, passing, and attacking of the United States.
Bradley was even willing to play Freddy Adu, a figure of heated debate and a professional now playing in Brazil, because he was able to bring passing and attacking qualities that other players weren't able to bring.
Therefore, Coach Bradley did make coaching decisions that some observers considered risky because Bradley recognized the need to make real changes more so than Klinsmann does now.
While Bradley favored starting two defensive midfielders, he did make adjustments when the passing was clearly not up to par with the Italys, Spains, Brazils, Egypts, Slovenias, Algerias, or Ghanas of the world.
Additionally, Bradley had a better grasp of the talent available to him than Jürgen Klinsmann does now.
Klinsmann changes the starting line-ups he uses, but he never makes real adjustments to the group of players that he selects.
Some players like José Torres, Kyle Beckerman, and Danny Williams are included in some camps and rosters but not others, but Klinsmann is never willing to move on from these types of players who aren't performing well at the international level.
For instance, Klinsmann will call up Joe Corona due to his skill, creativity, quickness, and club form, but he hasn't been willing to play him.
Bradley's rosters included an appropriate amount of players at each position, and his line-ups actually used players in their natural positions.
Klinsmann has been credited with bringing in German-American players with dual citizenship, but Bradley was also willing to include German-American players like Jermaine Jones (and he was actively scouting the others).
Unlike Klinsmann who has called up Joe Corona without really using him, Bradley was willing to bring in dynamic and creative players like Benny Feilhaber, Freddy Adu, Mix Diskerud, and Juan Agudelo (and actually use them) because he knew when he needed them.
Based on Bob Bradley's past decisions, it seems likely that he would have incorporated the United States' U-20 players like Benji Joya, José Villarreal, Mario Rodriguez, Daniel Cuevas, Luis Gil, Shane O'Neill, and Caleb Stanko after seeing them in U-20 World Cup qualifying.
The argument can be made that Klinsmann by and large never made significant improvements or adjustments to the players that he called up to his first roster with the exception of incorporating Omar Gonzalez and Geoff Cameron into his rosters somewhat late into his tenure, as Klinsmann didn't bring either of the two center backs into camp until the winter camp around January of 2012.
Klinsmann's coaching of the United States Men's National Team could be summarized as a repetition of overly defensive formations and roster selections without any attempt to incorporate internationally-proven or technically-skilled and attack-minded players who can link the midfield to the attack or improve possession in the midfield.
Some observers have argued that Klinsmann's methods are more complex and involved than people give him credit for, but if you are a national team coach, and you don't select a roster with an appropriate amount of players at every position (such as four outside backs), then there can be little hope that you will be able to make tactical adjustments in games.
There's little hope that Klinsmann will be able to improve his coaching and learn how to fine tune how many of each types of midfielders or forwards he should start and what formations he can use to improve the U.S.' play.
Follow me on Twitter: @COLINREESE or @FutebolSource
Like WSS on Facebook: www.facebook.com/WorldSoccerSource
© Colin Reese