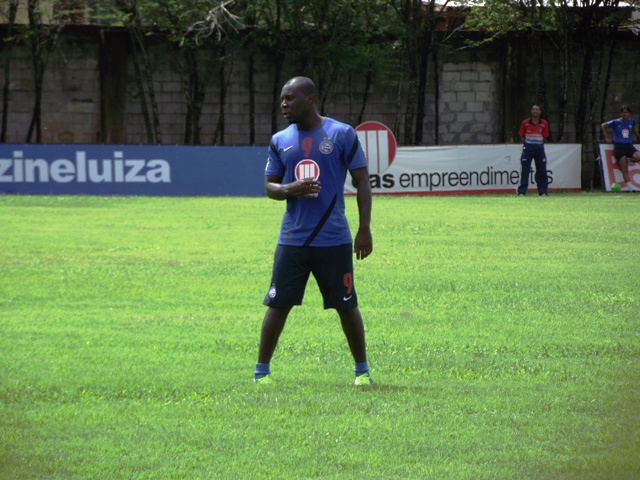 Real Change:
After seeing Jürgen Klinsmann add Brad Evans and Corey Ashe (both solid professionals) to the United States Men's National Team roster, it would appear that there is something terribly wrong with how Jürgen Klinsmann and his assistants are selecting players for national team duty because there are certainly better players than Evans and Ashe available to the USMNT, not to mention the less than stellar roster selected in general.
At this point, Jürgen Klinsmann should poach all of the best players off the Under-20 World Cup roster and the U-23 Olympic qualifying roster and put them on the full United States Men's National Team.
This would be real change.
Many of the USMNT regulars are excellent international-caliber players who the United States needs, but these top players like Clint Dempsey, Michael Bradley, and Geoff Cameron are surrounded by too many players who are well below their skill level.
The United States needs to surround many of its best regular starters with new or younger players, many of whom Klinsmann keeps with the U-23 and U-20 squads.
Americans want to see the United States play better and win, and Americans want the national team to be considered skilled by other countries.
Fielding players who can improve the level of the United States' play is fairly easy to do, but there's no guarantee that the changes will instantly or consistently produce victories.
This is how the United States can implement some meaningful changes, and every proposal is followed by a more conservative and already proven option:
-Start DeAndre Yedlin at right back because his combination of technical skill, speed, attacking qualities, and defensive qualities makes him a modern outside back. Yedlin will make mistakes. Accept it. Timothy Chandler makes mistakes too. At least play Jonathan Spector or Eric Lichaj at right back if Timothy Chandler and Steve Cherundolo are unavailable.
-Start Gale Agbossoumonde at center back with Geoff Cameron. Agbossoumonde will make mistakes. Cameron made a mistake in the World Cup qualifier against Honduras, but he's still a talented and athletic center back and the best American center back. If the USMNT's coaching staff isn't ready to use Agbossoumonde, they should at least make sure that both Omar Gonzalez and Geoff Cameron are starting as the center backs instead of using Gonzalez and Matt Besler.
-Start Michael Bradley and Benji Joya as a line of two central midfielders with Joya having total freedom to go wherever he wants on the field. If this option is too bold for the USMNT, then start Stuart Holden next to Michael Bradley.
-Start Joe Corona, Freddy Adu, and Clint Dempsey as a line of three attacking midfielders in front of Michael Bradley and Benji Joya (with the understanding that Joya is not playing as a defensive midfielder). If the USMNT thinks Freddy Adu is still adjusting to playing in Brazil, then certainly a proven player like Benny Feilhaber deserves a start. Klinsmann should at least be willing to start him, especially since Bradley, four defenders, and a goalkeeper will be behind him.
-Start Juan Agudelo at striker now despite Jozy Altidore's improved technical skill and record-breaking goal total for an American playing in Europe because Juan Agudelo is better and more aggressive than Jozy Altidore. Juan Agudelo will create more scoring chances and score more goals, and Agudelo will draw defenders toward him, which will free up space for other American players to move into. If the USMNT coaching staff thinks Altidore's form dictates that he starts, then they should make sure to put creative midfielders behind him in the system outlined above.
-In addition to this starting line-up, the United States needs to fill the remaining roster spots with capable players who have the skill and athleticism to play international soccer now despite the elements in the American soccer community who want to see more experience before letting the newer players play.
-Andrew Farrell and Shane O'Neill should be the two back up center backs, or, at the very least; Omar Gonzalez and George John should be the back up center backs if the U.S. starts Agbossoumonde with Cameron.
-Kofi Sarkodie and Chris Klute should be the back-up right and left backs, respectively. If not, then Jonathan Spector and Eric Lichaj should be the back up outside backs, if Yedlin and Fabian Johnson are starting.
-Jermaine Jones and Perry Kitchen should be the additional defensive midfielders on the roster.
-The remaining midfield roster spot should be occupied by Benny Feilhaber.
-Finally, the other three striker spots on the roster should be given to Mario Rodriguez, Terrence Boyd, and José Villarreal.
Note: All of the changes proposed above by and large were followed by "safer" and more conservative options for the USMNT. Even if the bolder options are just that, too bold, then the proven USMNT internationals should be used as opposed to Klinsmann makeshift rosters and starting line-ups.
Embrace and accept risks and know that the U.S. has other quality player options besides those proposed above:
Americans and non-Americans alike can debate about which players should be on the roster, and many of the players above could be replaced by other players who are also worthy of roster spots. The United States' talent pool now exceeds the amount of roster spots available.
For instance, Landon Donovan, Jozy Altidore, Omar Gonzalez, George John, Eddie Johnson, Herculez Gomez, Jonathan Spector, Steve Cherundolo, Brek Shea, Mix Diskerud, Joe Gyau, and Caleb Stanko all deserve roster spots.
Even players like Junior Flores and Corey Baird should be players the USMNT's coaching staff is considering to call into a full national team camp just for the purpose of seeing how far along they are in their development.
Some coach of the United States is going to have to be willing to make the types of changes and bold decisions outlined in the previous section and let the United States play the world's best national teams straight up.
Merely surviving against top national teams isn't progress, and nobody around the world cares if the United States runs a lot and just plays good team defense.
Other national team coaches will be impressed with the teamwork and heart, but these same coaches will still see the U.S. is missing the elements to consistently win against top national teams.
Bold decisions aren't new to the USMNT. Bruce Arena started 20 year olds in the 2002 World Cup.
The United States might lose when it plays new or younger players, but the United States has been barely tying teams or winning under Klinsmann.
With changes, at least the United States will play better and be in the position to win.
People will respect a United States Men's National Team like the one proposed above, and a team like the one proposed above can win.
The United States already doesn't beat the world's best national teams when the other teams are fielding their full strength national teams because Clint Dempsey doesn't have enough attacking support, and Michael Bradley doesn't have enough support in the midfield to establish good passing combination play with his teammates.
Tim Howard, Geoff Cameron, Michael Bradley, and Clint Dempsey deserve to have technically-skilled and athletic teammates, even if the new additions are inexperienced in international soccer.
Using a squad like the one proposed above is no different than Bruce Arena starting Landon Donovan against Portugal in the 2002 World Cup, and it's no different than Bruce Arena starting Clint Dempsey against Italy in the 2006 World Cup because Dempsey had never faced competition like Italy before.
Bruce Arena didn't start Clint Dempsey in the first game of the 2006 World Cup against the Czech Republic, and the United States was thoroughly dominated.
Players will make mistakes, and there's no way for a club or national soccer team to eliminate the possibility of mistakes being made by its players, even if world-class and experienced players are used.
Elite and world-class players make mistakes too, some times, big mistakes.
Proposed 23-Man USMNT Roster: Tim Howard, Brad Guzan, Luis Robles; Geoff Cameron, Gale Agbossoumonde, Andrew Farrell, Shane O'Neill; DeAndre Yedlin, Kofi Sarkodie, Fabian Johnson, Chris Klute; Michael Bradley, Jermaine Jones, Perry Kitchen; Clint Dempsey, Joe Corona, Benji Joya, Benny Feilhaber, Freddy Adu; Juan Agudelo, Terrence Boyd, Mario Rodríguez, José Villarreal.
Proposed Starting XI: Tim Howard; DeAndre Yedlin, Gale Agbossoumonde, Geoff Cameron, Fabian Johnson; Michael Bradley, Benji Joya; Joe Corona, Freddy Adu, Clint Dempsey; Juan Agudelo.