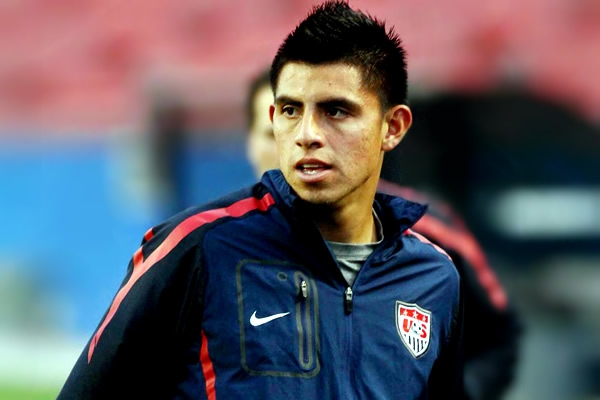 The upcoming United States Men's National Team game offers Jürgen Klinsmann the chance to see how Joe Corona and Stuart Holden can bolster a midfield with Michael Bradley, Jermaine Jones, and Clint Dempsey.
More so than any other players on this roster, Corona and Holden offer the USMNT the opportunity to improve the technical ability of the American midfield and test the USMNT against one of the top national teams in the world, Germany.
Belgium and Germany are several levels above the United States in terms of technical ability, but Klinsmann should seize this chance to start players like Corona and Holden who can not only help out Bradley, Jones, and Dempsey but who can also provide certain types of passes and final balls that the other three don't provide enough of.
Jürgen Klinsmann would be wise to start something like the line-up below, which is a 4-2-3-1 formation:
Tim HOWARD; Fabian JOHNSON, Omar GONZALEZ, Geoff CAMERON, DaMarcus BEASLEY; Jermaine JONES, Michael BRADLEY; Joe CORONA, Stuart HOLDEN, Clint DEMPSEY; Terrence BOYD.
DaMarcus Beasley is the only player proposed above as a starting defender who is playing out of position, but Beasley has played a few games at left back.
Beasley's speed was presumably the reason that Klinsmann elected to use him at left back at times when the United States had some injuries, but he has shown the ability to play some respectable defense against a team like Belgium as well as Mexico and Costa Rica.
With the players available on the roster, Fabian Johnson is needed at right back so that Gonzalez and Cameron can continue to build chemistry as the American center back duo.
In the midfield, Klinsmann has somewhat transitioned away from using three defensive midfielders, as he now uses two technically-skilled defensive midfielders in Jones and Bradley whose skill on the ball and athleticism allows them to do more than playing the roles of midfield destroyers.
The change needed for the game against Germany, which should help the United States in World Cup qualifying, would be the insertion of Holden and Corona into the starting line-up to provide Dempsey with more support from creative and skilled midfielders in maintaining possession and connecting the midfield to the attack.
Up top, Jozy Altidore deserves a chance to start at striker when he actually has enough players behind him who can provide better service beyond just crosses played into the box, but at the same time, a friendly is a good chance to let Terrence Boyd start and show what he can do.
Perhaps the best course of action is playing each striker for one half or playing both of them at the same time at some point in the game, which would require taking off one of the two defensive midfielders or one of the three attacking midfielders.
The primary change needed in this game in order to see how the United States can improve for upcoming qualifiers is to take both Brad Davis and Graham Zusi out of the starting line-up and insert Joe Corona and Stuart Holden.
Follow me on Twitter: @COLINREESE or @FutebolSource
Like WSS on Facebook: www.facebook.com/WorldSoccerSource
© Colin Reese