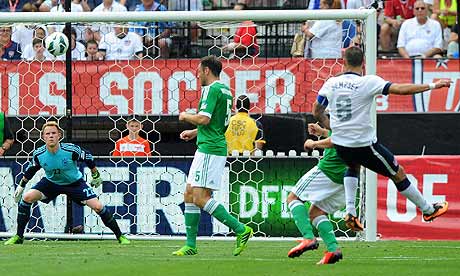 The United States Men's National Team's 4-3 defeat of Germany showed some improvements by the United States and certain players like Jozy Altidore, but there was a sense that Germany's B Team wasn't taking the game too seriously until the scoreline became ugly.
Amongst the good and the bad from the USMNT, Clint Dempsey scored one excellent goal and one electrifying goal as he tied Eric Wynalda at second on the USMNT's all-time scoring list and then surpassed him.
1. Jozy Altidore's performance improved the overall skill level of the United States Men's National Team, and it provided Clint Dempsey with attacking support
Jozy Altidore's off the ball movement, touch, passing, and inside of the foot volley were some of the keys (along with Clint Dempsey's performance) to the United States displaying more technical ability and attacking potency against an opponent like Germany, even if it was a German B Team.
More so than in the past at the international level, Altidore made the opposition's defense do a lot more running, and his runs disrupted the defensive cohesion of the German defense.
Given Altidore's club performances, club goal-scoring rate, and the quality of his goals in the Eredivisie this past season, it was only a matter of time until Altidore's off the ball movement dictated more passes came his way for the USMNT or his teammates simply looked to feed him the ball more.
Jozy Altidore has improved by playing club football in Holland, and now he has finally translated his improved club form to the international level, even if the lack of service was mostly not his fault.
2. Clint Dempsey put on a show versus Germany
With so much attention placed on Landon Donovan's absence from the national team and with many people still insisting that Donovan is in fact more skilled and more accomplished than Dempsey, Dempsey really showed how his technical ability and his ability to consistently perform against elite competition is a level above Donovan's.
Clint Dempsey showed great movement all over the field against Germany, and his half-volley off a Altidore chip was a cold-blooded strike taken with great technique and struck with authority. Dempsey's second goal was a world-class goal where Dempsey shook his defender with a Cruyff cut-back onto his left foot followed by a curling upper 90 golazo hit with the instep of his weaker left foot.
3. Jürgen Klinsmann continues to change his defensive back fours, and various factors make it hard to determine how effective they are.
Geoff Cameron wasn't started at right back according to Klinsmann because Klinsmann told ESPN's Monica Gonzalez that he already knew that Cameron was capable of performing, so Klinsmann wanted to see how Brad Evans would do.
Evans actually did quite well. The timing on his tackles was precise, and he made one notable acrobatic interception by clearing the ball out of the air with his left foot. Once a player performs well against Germany (even if it is the B Team), one can't really argue that the player is not a competent international player. Evans actually played better against Germany than he has against less-talented opponents.
Additionally, DaMarcus Beasley did well again, but it did honestly appear that the Germans weren't really trying too hard for the majority of the game.
Soon after the second U.S. goal, which came off an own goal from Germany's goalkeeper, Andre Schürrle absolutely destroyed DaMarcus Beasley and Matt Besler and dribbled through them like they were parking cones, and he then barely missed a left-footed shot to the far post. This one play really drew into question how seriously Schürrle and the Germans were taking the game beforehand.
While the American defense did fairly well, there are still questions about who the best American defenders are, and how well Klinsmann's defensive selections can perform against full-strength national teams.
Against Belgium, the American defense was embarrassed, and Geoff Cameron, the best American central defender, was playing in that game at right back where he plays at the club level for Stoke City.
What Klinsmann really needs to determine is who should be the outside backs to partner with the central defensive duo of Omar Gonzalez and Geoff Cameron. Gonzalez held his own today against the legendary Germany striker, Miroslav Klose, and this indicates that he is likely the best option so far to partner with Cameron in the center of the defense.
4. The overall skill level of the American midfield was higher than in previous games
With the insertion of Fabian Johnson into the starting line-up with Jermaine Jones, Michael Bradley, Clint Dempsey, and Graham Zusi against Germany, the American midfield contained better players than those who started against Belgium the previous Wednesday.
Nevertheless, there is still a need to insert a more creative midfielder into the starting line-up to better control the passing because Germany was able to storm back from 4-1 down to 4-3 down in a matter of minutes, and using a player like Benny Feilhaber or Joe Corona or Stuart Holden in place of Graham Zusi (despite his well-weighted cross to set-up Altidore) would allow the United States to play something closer to one-to-two touch soccer and maintain possession better, which would better protect the United States from quick comebacks from soccer powerhouses.
The comeback was oddly blamed on Edgar Castillo's play at left back after he was substituted in for Beasley, but Castillo does have a track record of strong performances in the Copa Libertadores and La Liga MX as a left back. Castillo made no mistakes on Germany's goals.
One can't help but think a combination of players like Jones, Bradley, Dempsey, and Holden with Joe Corona, Benny Feilhaber, Landon Donovan, Mix Diskerud, or a young player like Benji Joya could only help the United States's midfield to play better against full-strength national teams.
Follow me on Twitter: @COLINREESE or @FutebolSource
Like WSS on Facebook: www.facebook.com/WorldSoccerSource
© Colin Reese