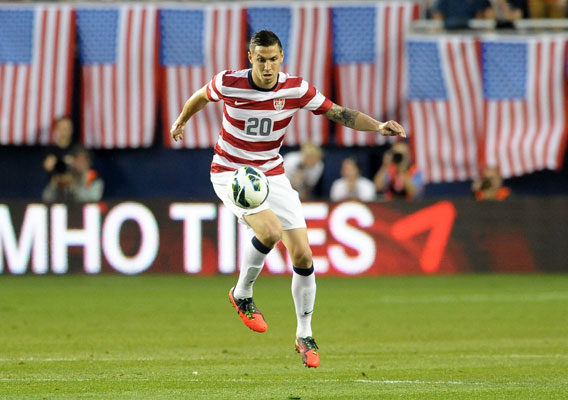 The United States Men's National Team's coach, Jürgen Klinsmann, has talked about World Cup qualifiers not being the time to experiment with players and line-ups, but Klinsmann has in fact experimented quite a bit with his starting line-ups, particularly with his defenses.
In the last round of World Cup qualifiers, the USMNT was totally dominated in the midfield when it played Jamaica in Jamaica, and tomorrow Klinsmann would be wise to field midfielders who can maintain possession.
Doing this requires making starting line-up changes. As Klinsmann has shown that he's willing to experiment with defenders and midfielders in World Cup qualifying, he should start Stuart Holden and Joe Corona with Michael Bradley, Jermaine Jones, and Clint Dempsey in the midfield.
Stuart Holden can likely go at least 45 minutes against Jamaica. Holden has had several injuries the last few seasons, but as long as he is fit to play, he has proven that he has the athleticism and the skill level to play international soccer against stronger opponents than Jamaica.
The additional midfield change is starting Joe Corona in order to provide Clint Dempsey and Jozy Altidore with more attacking support.
Joe Corona hasn't started for the United States except with the Under-23 squad, but it's hard to contend that starting an attacking midfielder who has proven himself in the Copa Libertadores and La Liga MX is risky or experimental.
Even in a very brief cameo against Guatemala in a World Cup qualifier, Corona showed an instant ability to play one-to-two touch soccer with Michael Bradley and Clint Dempsey.
Given his skill-set, quickness, and club record, it's hard to argue that Corona is an inexperienced or raw player. Corona's playing experience includes playing at Corinthians and at Palmeiras, so one can't support any argument that Corona wouldn't be used to the pressure or the crowds of a CONCACAF away game.
With Holden and Corona starting, the American midfield would include two defensive midfielders who are skilled on the ball (Jermaine Jones and Michael Bradley), and the midfield would include three more attack-minded creative midfielders in Dempsey, Holden, and Corona.
Jozy Altidore showed much improved off the ball movement, passing, and aggressiveness against Germany (not to mention his well-taken volleyed goal), and starting Altidore in front of Holden, Dempsey, and Corona is a strong strategy to employ if the goal is to gain a vital three points on the road in World Cup qualifying.
Behind the front six players advocated above, the American defense should make sure to have Geoff Cameron starting at center back as its cornerstone. Despite not playing center back for his club, Stoke City, Cameron has shown that he brings to the center of the defense the tools needed to defend a fast team like Jamaica. There's no real evidence to support the argument that Cameron isn't needed in the center of the defense.
Cameron brings good marking, strong tackling, strong heading abilities, good lateral quickness, good overall speed and agility for an international center back, advanced technical ability with both feet, and the ability to know when to pass and dribbling out of trouble and when to simply clear the ball out.
Any examination of Omar Gonzalez, Matt Besler, and Geoff Cameron will show mistakes made by all of them. Cameron is more athletic and more technically-skilled than Gonzalez, and Cameron brings a more complete skill set than Matt Besler who is fast but largely one-footed. While Besler is certainly a fast and skilled center back, Cameron brings another level of skill and 1v1 defensive marking, which he showed against Mexico's striker, Chicharito, last summer, when Cameron was not protected by having defensive midfielders of Michael Bradley's and Maurice Edu's level both starting in front of him as Besler did.
The question then is, "who should start with Cameron at center back?"
Given the fact that Bradley and Jones will be playing in front of the center backs and given the fact that Gonzalez performed better recently against Mexico then Besler did, it could be argued that Gonzalez and Cameron are the wisest choices at center back against Jamaica.
For all of the talk of Gonzalez's mistakes against Germany, Besler too was exposed by Germany, when Germany's B Team was actually trying against the United States. On one occasion, Andre Schürrle simply rounded Besler off the dribble without any difficulty as Besler merely stuck out his right leg, which Schürrle rounded with no difficulty.
The U.S. national team really needs two Geoff Camerons in the center of the defense.
Finally, as the outside backs, Klinsmann should start Fabian Johnson as a right back and Edgar Castillo as a left back. Johnson is two-footed, and he is needed at right back against a fast Jamaican team, especially if Corona is providing Dempsey with attacking support in the midfield.
Castillo is a starting left back for a team knocked out of the Copa Libertadores in the quarter finals by Ronaldinho and Atlético Mineiro, and Castillo's performances against clubs like Corinthians, Palmeiras, and Atlético Mineiro make him a capable outside back for a fast CONCACAF opponent like Jamaica.
DaMarcus Beasley could also be started at left back against Jamaica, but Castillo is an actual natural left back who has consistently started at the professional level for Tijuana against strong competition in Mexico and South America.
Tim Howard and Brad Guzan are both excellent goalkeepers, and starting either one of them against Jamaica is a good choice tactically.
The vital changes from the games against Germany and Belgium are starting Geoff Cameron as a center back and Joe Corona at one of the attacking midfielder spots.
Follow me on Twitter: @COLINREESE or @FutebolSource
Like WSS on Facebook: www.facebook.com/WorldSoccerSource
© Colin Reese