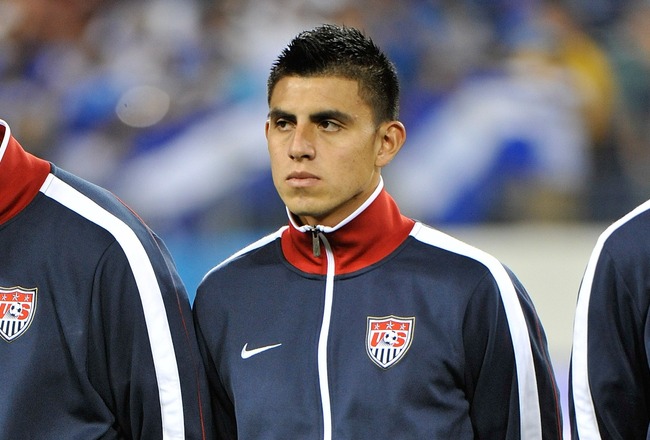 With Panama's place in the CONCACAF World Cup qualifying table, Panama's technical ability needs to be met with Joe Corona's similar brand of technical ability, as opposed to trying to absorb Panama's skill.
The United States Men's National Team has been getting good results without producing quality soccer. Jürgen Klinsmann's patchwork defense was eviscerated in friendlies by Belgium and Germany, but against Jamaica, the defensive back four largely held its own against a Jamaican side devoid of many scoring chances.
With Geoff Cameron reaffirming his ability to excel as a defensive or box-to-box midfielder against Jamaica, a tandem of Cameron and Michael Bradley behind Clint Dempsey, Joe Corona, and either Fabian Johnson or Stuart Holden should provide the United States with strong defending and passing in the midfield.
As both Cameron and Bradley have the technical ability to move the ball around quickly under pressure and play defense, Clint Dempsey will need Joe Corona's help in a more advanced midfield role and in the attack to foster a midfield built around technical players with the inclination and the skill to score and set up others to score.
Panama will be a difficult opponent, and its players will be fired up to play the United States, as they always are. Klinsmann would be wise to meet Panama's technical gifts with a midfield which looks to impose its will on Panama instead of allowing Panama to essentially try to hit the United States with skill, physicality, and psychological warfare.
Latin American opponents like to beat the United States, and opponents all over the world relish the chance of beating the United States. Therefore, Klinsmann would be wise to let go of whatever his reservations are of a proven attacking midfielder like Joe Corona.
The coach of the United States needs to allow Corona to play one-to-two touch soccer with Dempsey and allow Corona to better provide Altidore with final balls.
While Graham Zusi largely looked to play crosses to Altidore, with Zusi suspended, Klinsmann has the chance to see Corona provide a variety of passes and final balls for Dempsey, Altidore, and others.
The problem with the American attack and midfield is a lack of a critical mass of technically-skilled players who not only bring creativity but a natural instinct to attack and look to break down defenses.
With the group of players on the roster to face Panama, Corona is the one along with Stuart Holden who presents the proven ability to play technically-advanced soccer closer to Dempsey's level.
Follow me on Twitter: @COLINREESE or @FutebolSource
Like WSS on Facebook: www.facebook.com/WorldSoccerSource
© Colin Reese