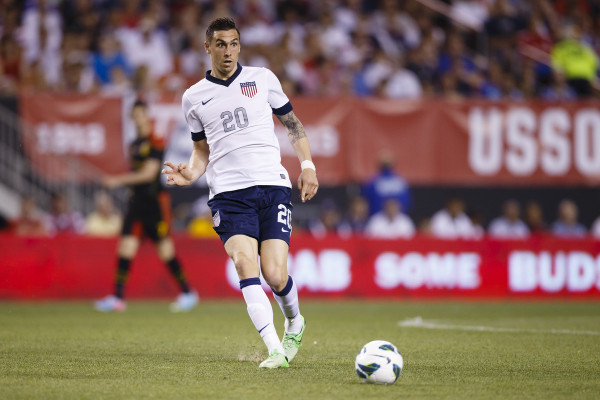 Jürgen Klinsmann is likely to start the same line-up that he used against Jamaica except for Graham Zusi (suspended) and Jermaine Jones (concussion), but Klinsmann will likely play Eddie Johnson out of position as a left or right winger, instead of using him as a out-and-out striker with Jozy Altidore.
Klinsmann would be wise to use Joe Corona and Clint Dempsey as attacking midfielders behind Jozy Altidore and Eddie Johnson, if Klinsmann wants to use Eddie Johnson.
The USMNT has been employing the 4-2-3-1 formation as of late, and partnering Geoff Cameron and Michael Bradley as something of hybrids between midfield destroyers and box-to-box midfielders proved to be a good tandem against Jamaica.
There is a strong argument to be made that a technically-skilled and athletic Panamanian side will present more problems for the United States' defense than a Germany B Team who were clearly not taking the game seriously until the U.S. went up 4-1, and the Germans closed the scoreline to 4-3 in a matter of minutes.
With that being said, it might be a good strategy to play Fabian Johnson as a right back and Edgar Castillo as a left back as opposed to Brad Evans and DaMarcus Beasley respectively.
Both Johnson and Castillo have lots of experience against top competition as outside backs, and the United States should probably stick with Omar Gonzalez and Matt Besler as center backs because Geoff Cameron is needed to partner with Michael Bradley as the line of two more defensive midfielders in front of the back four.
Quickly touching on the goalkeeping situation, Tim Howard is the first choice keeper, but many believe than Brad Guzan should start seeing more time as the U.S.' first choice keeper. Howard and Guzan are world-class keepers, and Howard is a very good keeper, who occasionally seems better at making more difficult quick-reaction saves from shots closer to goal than defending shots from distance. Either way, both keepers are a good choice.
Based on the players proposed above, the United States needs to decide on four more starters who will play in more attacking roles. Clint Dempsey's position on paper seems to matter little as his game is built on roaming throughout the midfield and the attack wherever he is needed. With Clint Dempsey starting as something between an attacking midfielder and a second striker behind Jozy Altidore, there are two open spots to fill.
These two spots should be filled by Joe Corona and Eddie Johnson because this allows the United States to attack Panama with something close to the Brazilian 4-2-2-2, which would allow the United States to have a combination of defensive and attacking midfielders plus two strikers with the right and left back providing attacking support out wide.
Any starting line-up formation involves a great amount of movement and adjustment throughout the game as players cover for other players and as players move without the ball, so facing Panama with technically-skilled defensive midfielders with good one-to-two touch passing abilities behind more creative and attacking midfielders like Corona and Dempsey is a good strategy against an aggressive, skilled, and athletic Panama side out for blood.
Two defensive midfielders, two attacking midfielders, two strikers, and two outside backs who look to pass and move gives the United States Men's National Team a balanced line-up equipped to defend and attack Panama.
Any concerns about a 4-2-2-2 being too narrow overlooks the role of the outside backs as wide attackers who will be covered by both Cameron and Bradley when either of the outside backs make forays up field.
Depending on Stuart Holden's match fitness, another strong option for the USMNT would be to start Dempsey, Holden, and Corona as a line of three in front of Cameron and Bradley, and then use Eddie Johnson as a second half substitute for Altidore to attack Panama once Panama's defense has already clocked a lot of minutes.
The USMNT should use this Starting XI, but Jürgen Klinsmann is unlikely to deploy it:
(4-2-2-2): Howard/Guzan; F. Johnson, Gonzalez, Besler, Castillo; Bradley, Cameron; Corona, Dempsey; E. Johnson, Altidore.
The Starting XI option with Holden would be: Howard/Guzan; F. Johnson, Gonzalez, Besler, Castillo; Bradley, Cameron; Corona, Holden, Dempsey; Altidore.
Follow me on Twitter: @COLINREESE or @FutebolSource
Like WSS on Facebook: www.facebook.com/WorldSoccerSource
© Colin Reese