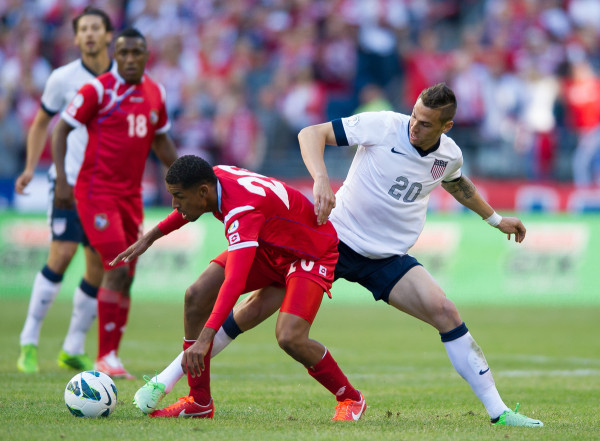 In Brazil, at least on the Seleção, the midfield destroyer or the cabeça de área, wears number five, whereas this role is often associated with the number 6 in Europe.
Nevertheless, Geoff Cameron played this role for the United States Men's National Team against Panama, but Cameron went above and beyond the midfield destroyer role with his elegant passing and attacking forays.
Cameron was one of the most noticeable players on the field against Panama due to height, physique, tireless running, and his excellent technical play.
Against Panama, according to Major League Soccer's official site's Chalkboard feature, Cameron completed 47 of 56 passes, recovered the ball 11 times, made 7 interceptions, made 6 clearances, won five tackles, and delivered one assist.
While Panama isn't one of the elite soccer nations, it is nevertheless an athletic and skilled national team that is an appropriate barometer of the skill of a player. Against Panama, Cameron showed how he is a complete midfielder and a commanding presence on the field.
Cameron received praised for the chip he floated to Eddie Johnson, who controlled the pass and finished with excellent left-footed technique and coolness in front of the net, but Cameron produced 90 minutes of one-to-two touch soccer characterized by graceful inside and outside of the foot passes that kept the ball circulating in the midfield and encouraged a higher-caliber of passing than even the Jermaine Jones and Michael Bradley combination could deliver.
Cameron's smooth athleticism and refined fundamentals have been on display for years, but the game against Panama raised his public profile among many Americans and others as he showed how a defensive midfielder role didn't restrict the defensive midfielder to merely playing defense and sitting back.
Somewhat like Clint Dempsey, Cameron lives for the big games, and Cameron isn't willing to try things whether they be 40 yard outside of the foot passes or headed shots from 25 yards out to catch the goalkeeper off guard.
Jermaine Jones is a Champions League and Bundesliga veteran and a different type of player than Cameron, so both players are excellent overall footballers with a lot to offer.
Cameron's performance presents the USMNT with the opportunity to unleash Michael Bradley, Jermaine Jones, and Geoff Cameron against an opponent at the same time, if tactics called for it. While using all three in a starting line-up would be the so-called Christmas Tree formation (4-3-2-1), the formation wouldn't be without skilled passers and talented defenders.
Cameron could be started in place of Jones, but there could be a time where an opponent will need to be confronted with three powerful and technically-skilled central midfielders who each offer a complete set of midfield skills and qualities.