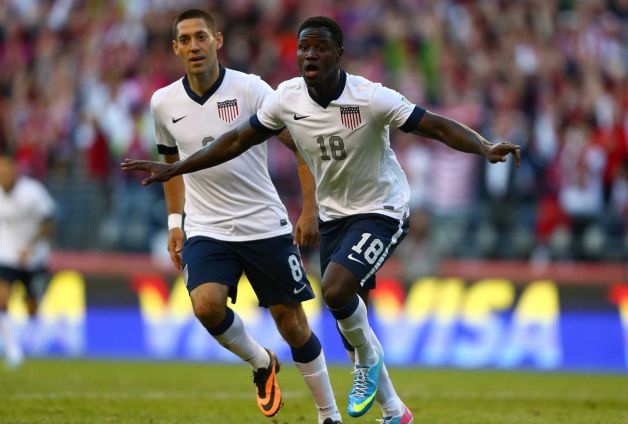 Jürgen Klinsmann didn't have the option of using two of his first choice players (Graham Zusi and Jermaine Jones), and the United States Men's National Team played its best soccer under Klinsmann's tenure.
More so than in any other game under Klinsmann, the front six players in front of the goalkeeper and the defensive back four were all technically-skilled, athletic, and dynamic.
Without Zusi starting as something between a right wing and a right midfielder, the American attack along the right side of the field was less focused on crossing and more focused on quick passing soccer.
While Zusi certainly has the ability to play one-to-two touch soccer, without Zusi, Eddie Johnson was started as a right winger in name alone where he was able to stretch the Panamanian defense with his speed and runs, which were rewarded by passes by Geoff Cameron and others.
Klinsmann's Front Six worked really well together due to the skill and playing style of the players, but the formation itself was somewhat unbalanced and hard to categorized. The front six was essentially two defensive midfielders, two attacking midfielders, and two strikers, but one of the strikers, Eddie Johnson, was supposedly playing as a right winger.
In reality, Eddie Johnson out right was playing more as a combination of an outside forward and a center forward, as he constantly switched back and forth between the two roles.
Neverthless, it was quite telling that a combination of players who Klinsmann didn't envision as his ideal Starting XI actually produced the type of proactive soccer that he discussed when he was first appointed coach in August of 2011.
For USMNT fans, the game against Panama offered a glimpse of what higher-caliber soccer looks like as Jozy Altidore and Clint Dempsey played off each other with first-time passes, balls rolled back with the bottom of their cleats, back heels, wall passes, and the like, while Michael Bradley and Geoff Cameron roamed all over the field facilitating passing, breaking up passes, and tackling. Out left, Fabian Johnson combined with everyone, in addition to cutting inside toward the penalty box to look to shoot or break down the Panamanian defense.
Brad Evans didn't perform as well as he had against Germany primarily because he was beaten with speed, which was outside of his control. Evans didn't defend poorly or put in a poor performance, but he was simply unable to keep up with Panama's attackers. This lack of speed wasn't a real problem for the USMNT because Evans was covered by the U.S.' two defensive midfielders, Bradley and Cameron, as well as the right center back, Omar Gonzalez.
One observation that might have gone unnoticed with the United States' improved ball movement, Cameron and Bradley's commanding central midfield and defensive midfield performances, and Altidore's and Eddie Johnson's goals was Matt Besler's noticeably increased use of his weaker right foot. With Besler's speed and strong defensive instincts, the use of both feet takes his game to a new level.
Against an athletic and skilled Panamanian national team, the United States made its first big step to playing a higher caliber of soccer based on technical skill and excellent team passing.