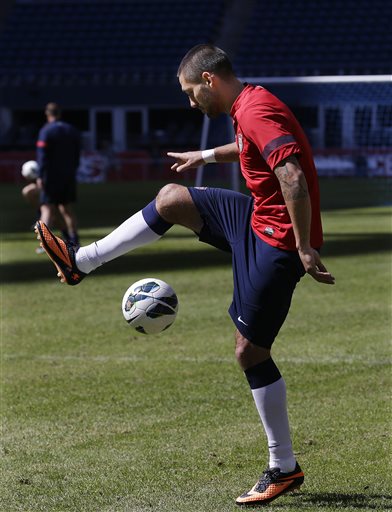 The Christmas Tree formation, a.k.a. L'albero di Natale, is a tactical option against Honduras next Tuesday.
With Geoff Cameron, Jermaine Jones, and Michael Bradley all possessing strong technical and defensive abilities, these three players in a line of three in front of the defensive back four could neutralize Honduras' technical ability and speed while also stuffing the midfield with technically-skilled midfielders who like to circulate the ball around quickly.
Using Cameron, Jones, and Bradley is much different than the three defensive midfielder formation that Jürgen Klinsmann used to use with the United States Men's National Team because all three players have a superior combination of athleticism and skill than Danny Williams, Kyle Beckerman, and to a lesser extent, Maurice Edu.
On paper, this Christmas Tree formation looks overly defensive, but given the playing style and skill-level of Cameron, Bradley, and Jones, these three defensive midfielders don't just sit back and play defense; all three are able to facilitate possession soccer and play incisive through balls and final balls.
These three midfielders started at the same time employs a military strategy called "rapid dominance" which is often referred to as "shock and awe." The presence of three midfielders of the size, athleticism, and ball control of Bradley, Jones, and Cameron should be able to easily dictate the tempo of the game against Honduras by simultaneously using defensive prowess and technical ability as a weapon against Honduras.
Many observers commented on how Cameron knew how to stay back deeper against Panama in order to let Bradley go forward more with the attack, but Cameron provided excellent passing throughout the game, in addition to surging forward when the opportunity presented itself. Cameron showed that he knew how to go forward and track back without being caught out of position.
With Jones, Bradley, and Cameron covering for each other and picking their opportunities to go forward, the USMNT has the opportunity to disrupt the passing rhythm of Honduras while still playing one-to-two touch soccer.
As the line of two players in front of Bradley, Cameron, and Jones, the U.S. has the option of using Clint Dempsey plus one other player. Some people will call for Graham Zusi. Others will call for Fabian Johnson, and still others will see this as a time to insert Stuart Holden. The boldest choice of all and the one with the most potential for exciting and effective attacking play is Joe Corona.
With the formation proposed above, Joe Corona playing with Clint Dempsey behind Jozy Altidore presents the United States with the chance to give Corona a bigger role with the national team, and this role can further improve the display of quality team passing that occurred against Panama.