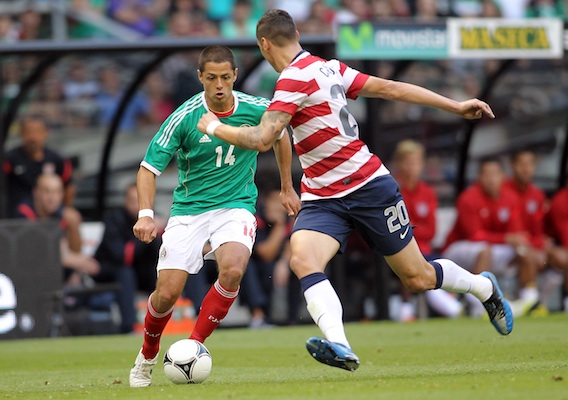 Who Jürgen Klinsmann will include in his Starting XI for the United States Men's National Team is anyone's guess, but it seems likely that Edgar Castillo would slot into his natural position of left back to replace the suspended DaMarcus Beasley.
Additionally, Klinsmann has been a big fan of Graham Zusi's play as a pseudo-right winger. Nevertheless, Klinsmann must have liked the type of passing and off the ball movement the U.S. showed against Panama without Zusi.
The likely starters based on Klinsmann's past decisions are: Tim Howard; Brad Evans, Omar Gonzalez, Matt Besler, Edgar Castillo; Geoff Cameron; Michael Bradley; Graham Zusi or Eddie Johnson, Clint Dempsey, Fabian Johnson ; Jozy Altidore.
Is this the best starting line-up that can be formed from the players on the roster considering the suspensions? Maybe it is, or maybe it isn't.
On the one hand, the United States played its best soccer under Klinsmann when two of Klinsmann's first choice starters, Graham Zusi and Jermaine Jones, were unavailable. Zusi had delivered an assist two games in a row in the games before the Panama match, but without Zusi, Eddie Johnson was in the line-up making runs behind the Panamanian defense.
While Jones has performed well and provided the American midfield with lots of qualities, Cameron seemed to do a better job of playing a combination of a midfield destroyer and a box-to-box midfielder, mainly in regards to his passing and defensive recovery duties.
Klinsmann does have the option of starting Cameron right in front of the back four with Jones and Bradley in front of him to the right and left playing as box-to-box midfielders, but two things are unclear: is Jones ready to play again after his concussion, and would Klinsmann use all three at once given the problems with using three defensive midfielders in the past?
Despite the likely starting line-up predicted above, Klinsmann has the option of using Stuart Holden or Joe Corona or both, and Klinsmann has the option of using Terrence Boyd or Eddie Johnson as an additional center forward alongside Jozy Altidore.
Who will Klinsmann start? Who should Klinsmann start? These are two different questions.
The game against Panama at the very least demonstrated that changes to the starting line-up can greatly improve the USMNT's performance, as opposed to the conventional wisdom that constant line-up changes prevent the team from playing as a cohesive unit.
A new line-up against Panama produced the first real glimpse of the type of proactive soccer that Klinsmann said he was trying to instill when he became head coach of the U.S. two years ago.
The right kind of change is good, and the next step for the U.S. is adding a playmaker in addition to the improved passing displayed with Geoff Cameron as somewhat of a combination of a midfield destroyer and a box-to-box midfielder.