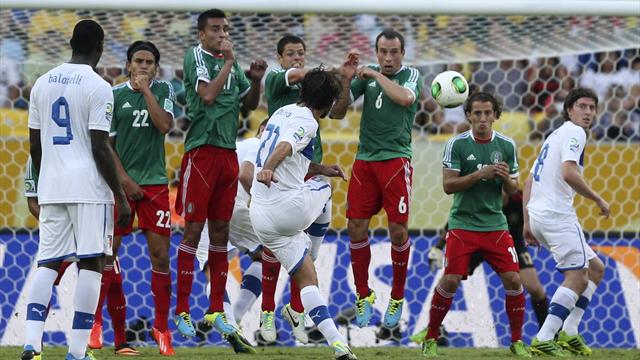 Before Andrea Pirlo opened the scoring for Italy and the game with a free kick golazo, Mario Balotelli was very active and aggressive at antagonizing the Mexican defense, which put Italy in the driver's seat.
Mexico didn't take Pirlo's free kick lying down, as Mexico's second striker and pseudo-enganche, Giovani dos Santos, pounced on Andrea Barzagli's miscontrol outside of Italy's penalty box, and Barzagli ultimately clipped Dos Santos' heel conceding a penalty kick.
With Mexico down one to zero, Chicharito kept his cool on his penalty kick and outfoxed Italian goalkeeper, Gigi Buffon, to tie the game up at one goal.
Balotelli broke the deadlock in the 78th minute by shielding Mexico's center back, Maza (Francisco Javier Rodriguez), off the ball, and then Balotelli used his quickness to spin around Maza and power the game-winning goal into the back of the net. Balotelli's goal came off some creativity and quick thinking by Emanuele Giaccherini who deftly volleyed the ball with the outside of his foot over the Mexican defense.
Many Italian fans complained about the inclusion of Giaccherini in the starting line-up in place of Italy's (presumably) still injured young prodigy, Stephan El Shaarawy, but Giaccherini was lively and dangerous in the attack.
Leonardo Bonucci was a surprising omission from the Italian starting line-up. Will Italian coach, Cesare Prandelli, use a five-man defense in the next game and start Andrea Barzagli, Leonardo Bonucci, and Giorgio Chiellini as three center backs with Ignazio Abate and Mattia De Sciglio as terzini fluidificanti (wing backs)?
Turning to Mexico's line-up and tactics, the Mexican media and Mexican fans are in panic mode, but Mexico played Italy close. While Italy displayed superior passing against Mexico, Mexico only lost due to a single play by one of world soccer's best talents, Mario Balotelli. Overall, Mexico is a skilled squad at every position, except for Mexico's lack a playmaker to connect the midfield to Chicharito and Giovani Dos Santos.
Italy is a better team than Mexico, but then again, Italy is better than most national teams. Italy is capable of beating Spain, Brazil, or Germany, so Mexico's inability to stop Balotelli from finally scoring doesn't make Mexico's defense weak. Mexico's next game should answer some questions about which Mexican players deserve to start and what Mexico's best line-up is.
There's a strong argument to be made that some of Mexico's best players such as Diego Reyes (center back) and Jorge Torres Nilo (left back) deserved the start, but beating an Italian side where the likes of Andrea Pirlo, Daniele De Rossi, and Claudio Marchisio were playing behind Mario Balotelli was always going to be a tall order for Mexico.
Italy had too much skill and big game pedigree at every position, and despite Barzagli's miscontrol and clumsy clip of Dos Santos' heels, the Italian defense at full strength is difficult for any national team to break down.
Italy's pair of outside backs Ignazio Abate and Mattia De Sciglio both stamped their imprint on the game against Mexico, and the play of Abate and De Sciglio was part of a performance by Italy where Italy was effective and strong at every position.
Both Balotelli and Pirlo were equally influential in this game, and a passer like Pirlo playing balls to a technical and athletic prodigy like Balotelli was too much for Mexico.
Pirlo made his 100th cap for Italy a memorable one with his goal, but there's no shame in losing to an Italian team that plays as a unit with elite players at every position. Mexico played Italy very close the entire game, and Giovani Dos Santos and Chicharito showed flashes of excellent attacking play.
No team is totally immune to an Andrea Pirlo free kick or a Mario Balotelli goal.
It will be interesting to see how much better Italy can play with Stephan El Shaarawy partnering with Balotelli, and Balotelli has started things off well by opening up his goal tally in the Confederations Cup in the first game.
After receiving a yellow card for ripping off his shirt after his game-winning goal, Balotelli will have to be careful not to pick up a second yellow in the next game.
With Balotelli leading the attack, Italy can beat any opponent at any time.