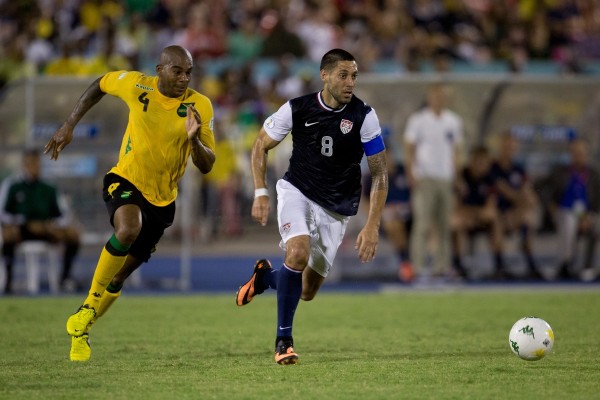 After seeing Geoff Cameron and Michael Bradley partner well together as something close to a defensive midfielder partnership, the next step for Jürgen Klinsmann is to start three attacking midfielders in front of them against Honduras.
While Cameron and Bradley do much more than breaking up the opposition's possession and helping to protect the defensive back four, starting three dynamic attacking midfielders such as Clint Dempsey, Stuart Holden, and Joe Corona would give the United States Men's National Team the chance to see how the passing could be improved even more from the Panama game without taking any real risks.
Playing as a left midfielder with the freedom to roam around the field is not a new or unnatural role for Dempsey, and Holden and Corona are attacking midfielders who have plenty of experience plus all of the tools to help the USMNT continue to improve its possession and passing ability.
Starting four defenders and two defensive midfielders (even of the more box-to-box variety) is considered by many to be a fairly defensive line-up, therefore starting Dempsey, Holden, and Corona in front of the two defensive midfielders is hardly an overly attack-minded line-up.
These three attacking midfielders gives Klinsmann the chance to see his vision for the U.S. national team go to the next level.
Klinsmann had to like the type of passing and off the ball movement he saw against Panama, and using Holden and Corona provides him with the chance of taking his vision of proactive soccer to the next level without using inexperienced or unproven players.
Starting Corona is a decision that Klinsmann needs to make, if he's serious about taking the United States national team to the next level.
Based on the type of combination play Altidore and Dempsey were displaying against Panama, the next logical step is to play someone like Corona behind them, in order to give them the types of final balls they are looking for.  Nice chemistry between a first and second striker poses a real threat to a defense, but a playmaker behind players of Altidore and Dempsey's skill level is even more of a threat.
Although Dempsey in this system would be starting as an attacking midfielder on paper, Dempsey will be looking to slip behind the Honduran defense and provide support for Altidore.
Holden and Corona aren't liabilities as starters, but if people view them as somewhat risky, the risk cannot be much more than minimal.