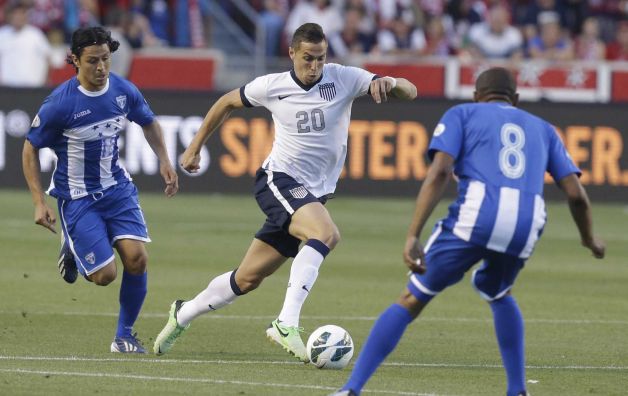 In the wake of the United States Men's National Team's 1-0 win over Honduras, there are still many questions about how the United States should use Michael Bradley, Geoff Cameron, and Jermaine Jones.
While Cameron allows Bradley to play a bigger role in the attack, Jones is still a very talented Champions League and Bundesliga defensive midfielder who like Cameron has refined passing skills and an overall comfort with the ball at his feet.
Does starting Cameron, Bradley, and Jones play at the same time allow the USMNT to pass better while still being tough to break down defensively? Can all three stay out of each other's way?
The American soccer media likes to refer to the various types of defensive midfielders as central midfielders, as if defensive midfielder means midfield destroyer and central midfielder means a box-to-box midfielder. The second classification is an accurate assessement, but there is this conflict of ideas of how the central midfield should line up and who should play there.
As many writers, pundits, and fans have pointed out, Geoff Cameron is doing a better job than Jermaine Jones of agreeing to play some variation of the midfield destroyer role. Nevertheless, Jones is a highly-skilled Champions League and Bundesliga veteran, but Cameron is, as many people have observed, allowing Bradley to play farther up field and participate in the attack closer to Clint Dempsey.
With that being said, Jones certainly has the right and skill to advance toward the final third as Bradley does, but if that is going to continue to happen, then the United States Men's National Team will need to play Jones and Bradley in front of Cameron as three points of a diamond midfield formation.
If Bradley and Jones want to play closer to goal, Cameron seems perfectly willing and able to fulfill more of the defensive duties in front of the defensive back four while also stamping his passing imprint on the game as well. Starting Cameron, Bradley, and Jones leaves three open positions in the midfield and at forward, so the USMNT could start Clint Dempsey, Jozy Altidore, and one other player as part of the front six.
If Jürgen Klinsmann ever elects to start Cameron, Jones, and Bradley together, then he'll have to finally take the plunge and allow Joe Corona, Benny Feilhaber, Benji Joya, or Freddy Adu to start.
This sort of line-up would be an improvement over the types of three defensive midfielder formations that Klinsmann used in the past.
In the past, the player tasked with the midfield destroyer role wasn't as agile and skilled on the ball as Geoff Cameron. With Cameron playing as the midfield destroyer, the United States would be giving both Jones and Bradley (both defensive midfielders) the license to really play as box-to-box midfielders more so than in the past with a playmaker in front of them and a second striker and first striker in front of the playmaker.
The United States has used a midfield with Landon Donovan out right, Clint Dempsey out left, and Michael Bradley and Benny Feilhaber in the middle, but the U.S. has never used three midfielders with Bradley's, Jones's, and Cameron's defensive and technical skills behind three essentially pure attack-minded players.
The key to the system is Cameron playing deeper than everyone else in the front six, and Cameron not only has no problem doing this, but he also seems to enjoy roaming the back where he gets lots of touches on the ball, which allows him to either spray passes around or combine with his teammates with quicker passes on the ground.
This formation would eliminate the need for Bradley to sacrifice his attacking qualities, in order to provide defensive coverage for Jones, and this formation would also be technically-skilled but difficult for opposing teams to break down.
As long as some playmaker is linking Cameron, Bradley, and Jones to Dempsey and Altidore, then this formation could allow Bradley and Jones the freedom to both attack and defend without fearing leaving a big hole behind them.
This system would be attempting to let the USMNT start two players similar (in position only) to a player of a much higher caliber: Arturo Vidal.
Despite being excellent European and international players and with all due respect to their technical qualities, Bradley and Jones don't have the same attacking arsenal and class as Arturo Vidal, who's essentially a combination of Bradley's running, tenacity, and defensive skill with Dempsey's technical ability.
Nevertheless, all of the U.S. midfielders listed above are quality international midfielders by any standard, and starting Cameron, Bradley, Jones, and Corona with Dempsey and Altidore up top would be a courageous and tactically-sound formation.
The most likely reaction by the majority of the American fan base and soccer media to the line-up proposed above would be a mixture between complaints that Corona isn't ready to arguments that this is a formation with three midfield destroyers