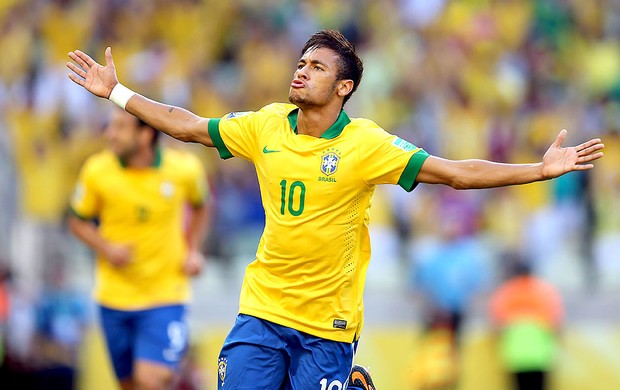 Two Confederations Cup games and two volleyed golaços from Neymar.
Even more spectacular than Neymar's left-footed volleyed goal was the display of 1v2 dribbling through the Mexican defense to the left of the goal along the endline.
Neymar beat two Mexican defenders with an outrageous nutmeg that one rarely sees executed against international caliber defenders like Mexico's, and this audacious display of skill allowed Neymar to break through the defense and assist Jô for Brazil's second goal.
Neymar is often labeled a diver or a showman or both, but once again, Neymar showed how his magic and trickery are effective at producing results.
Commentators, writers, and fans frequently question how Neymar will be able to perform in Europe, as if Brazil isn't a competitive soccer environment, but Neymar has shown two games in a row in a major FIFA tournament, the Confederations Cup, how he is able to play at the same level in international tournaments as he has played in Brazil.
There were a variety of riveting highlights and tricks from Neymar in Brazil's win over Mexico, but Neymar was also the author of the first goal and the assist on the second goal.
With his crucial involvement in the victory over Mexico and just like his role in the win over Japan before, Neymar cannot continue to be labeled as merely a YouTube sensation or an unproven player who hasn't proven himself against strong competition.
With the eyes of the world watching him in a major international tournament, Neymar was effective and electrifying again.