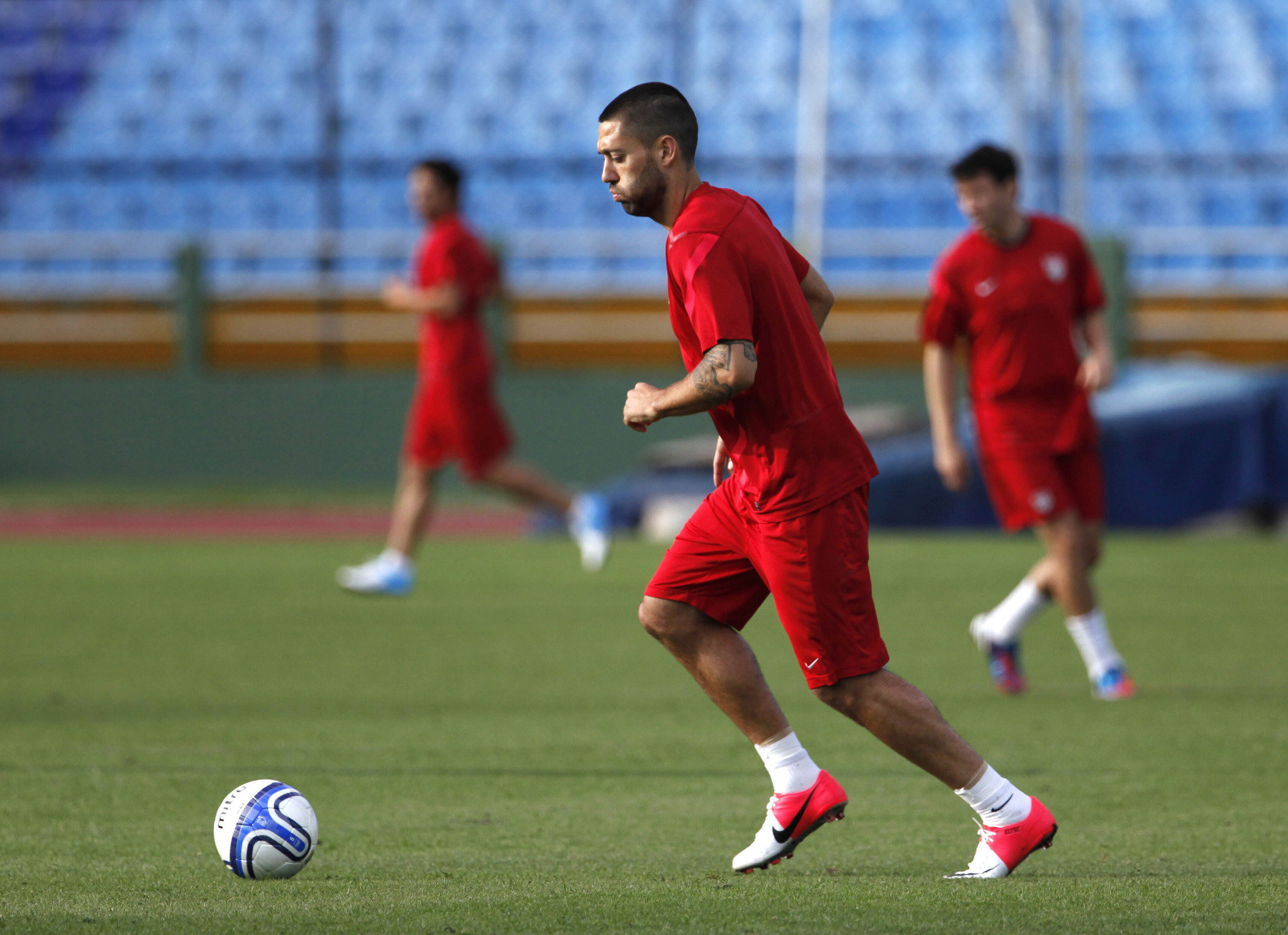 Starting with the strikers and moving backward towards the goalkeepers, there are lots of pros and cons to what Jürgen Klinsmann is doing.
The main thing Klinsmann has done right is that he is close to finding a Starting XI that can play a higher caliber of soccer against top national teams.
The main two things he has done wrong are 1.) failing to use a player to connect the midfield to the attack; and 2.) filling the non-starter roster spots with players who haven't proven they are better than other players the U.S. has at its disposal.
There's no real connection between the improved international play of players like Jozy Altidore, and anything Jürgen Klinsmann is doing as a coach. Klinsmann simply likes to remind Altidore how he was a great German striker and thus entitled to publicly rag on Altidore, as opposed to solving the problem of providing Altidore with more service.
Klinsmann has publicly insulted Altidore on multiple occasions (supposedly as some sort of motivational tactic), but the improved service that Altidore received when playing for the United States was the real reason for Altidore's recently improved scoring rate and combination play with Clint Dempsey.
Altidore's improved skill-level and international performances is a product of steady improvement from childhood until seeing lots of playing time with technical footballers in Holland.
Clint Dempsey has been playing for the United States Men's National Team as a second striker, even if a diagram of the line-up makes him look like a central attacking midfielder, but Dempsey's performances for the U.S. have always been better when he's provided with a better supporting cast who can play on his level.
Dempsey's record and highlights speak for themselves, but Dempsey is often the scapegoat when the USMNT plays poorly. Often, Dempsey receives lower ratings from the American soccer media than players who clearly didn't show as much class and intensity in a particular game. The more players like Michael Bradley who are playing with Dempsey, the more he'll be able to play off his teammates and shine.
Despite the praise Graham Zusi has received from the American soccer media for his World Cup qualifying performances, Zusi looked mostly in over his head against Germany and Belgium. Often a single cross that finds its target in a game largely characterized by just trying to keep up with international competition will garner Zusi praise.
Zusi is certainly a technically-sound player with the ability to rely less on a steady stream of crosses and more on higher-caliber passing than he does. Zusi crossed the ball 12 times against Honduras, and while a few of them were well-weighted and elegant, others looked like he was married to crossing the ball. Nevertheless, Zusi has shown the ability to play a better style of passes, but he should play that way more.
One of the back ups for Zusi is Joe Corona, and Corona almost seems blackballed by Klinsmann, despite seeing a small number of World Cup qualifying minutes against Panama. Whatever Klinsmann's rationale is for not using Corona more, even though he continues to call him up to the national team, it makes but little sense.
Every soccer fan around the world knows that the one missing element from the U.S. national team now is starting a higher number of technically-skilled players like Clint Dempsey, Michael Bradley, Geoff Cameron, Jozy Altidore, and Fabian Johnson. Corona is not only technically-skilled, but he's creative, experienced, and a starting attacking midfielder in a league that is better than Major League Soccer: La Liga MX.
The constant refusal to let Corona play a bigger role is a tough sale for any knowledgeable soccer fan. The United States Men's National Team is simply not good enough in its current form to exclude players like Corona.
Amidst the euphoria of sitting on 13 points in World Cup qualifying, American soccer fans and the American soccer media should be mindful of how easily Germany's B Team was able to score a flurry of goals in a matter of minutes when it was actually trying. Additionally, Belgium absolutely destroyed the United States in the friendly before Germany.
The United States wouldn't have been outclassed to such an extent by Belgium if a greater number of  better players were used. Without any thought, anyone who has followed the USMNT knows that Landon Donovan and Benny Feilhaber could have simply been given a uniform for the Belgium game and had no problems performing well without looking in over their heads. The United States might have still lost, but the quality of play would have been better.
People can say what they like about Donovan or Feilhaber, but both of them have skill-sets that this current U.S. team is missing.
While the United States has a variety of strong pieces in Klinsmann's recent starting line-ups, there is undoubtedly a better right back, a better right midfielder, and a better playmaker. Klinsmann could simply insert three new starters to start with eight of his current starters and make the USMNT instantly better.
The State of the United States Men's National Team is that eight of Klinsmann's 11 starters should continue to start: Tim Howard (goalkeeper), Omar Gonzalez (center back), Matt Besler (center back), Fabian Johnson (left back), Michael Bradley (defensive midfielder), Geoff Cameron or Jermaine Jones (defensive midfielder), Clint Dempsey (second striker), and Jozy Altidore (first striker).
The United States needs to use new players at right back, at the central attacking midfielder role, and as the right attacking midfielder, and Klinsmann has the players available to him to strengthen these three positions.
At right back, Klinsmann has DeAndre Yedlin, Jonathan Spector, Eric Lichaj, and Andrew Farrell. At playmaker, Klinsmann has Benny Feilhaber, Joe Corona, Benji Joya, and Freddy Adu. And lining up as a right midfielder, Klinsmann has Landon Donovan, any of the players listed at playmaker, Joe Gyau, Brek Shea, or Stuart Holden.
The State of the United States Men's National Team is that it has the players in the pool to shore up its weaknesses, but Klinsmann refuses to use even the internationally-proven ones.
The United States is in first place in CONCACAF World Cup qualifying, but the line-ups Klinsmann is using don't have the collective quality to beat stronger national teams. Klinsmann will have to use someone who can provided Dempsey and Altidore with more service, and Klinsmann will also have  to use a right back with more speed than Brad Evans.
Not everything that Klinsmann is doing is bad, as Klinsmann is somewhat close to fielding a starting line-up with 10 skilled, dynamic, and athletic field players, but the missing connection between the defensive midfielders and the attack is still a problem.
One reality of the USMNT is that Jürgen Klinsmann is using some players who make the United States play below its real ability, and it's time to see just how good the U.S. really is.