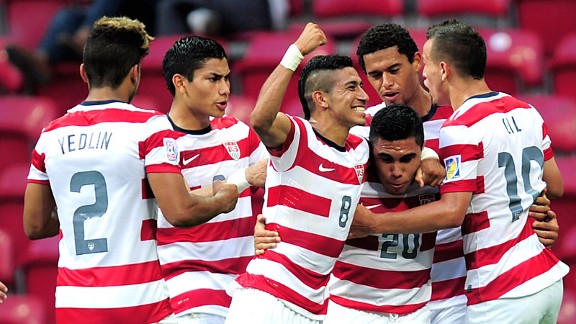 In the United States' second U-20 World Cup game, Javan Torre started again at center back and the more highly-rated center back, Caleb Stanko, was benched despite outplaying Torre in the first game, and the United States tied France 1-1.
Torre may or not be one of the two best center back options at Ramos' disposal, but he did fairly well against France.
Perhaps if M'Baye Niang were playing as a first striker for France, the combination of Niang and midfield extraordinaire Paul Pogba would have spelled a horror show for the United States' defense.
As it was, Pogba displayed his usual effortless play even with Will Trapp and Benji Joya putting pressure on him.
Pogba wasn't fazed or neutralized, but Joya showed his ability to play against elite players. This was a good barometer to prove to any of Joya's doubters that he has the ability to play with the United States Men's National Team.
In addition to Pogba, French striker, Yaya Sanogo (amongst others) was a handful for U.S. center back, Shane O'Neill, who was luckily available for this game, unlike the first World Cup match.
The U.S. had an equal share of possession against Spain, but against France, the U.S. saw far less possession. Unlike in the game against Spain, Will Trapp did a better job of tackling and playing deeper which is his job playing as somewhat of a midfield destroyer with the number 6 jersey.
On the other hand, Joya who was again used as a box-to-box midfielder played as well or better than he played against Spain.
Joya and Trapp did a good job of putting pressure on France's midfield even though all of France's players were tall, elite athletes who passed effortlessly and seemed to easily enjoy the lion's share of possession.
But, the United States did pass well and combine well with each other, and the U.S. didn't look outmatched, as the U.S. was able to advance forward with good team passing.
One of the most striking aspects of the game was how physically imposing and graceful almost all of the French players were, and despite this, the United States still was able to play with France and attack and defend them.
With one loss and one tie so far in the U-20 World Cup, the U.S.' U-20 team has displayed a good level of soccer that technically looks better than the United States Men's National Team as a whole, and the quality of play occurred against a fast and technically-skilled Spanish team and a French squad that was equally skilled but athletically far superior to Spain.
The size, skill, and athleticism of France was remarkable, but the U.S.' players like O'Neill and Joya seemed unfazed by it.
Frankly, France's U-20 squad looked unbeatable when the game started.
Based on how many goals Spain scored on the U.S., this French squad right after kickoff looked like they were going to dominate the United States, and they did dominate possession.
Despite the 59% to 41% possession difference, the U.S.' front six were able to string passes together playing one-to-two touch soccer and get into the final third, and the defense was able to somewhat contain France.
This signals an improvement for American soccer.
Looking at the state of American soccer in general, it would appear that many of the U.S.' U-20 players are ready to play alongside players like Clint Dempsey, Michael Bradley, Tim Howard, Jermaine Jones, Geoff Cameron, Fabian Johnson, Benny Feilhaber, Juan Agudelo, Freddy Adu, Joe Corona, and Jozy Altidore.
Some combination of the best players from the U-20 team combined with the USMNT players listed above indicates an improvement in the overall technical ability of the United States.
One important thing to remember about the U-20 World Cup is that Brazil and Argentina didn't qualify for it, which seems to indicate that their players of this age group are already being incorporated into their main national teams.
The United States and Jürgen Klinsmann would be wise to incorporate some of these players like DeAndre Yedlin, Benji Joya, Luis Gil, Shane O'Neill, Mario Rodriguez, Alonso Hernandez, and José Villarreal into the USMNT for the Gold Cup or for upcoming World Cup qualifiers.
FIFA MATCH REPORT AND RECAP:
http://www.fifa.com/u20worldcup/matches/round=259235/match=300232815/report.html