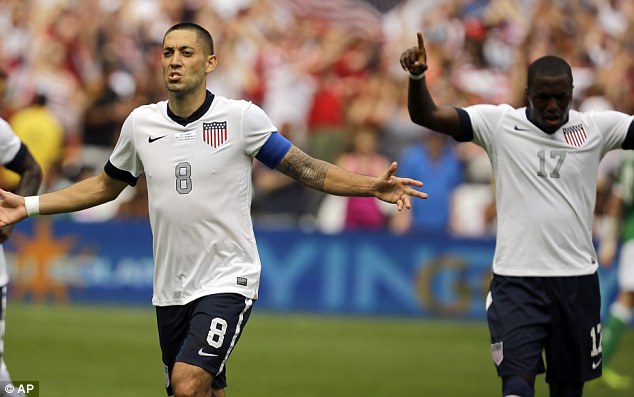 For several months, this writer has proposed fielding a United States Men's National Team XI made up of some of the U-20 players with the best USMNT players, even the ones Klinsmann refuses to use.
What would this look like? It would look like Benji Joya, DeAndre Yedlin, Shane O'Neill, Caleb Stanko, Mario Rodriguez, José Villarreal, Alonso Hernandez, Juan Agudelo, Benny Feilhaber, Joe Corona, and even Freddy Adu being given a real shot.
The caliber of the passing hasn't been good enough, and there haven't been enough shots on goal.
So, just how good are Klinsmann's starting line-ups?
Skipping quickly past the goalkeeper position, either Tim Howard or Brad Guzan are proven international and EPL keepers who serve the United States well.
Who plays right back? Well, Steve Cherundolo is certainly a seasoned Bundesliga and USMNT veteran who nobody really ever doubted in the past. Now, he's a little older, and he asked for time off this summer. Additionally, some observers feel as if he's lost a step.
Jonathan Spector is a capable player with strong technical ability, experience, and respectable athleticism for an international player. He's by no means slow, and he isn't very old. Spector performed well against Spain and Brazil in the 2009, and that's something that he can continue to point to for a long time.
A bolder choice is tossing DeAndre Yedlin into the deep end with the full USMNT at right back where he gives the United States a modern outside back blessed with speed, attacking inclinations, comfort on the ball, and fairly aggressive defensive tendencies.
Yedlin is thought of as primarily an attacking threat, but he has certainly demonstrated an ability to tackle well, force attackers wide, and track down opposing players. The advantage of using Yedlin is that he puts the opposition on its heels when he marauds down the sideline, which breaks the defensive shape of the opposition and sucks opposing players toward the sideline, which frees up Yedlin's teammates.
Who should be the two American center backs is really up for debate, and until all of the relevant parties are allowed to step into the ring, no one is really going to know which American center backs or defensive midfielders can take the center of the American defense to the next level.
Are Omar Gonzalez and Matt Besler better than Carlos Bocanegra, Clarence Goodson, and Oguchi Onyewu? Definitely yes.
Are Gonzalez and Besler better than Jay DeMerit? Probably not.
DeMerit was baptized by fire and performed well in two major FIFA tournaments against truly elite attackers. DeMerit didn't just survive when the famous players were coming at him, he showed that he was an American center back that was too good to be victimized by elite forwards.
With that being said, Jürgen Klinsmann owes American fans and himself the opportunity to get to see the list of 10 or so center backs being tossed into the shark tank.
Center back is a difficult position primarily because faster and better players are sprinting at center backs while center backs are backpedaling; at any moment, the opposition can play balls through or over center backs or simply decide to dribble past them with a full head of steam.
It's easy to say that center backs are mistake prone or too easily beaten. It's hard to stop someone sprinting at a center back when the center back has his back to goal.
Gonzalez and Besler? Cameron and Gonzalez? Cameron and Besler? Shane O'Neill and Besler? Cameron and Shane O'Neill? George John and Maurice Edu? The list of possibilities goes on as several center backs like Amobi Okugo, Gale Agbossoumonde, Caleb Stanko, and Andrew Farrell (amongst others) weren't even mentioned in the options above.
Taking a look at Agbossoumonde and Farrell together at center back in a friendly would be a very bold move that could prove to bring better skill, defense, and athleticism to the center of the American defense.
Should Fabian Johnson play as a left back where he can attack and bring better skill to the left side of the defense?
Should a brand new MLS player like Chris Klute be allowed to suit up for a friendly or tested in camp?
Should right backs with the ability to play as left backs be used?
These are all legitimate questions, which Klinsmann hasn't posed or tried to answer through testing, with the exception of frequently using Johnson at left back.
Despite Klinsmann's makeshift line-ups, one thing is for certain: the United States Men's National Team has a better and more athletic pool of players than ever before.
Will they get a chance to show what they can do? Will they be giving a fair shot?
The front six offers a lot more certainly.
Michael Bradley, Clint Dempsey, and Jozy Altidore are starting as a box-to-box/defensive midfielder, roaming attacking midfielder or second striker, and first striker, respectively; this fact leaves three open spots.
Will Trapp isn't beating Jermaine Jones or Geoff Cameron out for the defensive midfielder spot any time soon, and Perry Kitchen hasn't even been given the chance to show how well he would do against someone like Brazil, if Jones or Cameron were unavailable.
Can Jeremy Hall or Amobi Okugo outperform Maurice Edu? Who knows?
The U.S. has other midfield destroyers as well, but no one from Tab Ramos' U-20 U.S. side (except maybe Stanko in the future) is taking the misunderstood number 6 role, which requires a lot of comfort on the ball, speed, defensive skill, and elegant passing ability.
Two spots remain to be discussed, and these two spots have been Jürgen Klinsmann's clearest display of being a poor tactician.
The ability to appreciate creative passing skills in a player who is willing to try passes that might not slip through the defense and the need of the first and second strikers to have a playmaker who is inventive, smooth, instinctual, and a risk taker is a connection that Klinsmann either refuses to try to address or a connection that he refuses to accept.
Either way, Klinsmann has been unwilling to even test out the best playmaker options at his disposal and pick one. Klinsmann's standards for playmakers are high, but he has never proven that his assessment of Benny Feilhaber, Joe Corona, Freddy Adu, Mix Diskerud, or anyone else is correct. He needs to prove it.
He needs to allow a playmaker to play with Cameron/Jones, Bradley, Dempsey, Donovan, and Altidore, and he needs to evaluate all of the options at his disposal.
With Cameron or Jones playing with Bradley and Dempsey and Donovan combining with Altidore to help him to attack the goal, Klinsmann doesn't have a good excuse to not try out playmakers who link the more defensive midfielders with Donovan, Dempsey, and Altidore.
Until he tries it out, he can't support his tactics. Klinsmann needs to try something. He is entitled to not use his archenemies (Feilhaber and Adu) to whom he has nothing to teach , but he could at least play a line of three attacking midfielders Donovan, Corona, and Dempsey behind Altidore with Cameron and Bradley playing deep.
That's fair.
That's tactically sound.
Based on how Benji Joya has played in the U-20 World Cup and in CONCACAF U-20 World Cup qualifying, Joya would be a very useful midfielder to begin to incorporate into the USMNT.
Joya brings skill, calm passing, defensive qualities, good athleticism, and intensity. He's a complete midfielder that offers Bradley, Cameron, Jones, and Dempsey a player who can play at their level and help the team to produce better soccer.
Perhaps the best performance ever for the USMNT under Klinsmann was the game against Panama in which Klinsmann had players close to fulfilling the 1 through 11 numbering system: Tim Howard 1, Brad Evans 2, Omar Gonzalez 3, Matt Besler 4, DaMarcus Beasley 5, Geoff Cameron 6, Fabian Johnson 7, Michael Bradley 8, Jozy Altidore 9, Eddie Johnson 9, Clint Dempsey 11. No number 10 or anything close to it.
Even Joe Corona, an actual number 10 who proved himself in the Copa Libertadores, was on the bench for several qualifiers before and after the Panama game when the U.S. was passing poorly. Corona's cameo against Panama was essentially a public insult from Klinsmann that said, "It means nothing to me that you start for a good Liga MX team that went deep into the Copa Libertadores, and I don't care that you proved yourself twice against Corinthians."
Looking at the starting line-up against Panama, the right back and left back were questionable as legitimate options against better teams. Eddie Johnson was oddly used as a right midfield winger. Clint Dempsey was used as a 10.
The reason the line-up worked was because Cameron, Bradley, Fabian Johnson, Dempsey, Eddie Johnson, and Altidore all had the skill-level, playing style, and athleticism to display a higher caliber of passing play despite the rather bizarre formation with a striker like Eddie Johnson as a right winger and Dempsey as a playmaker .