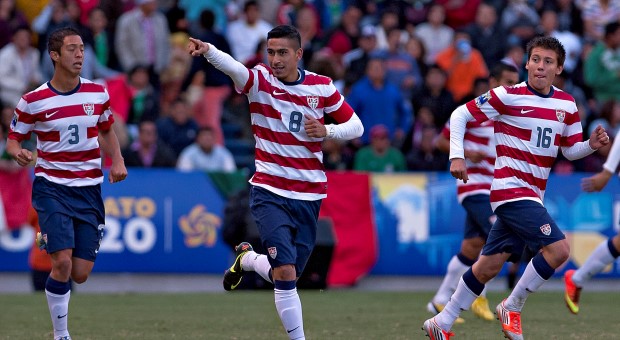 Benji Joya has the Clint Dempsey mentality. It's a winner's mentality that is a combination of irreverence for opponents with a strong sense of humility off the field.
Joya is a different type of player than Dempsey, but Joya is an excellent talent who is more of a box-to-box midfielder compared to Dempsey, who is a second striker.
Joya plays one-to-two touch soccer. He tackles well. He's not intimidated by opponents, even Paul Pogba, and he's cool under pressure.
Big games are Joya's favorite type of games, and he has the skill to start for the United States Men's National Team in the 2014 World Cup, should the United States qualify.
For people who were so adverse to using a trequartista, enganche, meia-armador, or central attacking midfielder (all the same thing), Joya provides that sort of vision, creativity, passing ability, and style, while being an aggressive defender who tracks back on defense and times his tackles well.
The USMNT needs a player like Joya who offers Geoff Cameron, Michael Bradley, and Clint Dempsey a skilled passer and attacker who also helps to win back possession in the midfield and break up the passing of the opposition.
Even without international experience for the United States Men's National Team, Benji Joya is a game day player who has shown strong signs that he is a complete midfielder unfazed by tough opponents or hostile crowds.
Once Joya played well against Paul Pogba, it's hard to argue that he needs more experience. Joya even tried to put Pogba in a head lock in a recent U-20 World Cup game against France, and Pogba knew not to react.
Fighting for no reason shouldn't be applauded in soccer, but Joya doesn't do that.
But, Joya has shown that he is willing to mix it up with anyone just like Clint Dempsey shows almost every game.
However one chooses to look at Joya's level of experience, Joya is an intense player who won't be intimidated and psyched out by famous and talented opponents, and Joya's skill and athleticism is matched by his mental toughness.
The USMNT needs more players like Benji Joya, and Jürgen Klinsmann will have to begin to incorporate Joya into his rosters, if he hopes to compete against the world's best national teams, when they are at full-strength.
Benji Joya has the Clint Dempsey mentality.