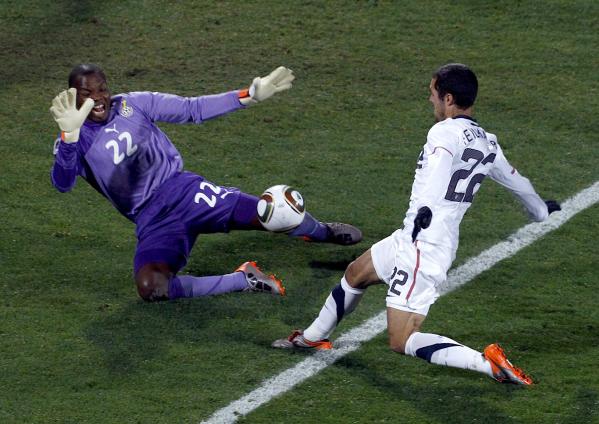 Jürgen Klinsmann selected another trademark imbalanced roster for the United States Men's National Team' s Gold Cup squad.
The roster has one right back, three left backs, only one defensive midfielder, several mediocre center backs without good agility, and mostly pedestrian strikers.
Klinsmann made one needed change from his previous roster which was putting more than one playmaker on the roster: Joe Corona and Mix Diskerud.
Below is the United States' B Team Gold Cup roster selected by Klinsmann and his staff, and changes could possibly be made to the roster after the group stage of the tournament, should the United States advance out:
GOALKEEPERS: Bill HAMID (DC United), Sean JOHNSON (Chicago Fire), Nick RIMANDO (Real Salt Lake).
OUTSIDE BACKS: Michael PARKHURST (Augsburg), Edgar CASTILLO (Tijuana), Tony BELTRAN (Real Salt Lake), DaMARCUS BEASLEY (Puebla) , Corey ASHE (Houston Dynamo).
CENTER BACKS: Clarence GOODSON (Bronby), Oguchi ONYEWU (Malaga), Michael OROZCO FISCAL (Puebla).
DEFENSIVE MIDFIELDERS: Kyle BECKERMAN (Real Salt Lake).
ATTACKING MIDFIELDERS: Alejandro BEDOYA (Helsinborg), Joe CORONA (Tijuana), Mix DISKERUD (Rosenborg), Josh GATT (Molde), Stuart HOLDEN (Bolton), José TORRES (Tigres).
FORWARDS: Will BRUIN (Houston Dynamo), Landon DONOVAN (LA Galaxy), Herculez GOMEZ (Tijuana), Jack MCINERNEY (Philadelphia Union), Chris WONDOLOWSKI (San Jose Earthquakes).
The Gold Cup roster Jürgen Klinsmann has selected for at least the group stage of the Gold Cup should be very alarming to anyone who remembers that in the 2011 Gold Cup the United States Men's National Team struggled with the following players on the roster: Tim Howard, Steve Cherundolo, Jonathan Spector, Eric Lichaj, Michael Bradley, Landon Donovan, Clint Dempsey, Freddy Adu, Jozy Altidore, and Juan Agudelo.
Looking at the roster by position, even the goalkeepers are just the same goalkeepers that Klinsmann always selects as third string or B Team goalkeepers without even using them or proving that they in fact deserve to always be on the roster.
Bill Hamid, Sean Johnson, and Nick Rimando may prove to be capable as international goalkeepers, but are they better than some of the other MLS goalkeepers like Dan Kennedy, Tally Hall, Luis Robles, and Clint Irwin?
So far, Klinsmann seems to just select Hamid, Johnson, and Rimando without proving that they should just automatically be given the B Team goalkeeper spots.
Klinsmann and his staff selected just one right back for the Gold Cup roster: Tony Beltran.
The other right back in name only was Michael Parkhurst. Parkhurst is a good center back who has done well overseas, where he has recently been used as a right back. But, Parkhurst is a center back who doesn't have the speed or the style of play to realistically be used as a right back against strong opponents.
Is Tony Beltran was on the roster, then where were the likes of Kofi Sarkodie, Jonathan Spector, and Eric Lichaj? Picking Beltran over the other three requires some evidence, and Klinsmann doesn't have it.
Spector and Lichaj have a body of international work to support their inclusion over Beltran, and Sarkodie continues to display how he (like DeAndre Yedlin) is a fast and aggressive outside back who poses a two-way threat.
Sarkodie keeps getting better, and proving that Beltran is better than a player like Sarkodie is a tough sell. At the very least, Sarkodie has shown his ability in Olympic qualifying, and his form in MLS continues to improve.
Sarkodie's attacking ability and his improved tackling has been something that many writers and pundits have noticed.
Exclusions like Sarkodie are a concerning pattern with Klinsmann where he selects certain players without backing up his selections, and at the same time, players who are as good or better aren't even mentioned, almost to the extent that it would appear that Klinsmann's scouting is inadequate and subpar.
Even if many of the opponents in the Gold Cup are soccer minnows, the United States still needs to improve as a team and gel, and this roster puts the USMNT in the position to possible lose to teams that it should easily beat.
While there is one right back on the roster, there are three left backs, and they aren't the kind of left backs who can play as right or left backs. They are three left backs, who can only play on the left, and one of them, DaMarcus Beasley, isn't even an outside back.
Beasley is a winger who did a good job of filling in at left back in the first half of the Hexagonal round of the World Cup qualifying when the U.S. needed a left-footed player to play left back.
Chris Klute of the Colorado Rapids deserved to be on the Gold Cup roster or at least part of the discussion.
Klute is a lightning-quick left back who can also play as a right back, center back, or as a midfielder, and Klute boasts a 4.3 40 time according to his former coach Eric Wynalda.
Klute is just what the doctor ordered for the USMNT.
He's a modern outside back who attacks with speed and skill by combining to exchange wall passes with his teammates, and he makes dangerous overlapping runs. Marcelo Balboa also rates Klute highly.
Klute offers the United States an outside back who has the speed and skill to be effective going forward and on the defensive side of things.
Klute has great recovery speed, and he knows how to cover for the center backs when they come over to cover for him if he's beaten.
He can dribble or pass the ball out of the back, and he uses his excellent vertical leap to head out dangerous balls played into the box or into the attacking third.
Klute can outplay Ashe, Castillo, and Beasley, and while Klute is not immune to being beaten off the dribble or with a pass just like any defender is, he is great at quickly closing in on the player who has passed him.
Chris Klute is an excellent example of one of many quality MLS players who have appeared from somewhat off the radar, and they are totally passed over by Klinsmann and his staff for players who haven't proven that they are better.
Klinsmann has never even mentioned Klute, and Klute is almost never even discussed by the American soccer media. For all of these pundits and American soccer writers who seem to only pay attention to MLS, how did they miss Chris Klute?
At center back, it's unclear how Klinsmann rationalized his selections.
For example, how does Klinsmann justify omitting George John from the roster, when John is a center back who is almost universally recognized by MLS coaches and players as one of the best center backs in the league? Even the Greek national team and EPL clubs have openly shown interest in John.
Looking at Klinsmann's roster selections at center back, Onyewu and Goodson have repeatedly been shown to not have the agility or technical ability to take the United States to the next level, and using players of their age does nothing to incorporate younger and better center backs like George John, Amobi Okugo, Gale Agbossoumonde, and Andrew Farrell (who can play either as a center back, outside back, or midfield destroyer).
Say what you want about Agbossoumonde and Farrell, but their comfort on the ball, their strong defensive skills, and their athleticism are there for all to see.
These are promising players who have enough experience to not be dismissed as raw and unproven players. Farrell and Agbossoumonde are not YouTube players, but rather they are players who games can be viewed and analyzed on MLS Live.
Any American defender who could possibly improve the center of the American defense deserves to be considered.
Whereas Klinsmann often put five or six midfield destroyers on his previous rosters, Klinsmann has only one defensive midfielder on this Gold Cup roster: Kyle Beckerman.
Beckerman is a midfield destroyer, and the roster doesn't have a back-up destroyer for Beckerman or two players of the second kind of defensive midfielder: the box-to-box midfielder.
How was Perry Kitchen passed over for this Gold Cup roster as an additional midfield destroyer? Everything Beckerman does, Kitchen does better.
Kitchen isn't fast by international soccer standards, but he isn't a slow liability. His passing and comfort on the ball is as good or better than Beckerman's, and he can also play as a center back.
Amobi Okugo is another defensive midfielder or center back who was necessary as a substitute or as a starter. Given Beckerman's glacial speed and poor quickness, he's a liability that should have been replaced by Kitchen, Okugo, or Jeremy Hall.
Despite Beckerman's sound fundamentals and technique, there's no place for a player who's that slow in international soccer, especially a country like the United States that wants to improve its quality of play and international competitiveness.
The rest of the midfield is all attacking midfielders of various varieties including two actual playmakers in Joe Corona and Mix Diskerud and one attacking midfielder in Stuart Holden who doesn't easily fit into any category.
Additionally, José Torres is on the roster, despite never performing well or impacting any game he has played for the United States, and Torres doesn't combine enough with his teammates or play enough final balls to be considered a playmaker.
Benny Feilhaber deserved a roster spot over José Torres because Feilhaber has outplayed Torres at the international level, and Feilhaber has been enjoying a solid season with Sporting Kansas City in MLS, despite being left off a recent travel roster.
Sporting Kansas City's passing is better when Feilhaber is playing, and Feilhaber has also displayed quite a bit of tackling and strong defensive work for a playmaker. Feilhaber even had seven or eight tackles in a game against the LA Galaxy when Jürgen Klinsmann was in the stadium to watch the game.
Feilhaber's qualities are well-known in the United States, and often coaches like Klinsmann expect him to either play more defense that a playmaker normally plays or they have unrealistic expectations for him.
People know Feilhaber is a talented passer, so they raise their expectations for him, while allowing less talented people to play.
Even without Feilhaber, at least the roster has Joe Corona and Mix Diskerud, but the selection of Torres over Feilhaber shows Klinsmann's tendency to pick his players early and insist on selecting them over and over again without any evidence.
The roster also has wingers amongst the group of attacking midfielders. Alejandro Bedoya and Josh Gatt are wingers, but it's hard to support that they match the combination of skill and speed that Joe Gyau and Brek Shea provide as wingers.
Shea has performed better than Bedoya for the United States, and Gatt offers less speed and skill than Gyau offers. Gyau also plays in a more competitive environment in Germany.
The omission of both Terrence Boyd and Juan Agudelo from the group of strikers was very indefensible, especially since strikers like Chris Wondolowski were selected over both of them.
Given the problem with goal scoring in the 2011 Gold Cup, how can anyone have any confidence in Klinsmann and his staff who selected strikers like Chris Wondolowski, Will Bruin, and Jack McInerney to do something that Altidore and Agudelo struggled to do?
In 2011, there was a real lack of service for Altidore and Agudelo, despite the presence of attacking midfielders like Clint Dempsey and Landon Donovan. With Benny Feilhaber injured before and during the tournament in 2011, the then-coach Bob Bradley was forced to insert Freddy Adu into the semifinal game against Panama because the USMNT was not creating any scoring chances.
Bob Bradley should be applauded for putting Adu on the roster to begin with, but given Bob Bradley's prefence for using two midfield destroyers, it must have taken a lot for someone like Bradley to abandon his coaching philosophy and put Adu into the game.
This Gold Cup roster has the playmakers and attacking midfielders to play final balls and create scoring opportunities, but it doesn't have the best strikers at Klinsmann disposal to finish those final balls, with the exception of Herculez Gomez.
Klinsmann selected Will Bruin and Chris Wondolowski over Juan Agudelo, and Agudelo has more goals in MLS than Bruin and the same amount as Wondolowski.
Unlike Bruin and Wondolowski, Agudelo has proven ability on the international level and 17 international caps for the USMNT.
Klinsmann can rationalize the inclusion of McInerney because he has a good MLS goal-scoring rate this season, but he can't justify selecting Bruin and Wondolowski over Agudelo.
Agudelo is only 20 years old, and he has already shown more ability to perform on the international level than Wondolowski. Agudelo is better, taller, faster, more active off the ball, and more aggressive than Wondolowski.
Klinsmann said that Agudelo needed to be more "consistent" and less "up and down," in order to make the team and yet he still has more goals than Bruin and the same amount as Wondolowski.
There is a definite pattern with Klinsmann's roster selections, which almost seems to boil down to his selection of players he feels he can get to play a more proactive style rather than selecting the players than already play that way.
Klinsmann is quite frankly using many of the same players who have already shown that they don't have the capacity to play at or close to the same level as the United States' best regular players like Clint Dempsey and Michael Bradley.
The United States and really Klinsmann is squandering an opportunity to take a number of players who have demonstrated that they have the skill-set and natural gifts to play soccer well at the international level and begin to incorporate them into the national team set-up so that the U.S. can improve.
Using these new but talented players isn't a bigger risk than using many players who fall short of being able to keep up with the speed and skill of international soccer.
WORLD SOCCER SOURCE'S NOTABLE ROSTER OMISSIONS (WHICH ARE LARGELY UNPOPULAR WITH THE AMERICAN SOCCER MEDIA):
Benny FEILHABER
Juan AGUDELO
Chris KLUTE
Kofi SARKODIE
Eric LICHAJ
George JOHN
Andrew FARRELL
Gale AGBOSSOUMONDE
Freddy ADU
Benji JOYA
Terrence BOYD
Perry KITCHEN
Joe GYAU
Brek SHEA
Amobi OKUGO
Tony TAYLOR
OFFICIAL US SOCCER ROSTER RELEASE AND QUOTES:
http://www.ussoccer.com/news/mens-national-team/2013/06/23-player-roster-to-compete-in-2013-gold-cup.aspx
http://www.ussoccer.com/news/mens-national-team/2013/06/gold-cup-roster-qa.aspx