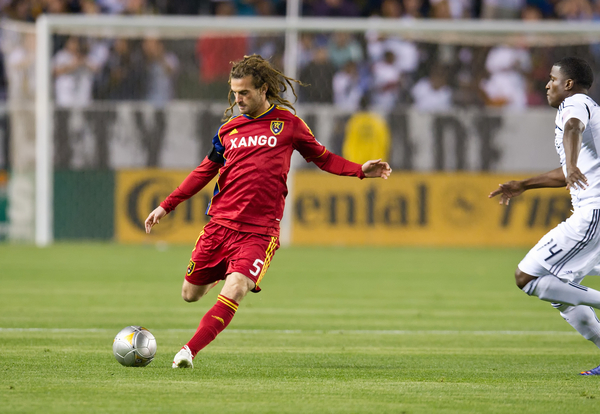 Jürgen Klinsmann has a variety of United States Men's National Team Starting XI options, and none of them would instill much confidence, if it weren't for the low level of competition the USMNT will face in the Gold Cup.
Klinsmann could possibly start: Nick Rimando; Michael Parkhurst, Clarence Goodson, Michael Orozco Fiscal, Edgar Castillo; Kyle Beckerman, José Torres; Landon Donovan, Joe Corona, DaMarcus Beasley; Herculez Gomez.
A wiser Starting XI would be: Nick Rimando; Josh Gatt, Michael Parkhurst, Michael Orozco Fiscal, Edgar Castillo; Stuart Holden, Mix Diskerud; Landon Donovan, Joe Corona, DaMarcus Beasley; Herculez Gomez.
The option presented above has no defensive midfielder whatsoever because the strategy behind it is that by having Beckerman starting, the USMNT would have a liability in front of the defensive back four.
Instead, the Starting XI above has two modern outside backs, the best two center back options on the 23-man roster, five midfielders who can maintain possession and attack, and a proven international and Liga MX striker.
Holden, Diskerud, and Corona are all capable of tackling well, if they know they are required to do more tackling than normal. Josh Gatt has played as a right back even though he is considered more of a winger, and Gatt has had the experience of playing a full-strength Russian side in Russia (as a midfielder).
Beckerman's lack of athleticism, which causes him to badly mistime tackles and injure opponents, alone is a reason not to start him, but his lack of quickness or speed makes him also easily to beat off the dribble or with quick passing combinations.
Klinsmann has the option of flooding the midfield with skilled attacking midfielders and not use a defensive midfielder, and this strategy would basically be based on using offense and ball possession as the United States' defense.
Whatever starting line-up he selects (and the one proposed above by World Soccer Source is very unlikely to happen), many members of the American soccer media and the fan base will use certain players' performances against poor competition as justification for their ability to play international soccer against better opponents. Strikers like Jack McInerney and Will Bruin are likely to fall into this category, as well as wingers like Josh Gatt or Alejando Bedoya.
In a way, Klinsmann is not improving the USMNT at all by using the line-up he will likely use. The only thing that Klinsmann can hope to learn with this roster is how well Corona, Diskerud, and Holden play.
Additionally, Klinsmann should be able to gauge how good Josh Gatt's and Edgar Castillo's skills are even when they are facing off against a poor opponent like Belize in the first game (if they even start or play).
The United States has other starting line-up options such as using Gatt as a right wing and Tony Beltran as a right back.
So, another Starting XI option would be this: Rimando; Beltran, Goodson, Orozco Fiscal, Castillo; Holden, Diskerud; Gatt, Corona, Donovan; Gomez.
The weakest option available to Klinsmann would be the following Starting XI: Hamid; Parkhurst, Goodson, Onyewu, Ashe; Beckerman, Orozco; Gatt, Torres, Bedoya; Wondolowski.