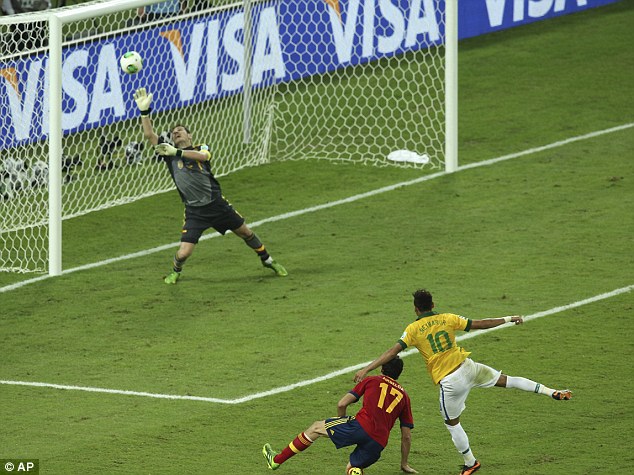 Neymar's Triumph. Neymar's Glory.
In a grudge match between Brazil and Spain with the Confederations Cup trophy on the line, Brazil was out to show the world that Brazil plays the best soccer in the world and that Spain is only a poor imitation of Brazilian soccer.
Brazil destroyed and demoralized Spain in a 3-0 goleada that put the world on notice.
Brazilians like Luiz Gustavo, Paulinho, and basically the entire Seleção set the tone from the initial whistle with ferocious tackling, intense pressing, and an outstanding amount of running that totally disoriented and dazed Spain like an Anderson Silva front kick to the face.
Brazil came out to play with so much intensity that Spain was engulfed and devastated from the opening kickoff.
The approach of the Seleção wasn't purely psychological and physical intimidation, but rather Brazil brought its historic magic, guile, and trickery that had been missing from the Brazilian national team for several years until the beginning of the Confederations Cup.
Whether it was fueled by huge public protest about inadequate public services and infrastructure in Brazil or a growing sense of rage at the glorification of the style of soccer played by Barcelona and the Spanish national team, something motivated the Brazilians to deliver a level of overall intensity and collective group play that has almost never been seen out of Brazil.
Certainly several years ago, the Seleção displayed a degree of artistry and skill that made fans the world over want to watch Brazil play, but recently the Brazilian national team didn't show the exciting and creative style of play that captivated audiences and made Brazil the pinnacle of world football.
Spain really was metaphorically body slammed and drop kicked out of Maracanã by the feared yellow jerseys of Brazil, and the emotional state of the Seleção totally disrupted the way Spain liked to play. While Brazil was very aggressive in its tackling, very few tackles were dirty or overly rough.
Brazil played like they really resented all of the praise that Spain has received for their smooth and graceful passing, which Brazilians fell like is a style of soccer that was invented in Brazil decades before Barcelona or Spain starting playing that way.
While Neymar was fantastic in his passing, his movement of the ball, and his overall display of talent, his left-footed golaço scored on Iker Casillas was particularly ruthless.
Without any hesitation, Neymar flamethrowered a left-footed shot at Casillas' face, which went right over Casillas' head due to the fact that the shot had to have looked like a blurr to Casillas.
Neymar's left-footed golaço sent a message around the world like his other goals in the tournament have done, and this particular goal said "Even if you cover the near post, I can still crush a left-footed shot right at your head, and you still won't have a chance."
It was a sensational goal that should silence critics.
Spain enjoyed more possession, but it didn't appear that way when one was watching the game as Brazil was constantly winning the ball back, darting toward the Spanish goal, and stringing together one-touch passes.
In a way, Spain and its players were not even a storyline, as their play was totally eclipsed by the attacking and defensive intensity that hit Spain like a tidal wave for the entire 90 minutes, and any chances Spain had were either rejected by diving saves from Brazil's goalkeeper, Julio Cesar, or on one occasion a seemingly impossible sliding clearance that David Luiz somehow managed to clear over his own goal, despite making his interception on his own goal line.
Brazil almost bullied Spain, and any fouls on Neymar or any other Brazilian player were met with severe warnings from the rest of the Seleção, as they often surrounded and intimidated players from the Spanish national team.
The Brazilian weren't violent or dirty, but they did seek to psychologically intimidate Spanish players like Sergio Busquets, Álvaro Arbeloa, and Gerard Piqué.
Spain was devasted by the Seleção in a true goleada that seemed to signal the return of Brazilian soccer to the top of world soccer.
While Spain has its passing and possession, every Brazilian national team player is equally or more capable of passing the ball like Spain, but the Brazilians have the additional element of superior individual skill on the ball, which can embarrass opponents in 1v1 situations.
Brazilian soccer is back, and Neymar has announced to the world that just might be the king of world soccer, and the player par excellence.
The Canarinho won as a team, and Brazil under Felipão has displayed that it has elite players at every position who can devastate opponents with inspired collective play and individual brilliance.
Today, Brazil played with a fire that burned on the inside, and Brazil will have to learn how to demonstrate close to or the same level of intensity in future games, as opposed to not being active enough without the ball.
This Brazil-Spain matchup was one of the most exciting soccer games seen in a long time, and Italy, Spain, Brazil, and Germany are all displaying a very high level of play that should make for competitive and exciting games before and during the World Cup.
France has a new crop of young players who may prove to be a force to be reckoned with, but Brazil showed that they have the capacity to thoroughly embarrass Spain. Now, Germany is the next team that Brazil has to prove itself against.
Anyone who doubted Brazil or Neymar should take a good, hard look at the passing, scoring, and overall skill that Neymar showed in this tournament against elite competition, and Brazil's doubters should look at how skilled, complete, and deep Brazil is at every position.
Futebol arte is back, and Neymar is its king.
FIFA MATCH REPORT:
http://www.fifa.com/confederationscup/matches/round=255211/match=300222461/summary.html
GLOBO ESPORTE MATCH REPORT:
http://globoesporte.globo.com/jogo/copa-confederacoes-2013/30-06-2013/brasil-espanha.html
MARCA COVERAGE (SPANISH AND ENGLISH VERSIONS):
http://www.marca.com/eventos/marcador/futbol/2013/copa_confederaciones/final/bra_spa/
http://www.marca.com/2013/06/30/en/football/national_teams/1372577474.html