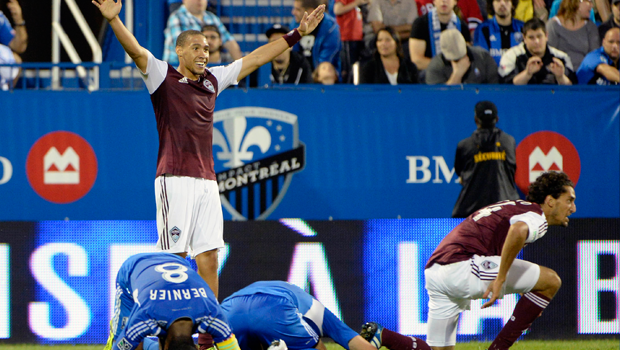 After a player has played 17 MLS games with 15 starts at left back plus five assists, you stop referring to someone as "just a promising player."
1,436 minutes of playing time is an enormous sample to consider someone as a left back on a United States Men's National Team that really needs depth in its defense, particularly at left back.
Many people have been closely watching Chris Klute's play in MLS for several months now.
With Chris Klute, all of the signs were there in the beginning.
He was recommended to MLS by Eric Wynalda, and he was a 6'2," two-footed left back with a 4.3 40-yard dash time.
Beyond the physical gifts, which should have made Chris Klute stand out to Jürgen Klinsmann, was the comfort on the ball with both feet along with the ability to attack and defend aggressively but with elegance.
Klute's smooth running and his tendency to go forward make him a very noticeable player in MLS games, and his defense isn't lacking because of all of his attacking forays. In fact, his defense is as good as his attacking, and his defense shows a strong ability to pass and dribble out of his own final third.
With so many people watching MLS games and looking for players to improve the USMNT, Klute is the perfect example of a talented player being undervalued or dismissed as "inexperienced" or "raw" or "promising," which are all just clichés that are irrelevant to a national team that needs to close the gap with much more technically-skilled national teams.
Chris Klute is way too good to continue to be overlooked by the national team without evidence of two better left back options, when Klute is likely the very best left back option.
Maybe it took playing against Thierry Henry and the New York Red Bulls for people to really notice Klute, but with more members of the media watching this particular game on the Fourth of July because Thierry Henry was playing, Klute had a statement game characterized by his dribbling, his tackling, his world-class speed, and the two-way threat he posed attacking and defending.
It's too bad that it took many people so long to notice Klute, but after tonight's game, people will be paying more attention.
Klute's ability and athleticism really challenge the belief that Jürgen Klinsmann has surveyed the American talent pool and that he is limited by it.
Many people will say that one particularly good game against Thierry Henry and the Red Bulls doesn't warrant a national team spot or the title, "Best American Left Back," and that's fair. But, this wasn't one game; this was 17 games and 1,436 minutes of playing time, in addition to the personal recommendation of Eric Wynalda.
Klute's skill-set and physical gifts look to not just be MLS-caliber but international-caliber. Klute may not show his full potential in his first international game, but it's hard to argue that his technical ability, defensive skill-set, size, and speed won't translate to the international game.
Call it premature if you want, but Chris Klute looks to have the two-way skill and the athleticism to be the best left back option for the USMNT, even including Fabian Johnson who is a right-footed player who prefers playing on the wing.
Check out German Sferra's coverage of Chris Klute for the Colorado Rapids' website:
http://www.coloradorapids.com/news/2012/09/wynalda-klute-has-eddie-pope-qualities-faster