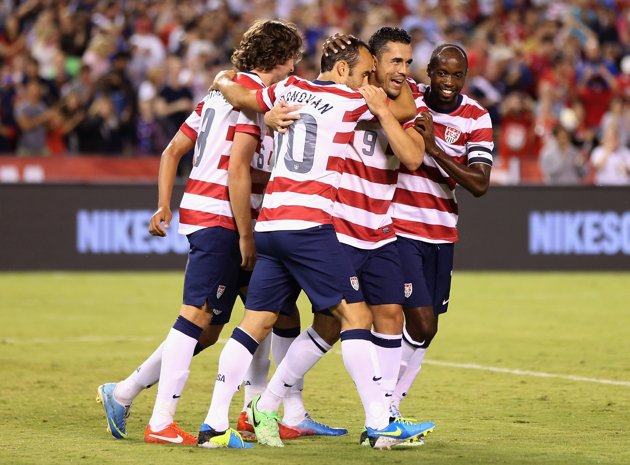 As this writer previously wrote in the build up to the USMNT vs. Guatemala game, Stuart Holden and Mix Diskerud need to be started slightly deeper in the midfield, as opposed to using Kyle Beckerman as a defensive midfielder.
Additionally, José Torres wasn't as effective as Holden and Diskerud at facilitating ball movement and possession, which was his job.
Once Joe Corona had Holden and Diskerud to combine with in the second half, Corona was able to have more technical players with whom to pass, despite passing well without Diskerud and Holden in the first half.
Jürgen Klinsmann made two excellent halftime substitutions: Holden and Diskerud.
Both players as mentioned above eclipsed Beckerman's and Torres' performances. Additionally, the insertion of Brek Shea gave the U.S.' attack an additional technically-skilled player who brought speed and the will and ability to get past defenders.
The set-up of Diskerud and Holden playing behind Donovan, Corona, and Shea looks to be the strongest and most effective option.
Going forward in the Gold Cup, Klinsmann will have to continue this strategy of flooding the midfield with players who are comfortable on the ball and who facilitate a style of one-to-two touch passing.
Perhaps, Klinsmann can experiment with Michael Orozco as a defensive midfielder, but the strategy of using midfield possession as a form of defense might be Klinsmann's best option, given the presence of only one defensive midfielder on the entire Gold Cup roster.
Holden, Diskerud, and Corona all demonstrated that they can tackle and that they are willing to tackle. All three players have the soccer IQ to realize that they will need to provide a lot of tackling and defensive pressure in the midfield to compensate for the lack of a midfield destroyer or just a true box-to-box midfield who defends with authority.
Looking back on the Guatemala game, the best Front Six looks to be: Stuart Holden, Mix Diskerud; Landon Donovan, Joe Corona, Brek Shea; Herculez Gomez.
This Front Six is predicated on the strategy of asking non-defensive midfielders to not only pressure the opposition into making mistakes and providing defense and tackling but also to use ball possession and offense as a form of defense.
Beckerman and Torres are both liabilities athletically and technically. Beckerman is way too slow and makes reckless tackles, and Torres is a one-footed soccer player who doesn't play enough quality passes and final balls, in addition to being too easy to dispossess.
Torres is certainly a player with technical-ability, but it's held back by relying on just his favored left foot.
Klinsmann made the changes that he needed to make, and he now likely knows that the Front Six mentioned above is his best option for the group stage.
The defense is a different story.
Certainly, Michael Parkhurst and DaMarcus Beasley performed well as outside backs, and Clarence Goodson really outperformed Oguchi Onyewu who looked top-heavy, awkward, and a step too slow.
Nevertheless, Goodson is hardly better than the other options Klinsmann could have picked for the roster, but Goodson showed a level of skill in scoring his goal that Onyewu doesn't have.
Going forward, the USMNT should field a back line made up of: Michael Parkhurst, Clarence Goodson, Michael Orozco Fiscal, and DaMarcus Beasley. Depending on how well Tony Beltran does, Klinsmann has the option of using Parkhurst and Orozco as the center back tandem.
Klinsmann and the United States' staff didn't get their Starting XI right, but Klinsmann seems to have spotted the problem players in the game and corrected them quickly.
This was an example of Klinsmann making excellent player changes that drastically improved the level of play and created five second half goals.
It's likely that Jürgen Klinsmann will use (or at least should use) the following starting line-up in the first Gold Cup game: Rimando; Parkhurst, Goodson, Orozco, Beasley; Holden, Diskerud; Donovan, Corona, Shea; Gomez.
This starting line-up is built around ball possession, and using the best defenders possible, given the questionable roster choices in the defense.