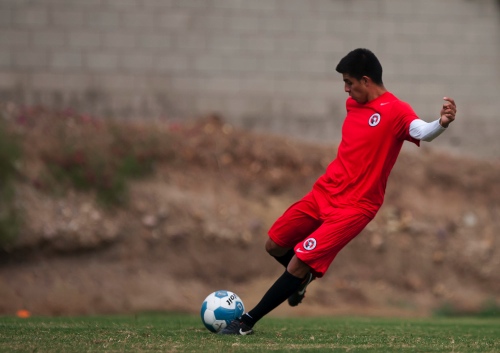 Who should Jürgen Klinsmann start against Belize?
The USMNT XI against Belize should be similar to the USMNT XI against Guatemala with four changes.
Klinsmann will likely start Nick Rimando at goalkeeper again. Rimando came out of his box a few times to clear balls that Clarence Goodson and Oguchi Onyewu looked in danger of not getting to in time, and there were some miscommunications between Rimando and his center backs.
Rimando likely learned to just clear those out himself next time.
There's nothing wrong with a goalkeeper coming out of his box, if it looks like his center backs are going to be outrun.
The key is for the goalkeeper to just clear the ball in such a way as to not be vulnerable to being beaten with a blast over his head from distance or a chip floated over his head and into the goal.
Michael Parkhurst looked up to the task at right back despite being a center back for almost his entire career until recently. Parkhurst is known for being calm on the ball, and based on Klinsmann's roster selections, Parkhurst is still the best choice at right back.
Parkhurst has learned how to play the position. He's not as fast as other right backs in the pool who were left off the roster, but he isn't a slow player. There's no one on the roster that can do a better job at right back than Parkhurst.
Klinsmann would be wise to start Clarence Goodson and Michael Orozco Fiscal as the center backs, as Onyewu looked vulnerable to being beaten with quickness, overall speed, or trickery. Goodson looked far superior to Onyewu in this regard, and Goodson isn't even a fast or quick player.
Orozco is a player that is subjected to a fair amount of criticism within the American soccer fan base and the American soccer media, but compared to Onyewu, Orozco is a player who is more agile and more technically-sound.
People have their reasons for not liking Orozco, but he certainly doesn't play like a player with inadequate fundamentals or poor quickness. Starting Orozco over Onyewu seems like a necessity.
Oddly enough, DaMarcus Beasley seems to do well at left back. At the beginning of his career and still now, Beasley was a very thin player who looked easy to muscle off the ball, but Beasley seems to have learned how to play left back reasonably well where he has shown a new ability to shield the ball.
He has the ability to dribble and pass out of trouble, and he isn't a left-footed player who can't or won't use his right foot. Despite Edgar Castillo's strong showings in La Liga MX and the Copa Libertadores, Beasley looks better at left back, even though it was a position he was force into.
Modern outside backs are expected to attack and defend, and Beasley as a natural winger has learned how to play adequate defense, which even includes the ability to win the ball back when dispossessed due to being somewhat new to the left back position.
Based on Kyle Beckerman's and José Torres' performances in the previous game, it was clear that Beckerman's lack of athleticism caused him to foul players that he couldn't keep up with, and his lack of speed prevented him from being able to catch players to tackle them or dispossess them.
On one occasion, Beckerman actually tackled an opposing player like he was playing American football and not soccer.
Skill-wise, Beckerman is sound, but the lack of the physical gifts of speed and quickness make him unable to get his body into position to show his skill-level in international games.
Beckerman's partner was José Torres who provides a level of passing that is far below Stuart Holden's or Mix Diskerud's. Klinsmann's only real option to maximize the skill of his squad is to not use a midfield destroyer or Torres as Klinsmann's attempt at using an American regista.
Instead, Klinsmann should have Stuart Holden and Mix Diskerud playing in front of the defense not as defensive midfielders but just as central midfielders who are mindful of the need to play more defensive than they normally play.
Playing defense is something both players can do, as both players have a complete set of soccer fundamentals, which includes playing defense and tackling.
In addition to Holden and Diskerud, the final four starters of the USMNT's Front Six should be Landon Donovan as a right midfielder, Joe Corona as a central attacking midfielder, Brek Shea as a left winger, and Herculez Gomez as the lone striker.
Gomez is clearly the most talented striker on the roster, and his performances for the United States as well as those in La Liga MX display better movement off the ball, better attacking instincts, and better technical ability than the U.S.' other options at striker: Jack McInerney, Chris Wondolowski, and Will Bruin.
This roster gives the United States a midfield full of players who have the ability to control the ball possession in the midfield.
The key to the midfield will be Holden and Diskerud continuing to remember that they don't have players like Michael Bradley, Jermaine Jones, Geoff Cameron, or Maurice Edu on the roster behind them playing imposing defense.
Holden and Diskerud must provide the defensive coverage needed in the midfield, and they must do it while being two of the main protagonists of the United States' passing and attacking.
USMNT Starting XI Proposal: Rimando; Parkhurst, Goodson, Orozco, Beasley; Holden, Diskerud; Donovan, Corona, Shea; Gomez.