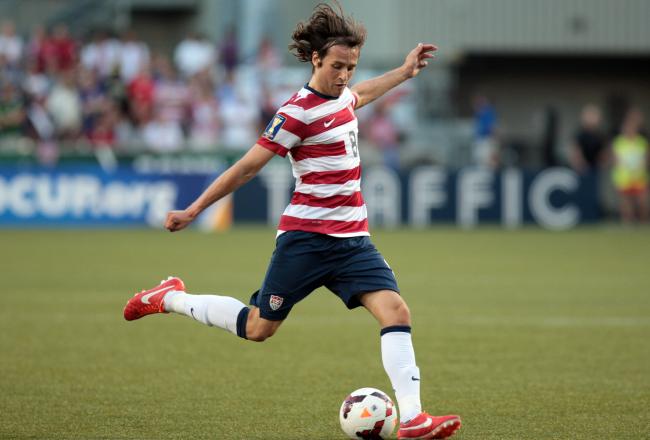 Jürgen Klinsmann will likely start a line-up that is something along the lines of what he started in the Guatemala friendly before the first Gold Cup game against Belize, but it's likely that Klinsmann will start either Stuart Holden or Mix Diskerud over José Torres, who started against Guatemala and Belize.
Torres might start against Cuba, but it would likely be in a more advanced role out left where he started against Belize.
Many American soccer writers such as Ives Galarcep of Soccer by Ives as well as others suggested that Klinsmann didn't start Herculez Gomez, Oguchi Onyewu, and Stuart Holden against Belize because of the artificial turf in Portland where the game was played.
That seems like a fair assumption with the exception of Onyewu who World Soccer Source believes wasn't started at center back because Michael Orozco was younger, quicker, and more skilled.
With the next game on grass near Salt Lake City, it is very likely that Holden and Diskerud will start and that Beckerman will start as well.
Starting with the defense, Klinsmann will probably start Nick Rimando in goal, Michael Parkhurst at right back, Clarence Goodson and Michael Orozco at center back, and DaMarcus Beasley at left back.
While Parkhurst lost his man on Belize's goal against the United States, Parkhurst is looking very composed and efficient out at right back. According to the statistics on MLS' site, Parkhurst completed 113 of 127 passes against Belize, which shows a major involvement in the game and an ability to not lose possession.
At center back, Clarence Goodson and Michael Parkhurst have looked much more composed on the ball and more equipped to keep up with quicker attackers than Onyewu has shown.
Klinsmann may start Onyewu with Goodson at center back, but Orozco deserves the start with Goodson.
Beasley continues to surprise at left back, and he is looking too capable of keeping up with attackers and too composed in possession with both feet to be removed from the starting line-up as the left back.
One interesting option would be for Klinsmann to start Beasley as a right back with Edgar Castillo at left back with Parkhurst and Orozco as the center backs.
This option would eliminate Goodson from the Starting XI. Goodson has done nothing wrong, but Parkhurst and Orozco are visibly more skilled and athletic center back options than Goodson and Onyewu. As the tournament goes on, the United States will need to field the best line-up at its disposal.
The so-called Front Six presents even more questions than the defensive back four.
Should Holden and Diskerud start as a line of two faux-defensive midfielders in order to improve the overall skill level of the American midfield behind Landon Donovan, Joe Corona, and Break Shea?
Against Belize, Klinsmann started Beckerman as a midfield destroyer with Corona, Diskerud, and Torres forming a line of three attacking midfielders behind Chris Wondolowski as a first striker and Landon Donovan as a second striker, so Beckerman will likely be in the line-up again.
Jürgen Klinsmann could likely use the following Starting XI: Rimando; Parkhurst, Goodson, Orozco, Beasley; Beckerman; Diskerud, Holden; Corona; Gomez, Donovan.
While Klinsmann's likely option is close to the strongest option that Klinsmann has at his disposal, this writer supports eliminating Beckerman from the Starting XI.
The more skilled option is a Front Six consisting of: Holden, Diskerud; Donovan, Corona, Shea; Gomez.
Therefore, World Soccer Source supports starting the following Starting XI against Cuba: Rimando; Beasley, Parkhurst, Orozco, Castillo; Holden, Diskerud; Donovan, Corona, Shea; Gomez.
What's the rationale behind World Soccer Source's Starting XI?
The basic premise is that the line-up proposed above includes a higher number of technically-skilled players with a defensive back four with two faster and more skilled center backs.
Additionally, Holden and Diskerud showed against Guatemala that they were able to play the requisite amount of defense while also drastically improving the quality of the passing in the American midfield, and that game proves more than the game against a low-ranked Belize side that did surprisingly well, while showing that even really low-ranked teams have players who display good athleticism and good basic fundamentals.
World Soccer Source sees Herculez Gomez starting over Chris Wondolowski despite Wondolowski's hat trick and well-executed goals off diving headers. Gomez is a better player than Wondolowski, and Gomez plays better against better competition.
Gomez showed some good chemistry with Corona, and the most potent attack for the USMNT is Donovan, Corona, and Shea behind Gomez with Diskerud and Holden playing deeper in the midfield in a truly unorthodox formation with no defensive midfielder.
Klinsmann might start Beckerman again, and there is a logical rationale for doing so as Beckerman is the only defensive midfielder on the roster.
To be fair to Beckerman, his actual technical ability is good and his soccer IQ is high, but he's simply not blessed with the speed and quickness that allow him to maximize his skill or catch up to opponents to perform better-timed tackles that aren't fouls.
Another Starting XI option that Klinsmann might use would be: Rimando; Parkhurst, Orozco, Goodson, Beasley; Beckerman, Holden; Corona, Diskerud, Donovan; Gomez.