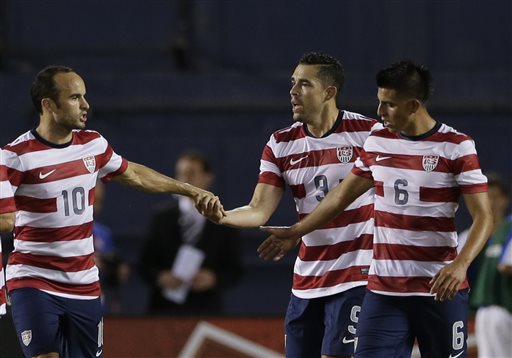 As Eric Wynalda remarked while commentating for Fox during the USA versus Cuba game, nobody knows what Jürgen Klinsmann is thinking or going to do.
Klinsmann made a statement where he said that Costa Rica presented the first real test for the USMNT, and that's an accurate statement.
In all fairness to Cuba, Cuba showed how skilled and athletic players can score on the U.S. at any time, and José Ciprian showed this with an outstanding side-volleyed golazo against the United States Men's National Team.
Looking at the defenders, the midfielders, and the forwards or forward, Klinsmann has a variety of options at his disposal, and despite some of his bizarre formations before the Gold Cup, Klinsmann has been fielding Gold Cup starting line-ups that make sense.
Additionally, Klinsmann is making the correct substitutions when he sees a need to correct something.
Overlooking some of his roster omissions like Perry Kitchen, Klinsmann has been fielding starting line-ups that tactically make sense, and one constant has been the inclusion of Kyle Beckerman in the starting line-up, as he is the only midfield destroyer on the roster.
Furthermore, Beckerman isn't a more dynamic defensive midfielder like Michael Bradley, Jermaine Jones, or Geoff Cameron.
All three of these defensive midfielders have the athleticism to play as midfield destroyers while still picking their opportunities to go forward.
On the other hand, Beckerman doesn't have the endurance or speed to run as much or as fast as Jones, Bradley, and Cameron, which forces Beckerman to conserve his energy by always playing very deep.
Even when Bradley, Jones, and Cameron play as the midfield destroyer, they certainly cover much more territory, even when they restrict themselves to just patrolling the very back of the midfield
Unless Klinsmann elects to start Mix Diskerud and Stuart Holden together in order to allow two people to fulfill the extreme running endurance that other American defensive midfielders can deliver on their own, then Beckerman will be starting as a midfield destroyer with Holden, Diskerud, or both supporting him.
Compared to Holden and Diskerud who are really more attacking midfielders, Cameron, Bradley, and Jones are like apex predators who can run endlessly and deliver the running necessary to play as a midfield destroyer for the full 90 minutes.
While Klinsmann has been using Bradley, Jones, and Cameron in two-man tandems, all three of those players can run the entire game in order to play defense as well as being some of the main protagonists in the passing play of the USMNT's midfield.
Looking at who Klinsmann will start and who Klinsmann should start, it seems obvious that Nick Rimando will be starting in goal with DaMarcus Beasley playing as a left back.
Beasley as a right back with Edgar Castillo as a left back would be a real curveball, so it seems likely that Klinsmann will start Michael Parkhurst at right back with DaMarcus Beasley at left back.
At center back, Michael Orozco Fiscal is playing very well, and he looks to be more skilled and quicker than both Clarence Goodson and Oguchi Onyewu.
Klinsmann will likely start Orozco with Goodson, but it would be interesting to see if Klinsmann decided that he needed Parkhurst and Orozco as the center backs against a Costa Rican side that is quite frankly much better than Belize or Cuba.
In all likelihood, Klinsmann's back four will be Parkhurst, Orozco, Goodson, and Beasley, but a back four of Beltran, Parkhurst, Orozco, and Beasley might just be a better option as the competition in the Gold Cup goes up.
In front of the defensive back four, Klinsmann will likely start Beckerman, and it will be interesting to see if he elects to start a diamond midfield formation of Beckerman playing as a destroyer with Holden and Diskerud just in front of him as essentially attacking midfielders playing like a tandem of box-to-box midfielders.
This set-up would protect Beckerman from being too exposed to being beaten by quicker opponents as often, and it would allow the American midfield to have two midfielders in Holden and Diskerud who can maintain possession and pose a real threat going forward.
In the diamond midfield formation, Corona could play as the tip of the diamond as a central attacking midfielder, trequartista, enganche, meia-armador, or any other synonymous term one wishes to use to describe the playmaker playing behind the strikers.
Landon Donovan and Herculez Gomez could likely start in front of the diamond midfield formation with Donovan as the second striker, or perhaps Klinsmann will elect to use a different formation all together.
Therefore, the coach of the USMNT has many options against Costa Rica.
He can start Beckerman with Holden or Diskerud deeper in the midfield with a line of three attacking midfielders in front of them, or he could elect to use the diamond formation discussed above.
Below are three options that Klinsmann might employ, but it should be noted that Klinsmann probably has several others up his sleeve:
Rimando; Parkhurst, Orozco, Goodson, Beasley; Beckerman, Holden; Corona, Diskerud, Donovan; Gomez
Rimando; Parkhurst, Onyewu, Orozco, Beasley; Beckerman; Holden, Diskerud; Corona; Gomez, Donovan.
Rimando; Beltran, Parkhurst, Orozco, Beasley; Beckerman, Diskerud; Corona, Holden, Donovan; Gomez.
World Soccer Source would like to see an entirely different option than the three proposed above.
The World Soccer Source option eliminates Beckerman from the starting line-up and tasks Diskerud and Holden with sharing the work load to fulfill the defensive duties of Beckerman, while bringing more athleticism and more creative and dynamic midfield play that is both able to keep possession and unlock the Costa Rican defense from a deeper role or when one of the pair advances forward more to attack.
Shea had an off-game against Cuba, but the talent, speed, size, and the willingness to attack are strong qualities in Shea's game.
World Soccer Source is willing to write off a performance as bad as Shea's against Cuba as just a bad outing characterized by reluctant play, crosses sailed over the goal and out of bounds, and some hesitancy to control one cross-field pass soon enough, which Eric Wynalda discussed during Fox's broadcast.
Shea started to improve a little bit toward the end of the first half, and World Soccer Source supports using a weapon like Shea against the strongest opponent the USMNT has faced in this tournament so far, even if Shea had a bad game against Cuba. When he's on his game Shea disrupts defenses and poses a threat to opponents.
Therefore, World Soccer Source proposes using the following Starting XI against Costa Rica:
Rimando; Beltran, Parkhurst, Orozco, Beasley; Holden, Diskerud; Donovan, Corona, Shea; Gomez.
On a final note, it's unclear whether Klinsmann views Chris Wondolowski's recent string of goals as a reason to start him over Gomez, or if he views Wondolowski's nose for goal as a good option to save for the final 20 minutes of the game, as Eric Wynalda suggested on the air for Fox during the U.S.' game against Cuba.