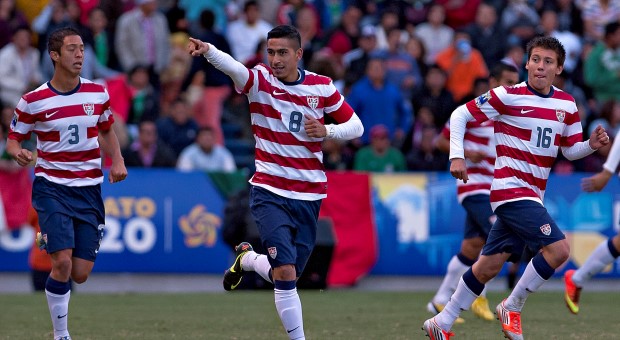 The best athlete in the history of American sports said over and over again that failure was the key to his success. That athlete was Michael Jordan.
American soccer has more potential for success right now than at any time in the entire history of soccer in the United States. The key to success is actually fielding unproven players at the international level who have demonstrated the potential ability and the athleticism to be competitive with elite soccer nations.
A vast majority of the coaches in the United States including Jürgen Klinsmann are afraid to risk losing by playing starting line-ups made up of several internationally unproven players in meaningful games, but there is a way to accomplish this without jeopardizing qualification for the 2014 World Cup.
The solution is quite simple: use a Starting XI made up of proven players and fill the remaining roster spots with new but talented players in addition to players who are too good to exclude.
After the Gold Cup, the USMNT could start the follow starting line-up without taking any more risks than usual:
Tim Howard; Jonathan Spector, Maurice Edu, Geoff Cameron, Eric Lichaj; Michael Bradley, Jermaine Jones; Landon Donovan, Benny Feilhaber, Clint Dempsey; Jozy Altidore.
The Starting XI listed above isn't really a risky line-up by any means, as all of those players have ample experience playing international soccer at a respectable level.
If the whole world considers the United States Men's National Team to be a team with just a few technically-skilled players, then why not use friendlies to field new players who have demonstrated the ability to offer an improvement over many of the players Jürgen Klinsmann has been using?
The sort of undertaking described above is considered risky by many, but couldn't it also be considered risky not to attempt to strengthen areas where the USMNT is weak?
Beginning to improve the caliber of players fielded by the United States isn't a question of teaching experienced players to play differently, but it is a question of actually starting promising players who could do very poorly in their first game or games.
On the other hand, maybe they'd do well.
The first step in this process is easy because the first step is deciding which players among the players that Klinsmann has been starting in World Cup qualifying absolutely have to start, and this list of names is short.
Tim Howard or Brad Guzan have to start. Michael Bradley and Clint Dempsey have to start, but who else absolutely has to start? Maybe Landon Donovan has to start too.
Looking at that list, that list includes five names for four starting spots leaving seven Starting XI spots up for grabs. Starting line-up space for seven open spots leaves the door open for a lot of possibilities.
Looking at right back, DeAndre Yedlin of the Seattle Sounders seems like a risk worth taking, given his performances in MLS and in the U-20 World Cup, not to mention the two-way threat he poses. Yedlin has speed that's close to Chris Klute's speed, and using them as the outside backs would certainly improve the U.S.' ability to attack and defend out wide.
Moving to center back, Geoff Cameron has demonstrated that he has a level of athleticism and skill, not to mention size, that has never really been given a chance to partner with a center back of similar qualities.
Why can't Gale Agbossoumonde, Andrew Farrell, or Shane O'Neill be given a shot to start with Cameron? What's the real argument against that?
Is there any proof that Omar Gonzalez or Matt Besler can outplay Agbossoumonde, Farrell, or O'Neill in an international game when they are partnered with Cameron? Those are all good MLS players, so trying them out should be something that the USMNT's coaching staff and American soccer writers are interested in seeing.
None of those three players have been given the chance to show how they can perform compared to Besler and Gonzalez, but Besler was started against Mexico in Estadio Azteca in a World Cup qualifier with essentially no significant international experience. Besler and Gonzalez have done well, but have they really proven that they are the best?
At left back, Chris Klute hasn't been given the chance to show how he can do compared to DaMarcus Beasley and Fabian Johnson. Beasley and Johnson aren't even really left backs. Klute actually is a two-way left back, and he's a very fast and skilled two-way left back who uses both feet.
If Americans really want to see better soccer, where's the backing for at least using a friendly to field a backline of Yedlin, Agbossoumonde, Cameron, and Klute with Howard as the goalkeeper? Certainly, the United States has never fielded a back four with that degree of speed and technical ability.
There doesn't appear to be any real risk, particularly in a friendly. The U.S. might lose, but the U.S. might lose anyway. Klinsmann's World Cup qualifying rosters and line-ups have been completely make-shift and experimental anyway.
All of the players listed above are players who are garnering attention from the American soccer media and American soccer fans. None of those players are soccer players taken off the street; those are all well-known professional players.
One of the arguments that Klinsmann's methods have been working is the USMNT's victory over Italy.
The U.S. played Italy in a friendly, only to have Mario Balotelli, Leonardo Bonucci, Giorgio Chiellini, and Daniele De Rossi not start. The USMNT can't really say that it beat Italy convincingly, if Balotelli wasn't playing. Cesare Prandelli and Italy clearly felt like they didn't need to use their best players against the U.S. because, if Italy lost, everyone would know Italy didn't use its best players.
Certainly, Clint Dempsey played well against Italy, but Americans already knew that Dempsey could perform well against elite opponents.
Rather than not taking any risks in friendlies, the USMNT would be better served to see how much potential it could show if a bunch of young, athletic, and skilled defenders were allowed to play with a slightly older Geoff Cameron who too hasn't really been given a fair chance to play with an adequate center back partner.
Assuming Michael Bradley is playing as a defensive midfielder and Landon Donovan is out on the right wing, why not start Freddy Adu or Joe Corona as a central attacking midfielder with Clint Dempsey out left? This group of players has been used before with success, at least with Adu playing with Dempsey and Donovan. Whereas, Corona hasn't really been given the chance to play with Dempsey yet.
With the players mentioned above, there are only a few line-up choices left to make for the purpose of this experiment.
Does the U.S. use another defensive midfielder or perhaps a box-to-box midfielder with Bradley, or should the U.S. start two forwards? If the USMNT plays another midfielder with Bradley, is there any reason not to let Benji Joya start with Bradley?
Furthermore, who should the U.S. start at striker?
Jozy Altidore has improved greatly over the past two seasons in Holland, and the players listed above provide him with the service he needs to score goals.
On the other hand, if Altidore has already proven himself by scoring so many goals in Holland as well as showing that he can score for the U.S. when provided with service, shouldn't the USMNT see how Juan Agudelo or Terrence Boyd can play with the players listed above?
Lots of questions. Few answers.
It's time to start answering some of those questions, and the way to answer those questions is to start the following Starting XI:
Howard; Yedlin, Agbossoumonde/Farrell/O'Neill, Cameron, Klute; Bradley, Joya/Holden; Donovan, Adu/Corona/Feilhaber, Dempsey; Agudelo/Boyd.