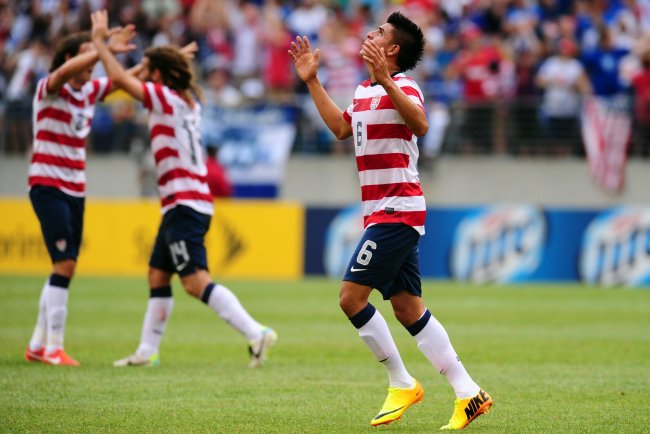 The Starting XI will be greatly affected by the four new players added to the United States Men's National Team's roster.
Jürgen Klinsmann added four new players to the USMNT's Gold Cup roster off the preliminary 35-man roster, and he sent four players back to their club teams.
Per the rules of the tournament, at the conclusion of the group stage, Klinsmann was allowed to add up to four players off his preliminary roster to his 23-man roster, if he removed four players from the current roster.
The USMNT added Eddie Johnson, Omar Gonzalez, Matt Besler, and Alan Gordon to the roster, so Klinsmann chose to select two strikers and two center backs. Klinsmann sent Herculez Gomez, Jack McInerney, Corey Ashe, and Oguchi Onyewu back to their club teams.
Gomez and Onyewu were dropped from the roster due to injuries, whereas McInerney and Ashe were dropped presumably due to the fact that they didn't impress Klinsmann (Ashe had a minor injury before the Gold Cup).
Both McInerney and Ashe are an example of Klinsmann filling up roster spots with players he has no intention of using. One has to wonder why two players who he was more likely to use weren't put on the preliminary roster or the final Gold Cup roster.
Klinsmann didn't add Benny Feilhaber or Graham Zusi as midfielders, but Stuart Holden, Joe Corona, Landon Donovan, Mix Diskerud, and even José Torres give Klinsmann good options in the midfield.
The area where the U.S. needed to strengthen its roster was at defensive midfielder, center back, and right back, but the preliminary roster didn't offer Klinsmann these options (except at center back), which is an example of his continued inability to call up balanced rosters.
Of the four players added to the roster, it seems likely that Klinsmann would definitely start Eddie Johnson at first-striker with Besler at center back, as it has been reported that Gonzalez will not join the U.S. until the semifinal game, if the U.S. beats El Salvador.
Michael Orozco has been playing well in the Gold Cup, and the argument can be made that Orozco is simply a better soccer player than both Besler and Gonzalez.
Besler is less one-footed than he used to be but still favors his left foot and Gonzalez isn't as quick, fast, or as skilled as Orozco.
Orozco also seems less prone to falling asleep on defense compared to Gonzalez.
Based on these new additions Klinsmann's likely Starting XI just might be:
Nick Rimando; Michael Parkhurst, Michael Orozco, Matt Besler, DaMarcus Beasley; Kyle Beckerman; Stuart Holden, Mix Diskerud; Joe Corona; Eddie Johnson, Landon Donovan.
In all fairness to Klinsmann, this is a fairly solid line-up, even if Klinsmann's 35-man and 23-man rosters omitted a number of very promising and even proven players.
It's possible that Klinsmann might elect to chose either Holden or Diskerud to start, thus opening up a Starting XI spot for José Torres, who really did have a strong game against Costa Rica, but Klinsmann might start Beckerman, Holden, and Diskerud at the same time.
Diskerud and Holden aren't anything close to defensive midfielders, whether one is referring to midfield destroyers or more box-to-box midfielders, but the two did a good job when they shared the defensive workload in the midfield.
Beckerman's actual skill-level is good, but his lack of athleticism makes him a liability in the midfield because when he gets beaten off the dribble or with passes, he tends to go into reckless tackles as a result of the inability to run fast enough or move quickly enough to get into position to make clean tackles.
World Soccer Source supports using  the Starting XI option below:
Rimando; Parkhurst, Orozco, Besler, Beasley; Holden, Diskerud; Donovan, Corona, Shea; Johnson.
World Soccer Source obviously prefers the Starting XI option presented above, but Klinsmann is more likely to use the option presented as Klinsmann's likely Starting XI. Klinsmann could possibly decide that Beckerman might not have the athleticism to keep up with El Salvador and use World Soccer Source's preferred Starting XI, which is surely an option that Klinsmann himself has been considering for days.
Whoever the USMNT elects to start, it seems likely that Holden, Diskerud, Corona, Donovan, and Johnson will all be starting, and this collection of midfielders and attackers is a solid group that would do well for the USMNT's A Team as well.
Johnson should bring the speed, movement off the ball, and skill to allow all of the players above an excellent target to whom they can play final balls, and that target has world-class speed for any level of international soccer.
Hopefully Klinsmann and the United States learned their lesson that Joe Corona is an essential player in the midfield because he gives Diskerud and Holden a strong passing option in the midfield, which helps to connect the midfield to the attack.
Corona was missed for the 80 minutes that he wasn't playing in the previous game against Costa Rica, which the U.S. didn't need to win.
The strongest option for the USMNT would be to use a Front Six consisting of: Holden, Diskerud, Donovan, Corona, Shea, and Johnson.
This Front Six with Parkhurst, Orozco, Besler, and Beasley as the back four and Rimando in goal should give the United States the tools needed to win.