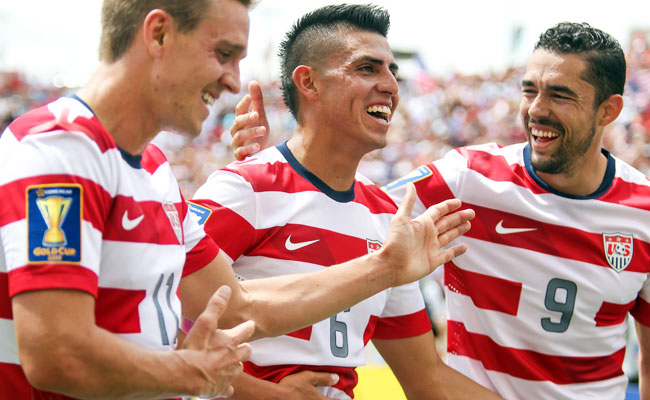 Joe Benny Corona's position is misunderstood by the American soccer media.
Whether Corona is lining up out left, out right, or in the center, there is so much movement off the ball that his position is really just a position put on paper or on a diagram for the purpose of simplifying the line-up for readers or TV viewers to see.
American soccer writers often describe Corona as a winger because he has been started out right on paper for some of the USMNT's Gold Cup games, but a winger is really a player who uses speed out wide to storm down the sideline to play crosses in or to cut inside toward the penalty box to shoot or pass.
The way Corona plays is like how many skilled attacking players play: pass and move with one to two touches.
Corona is really a goal-scoring playmaker that can line-up anywhere in the attack except as a first-striker.
In Spanish, Joe Benny Corona's playmaking position is called an enganche, which means "hitch" or "hook," and this position is responsible for hooking or linking the midfield to the striker or strikers.
An enganche is really just a playmaker, as opposed to specifically meaning a goal-scoring playmaker.
When Corona lines up out right, he isn't really playing as a winger as he is moving all over the field with the ebb and flow of the game, and the role of running the sidelines is really the responsibility of the outside backs who should overlap Corona when he is playing out right or left.
When these overlapping runs come, Corona's role is to move toward the center of the field to allow the outside back to receive a wall pass back from Corona, which Corona would play down the sideline into the path of the outside back.
Some American soccer writers can continue to contend that Corona is playing as a winger, but Klinsmann knows that Corona isn't really playing as a winger even if he says Corona is playing out on the wing. This is merely a convenient way of saying that Corona is lining up out right to allow Mix Diskerud or Stuart Holden to play more in the center during the Gold Cup.
Corona is really playing as a mezz'ala, which is a well-known position for fans of Italian soccer.
There isn't really a name for mezz'ala in English, which is the position name in Italian that Clarence Seedorf played out wide in a line of three attacking midfielders at Milan. Whereas, the trequartista is in the center behind the strikers, the mezz'ala is really a midfielder playing out left or right that isn't an out-and-out winger.
Additionally, Andrés Iniesta has often played this position for Barcelona in Spain, but the name of the position of course isn't referred to by its Italian name. Barcelona sometimes uses Cesc Fàbregas, Xavi, and Andrés Iniesta as a line of three attacking midfielders with Sergio Busquets behind them, and the position that Fàbregas and Iniesta play in that set-up is really what Corona is playing when he is out left or right.
This absence of a good name for attacking midfielders out wide who aren't wingers is the crux of the problem that causes many USMNT fans and writers some confusion. The confusion is what to call Corona's position.
The name isn't really that important, as the important thing is the way that Corona improves the U.S.' passing as well as linking the midfield to the strikers.
Wherever Corona, Diskerud, and Holden are playing, they are passing and moving all over the field, but in this Gold Cup, Diskerud and Holden have been tasked with the role of playing more as box-to-box midfielders (where Michael Bradley usually plays) to either partner with Kyle Beckerman or to start together to share Beckerman's defensive duties.
Joe Benny Corona is needed to link the midfield to the attack, no matter who is starting deeper in the midfield.
With Corona on the field in the upcoming game against El Salvador, the USMNT has a player who can connect some combination of Beckerman, Holden, and Diskerud to Landon Donovan and Eddie Johnson, but it should be noted that Diskerud and Holden are really more attacking midfielders than box-to-box midfielders.
For the USMNT's purposes in the Gold Cup , Corona has to start because he fulfills a goal-scoring playmaking role that Diskerud and Holden aren't being tasked with playing in this tournament.
Corona shouldn't be thought of as a player who is down the pecking order from Holden, but Corona should be thought of as a creative attacking midfielder with a unique playmaking skill-set (superior to Stuart Holden's) that this United States' Gold Cup roster (and the World Cup qualifying roster) needs to play up to its full potential.
After the Gold Cup, Joe Benny Corona should play a bigger role with the full national team where he can help to improve the passing, the attacking, and the amount and quality of final balls. To top it off, Corona knows how to score as well.