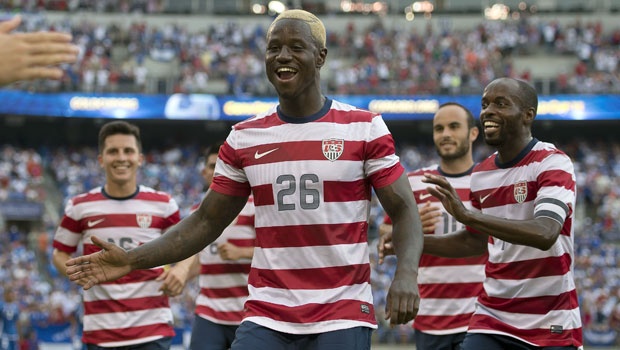 RATINGS GUIDE:
0=Multiple own goals, no display of any skill, and a red card
5= Average performance for a professional player. No big mistakes. Nothing special.
10=Zidane against Brazil in the 2006 World Cup
GOALKEEPER: Nick RIMANDO – 7.0
The U.S. goalkeeper gets a rating of 7 largely for his fantastic kick save that saved a certain goal at a time when the game could have been even. Rimando had a number of other saves, but getting overexcited about the quality of the saves in a way downplays his goalkeeping abilities, which have always been solid. 5 is an average rating, and 7 shows the difficulty and importance of the kick save, which kept the U.S. in the lead.
RIGHT BACK: Michael PARKHURST – 6.0
Parkhurst is a center back playing right back, and rather than just defending well out wide, Parkhurst has proven to know how and when to participate in the attack. His passing and crosses from out wide in the attack are good, and against El Salvador, he made a good foray into the box and his solid shot on target was saved by Portillo's shin. Parkhurst is a veteran, and 6 is an above average score that was given due to his quality participation in the attack.
CENTER BACK: Clarence GOODSON – 5.5
Goodson receives a rating of just above average due to his goal, which was somewhat of a sitter, but it still required Goodson to react to a deflection through a Salvadoran defender's legs and finish the point blank goal. Otherwise, it was impossible not to think of how much more skilled and faster Michael Orozco was, and he was sitting on the bench.
CENTER BACK: Matt BESLER – 6.0
Besler has a tendency to not be really noticeable in games, and that sort of indicates a lack of major mistakes, which is good for a center back. Besler will have to use his right foot more if he wants to compete with the new, younger center backs who are coming up through the American player pool. Besler looked bad on Zelaya's run into the penalty box, but El Salvador only scored off a penalty kick, as opposed to Besler ever being guilty of making any mistakes.
LEFT BACK: DaMarcus BEASLEY – 6.0
Beasley conceded a penalty kick, but he probably didn't have a choice. Beasley could have let Zelaya dribble past him and have an open shot on goal or Beasley could have tried to get away with an obstruction. Beasley did his best to stop Zelaya without tackling him or hacking him in the box. Beasley was involved and effective in the attack, but there was nothing to give him a score of 7, which is considered a high score around the world. Receiving a rating of 7 or above requires something special.
MIDFIELD DESTROYER: Kyle BECKERMAN – 6.5
Beckerman's shots on goal combined with several of his passes releasing his teammates downfield give him a rating of 6.5, but Beckerman is always a player who is a victim of a lack of quickness. Due to a lack of athleticism, Beckerman didn't show the imposing midfield destroyer presence to receive a score of 7 or higher. Beckerman was poor on the play leading up to Zelaya's penalty kick.
CENTRAL MIDFIELDER: Mix DISKERUD – 7.0
Diskerud is really an attacking midfielder by any definition, and his superior athleticism to Beckerman's forced him into a role of providing coverage for Beckerman's lack of speed. Diskerud score in this game, and players like Diskerud are the sort of quick passing and creative players that Jürgen Klinsmann froze out of his World Cup qualifying and previous rosters for the most part. Diskerud was a vital component of the United States' domination of possession and improved passing. For his ability to play a higher caliber of soccer like Donovan and Corona play plus his goal, Diskerud receives a 7 for providing dynamic passing and defensive support for Beckerman.
RIGHT ATTACKING MIDFIELDER: Joe Benny CORONA – 7.5
For Corona's well-taken and self-created goal plus his major involvement in the facilitation of one-to-two touch soccer during this game, Corona earns a higher score than Diskerud. Corona scored in traffic from around the top of the penalty box, and that goal showed a coolness in front of the goal and an advanced ability to score goals that required 1v1 skill. Corona continues to show a willingness and an ability to put defensive pressure on the opposition and win the ball back.
SECOND STRIKER: Landon DONOVAN – 7.0
Landon Donovan is a seasoned veteran blessed with speed and skill, and Donovan is well-known to be a good player. While Donovan played very well against El Salvador, he also played really aggressively, but Donovan should run riot on teams below the world's elite national teams.
LEFT ATTACKING MIDFIELDER: José TORRES – 6.0
Torres' has improved over the last year, and his performances throughout the Gold Cup show a player who has learned how to make more of an impact in international games with his passing and his technical ability. Torres is still a one-footed soccer player, which is really on display when Corona, Diskerud, and Donovan are playing, but Torres has improved his ability to affect the outcome of international games in the U.S. jersey.
FIRST-STRIKER: Chris WONDOLOWSKI – 5.5
Wondolowski's passing was quite good against El Salvador, and for this reason, he receives a rating of 5.5, which is just above average. Eddie Johnson is just much better and more athletic than Wondolowski.
Substitutes:
FIRST-STRIKER: Eddie Johnson – 7.0
Eddie Johnson scored a ruthless and mean-spirited trampoline header on his first touch of the game. The header was hit almost as hard as a punt. While Johnson used to not attack defenders aggressively enough, he is a technically-smooth and phenomenal athlete for any level of soccer. When he harnesses all of his gifts, Johnson is a useful weapon against any national team. Despite the opposition, Johnson's headed pass off Rimando's punt to set up Landon Donovan for a goal was something that not many soccer players can do. It would appear that Klinsmann's strategy was to unleash an athletic prodigy and a skilled striker on El Salvador when they were tired and soaked with sweat.
LEFT WINGER: Brek SHEA – 6.0
Regardless of what people want to say, Shea is a very talented, athletic, and tall winger. Five years ago, the USMNT didn't have wing players like Brek Shea. Without more inside information, it's clear that Shea is still recovering from his injury, but Shea showed why players like him bring a degree of skill and athleticism combined with a willingness to attack that the U.S. needs. Shea's touches were good, and his service into Eddie Johnson showed a real ability to provide plays that can win games. Shea's service and his attacking earned him an above average rating.
CENTER BACK: Michael OROZCO FISCAL – 6.0
Orozco receives a 6 for showing quickly how his skill-level and athleticism is well-above that of Clarence Goodson. The U.S. could have used Orozco when Zelaya pillaged the penalty box and proceeded to score a statement Panenka. Orozco once again showed why he is a superior center back to Goodson.
MATCH HIGHLIGHTS: